Suicide Squad's Cara Delevingne: I stood naked in a forest to get Enchantress role

Evening Standard
7/07/2016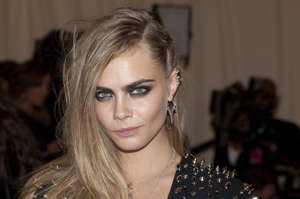 Cara Delevingne has revealed she stripped off in the wild in a bid to land a role in Suicide Squad.
The model-turned-actress wandered naked in a forest under a full moon after director David Ayer instructed her to do so before she had secured the role of Enchantress.
Speaking about how she approached playing the supervillain, Delevingne told Sci-Fi Now: "The Enchantress side was more about finding that part of myself studying addiction, desperation and that void.
"One of the first things David said was 'Go to the forest, the country – hopefully under the full moon – naked and feel what that feels like.' And I was 'This is f****** awesome. OK, I'm going to do that.'"
Delevingne continued: "I didn't even have the part yet. That character was a lot more freeing, in a way."

Delevingne will play the Sorceress - who has magical powers to make inanimate objects move, heal people and teleport - alongside Margot Robbie (Harley Quinn), Will Smith (Deadshot) and Jared Leto (The Joker).
Leto recently revealed he spent time with psychopaths to help him get into character as the twisted supervillain.
Speaking to Entertainment Weekly he said: "I did meet with people that were experts, doctors, psychiatrists that dealt with psychopaths and people who had committed horrendous crimes, and then I spent some time with those people themselves, people who have been institutionalized for great periods of time.
"I guess when you take on a role, any role, you become part detective, part writer, and for me that's my favorite time of the entire process, the discovering, the uncovering, and the building of a character."
Suicide Squad follows superhuman inmates who are used by a secret government agency to complete illegal tasks in exchange for freedom.
Other members of the group include Killer Croc (Adewale Akinnuoye-Agbaje), Captain Boomerang (Jai Courtney), Katana (Karen Fukuhara) and Rick Flagg (Joel Kinnaman).
Ben Affleck is also rumoured to star after the second trailer showed Batman speeding in his Batmobile, diving into a river and carrying Harley Quinn.