Three men rescued from Uluru

AAP
19/09/2016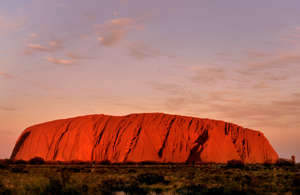 Specialist vertical climbers have rescued three men who became stuck atop Uluru after climbing the Australian landmark.
The Northern Territory emergency services team reached the men before midnight and were able to get them down to the ground by 3.30am on Tuesday.
It's believed the men climbed the rock on Monday and got stuck in a gap in the stone after straying off a pathway.
The traditional Anangu people who live near Uluru request tourists do not climb the rock, although they do not ban it outright.