Top Gear fans call for Jenson Button to replace 'shouty' Chris Evans as host

The Independent
6/06/2016
Top Gear fans are calling for Formula 1 driver Jenson Button to replace "shouty" Chris Evans as host, despite the second episode seemingly winning a more positive reaction.
Button appeared on the Sunday night motoring show as a guest, joining Evans to test drive a McLaren 675 LT. One breakneck bumpy ride later, viewers were flooding social media with reasons why the 36-year-old "needs to retire sharpish and take the reins of Top Gear".
F1 boss Eddie Jordan, actor Damian Lewis, singer Sharleen Spiteri, folk musician Seasick Steve and rapper Tinie Tempah also guested on the latest programme, the latter's chemistry with most popular co-host Matt Le Blanc during a group off-road race to Africa's highest pub impressing the crowd.
Evans has failed to win over fans since taking over from Jeremy Clarkson, whose BBC contract was not renewed in March last year following a much-publicised "fracas" with producer Oisin Tymon.
Forget this shout clown and hire @JensonButton for the #BBC#TopGear ! He has everything that is missing from this show

— Utkarsh Mishra (@UtkarshBhp)

June 6, 2016
I'm totally in favour of Jenson Button replacing Chris Evans on Top Gear, genuinely likeable guy and phenomenal driver.

— 채 (@sheaquinho)

June 6, 2016
Well... @JensonButton has prob done more for my enjoyment of #TopGear in a few mins that the other 2 will all series!

— ALIΞN Cyclist 2.0™ (@1ZERO13)

June 6, 2016
Please replace @achrisevans with @JensonButton on @BBC_TopGear him and @Matt_LeBlanc would be epic #TopGear

— LittlePolkaDot (@littlepolka_dot)

June 6, 2016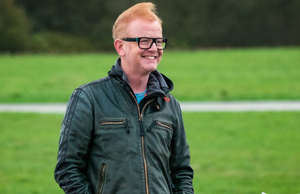 The first new episode of Top Gear, which aired on 29 May, drew an overall average of just 4.4 million live viewers, making it one of the lowest series openers of the past decade. Before the show launched, Evans said he was hoping for "five million plus" viewers, but the disappointing figures didn't stop him hitting back at critics on Twitter with a cringy post stating "the facts".
Top Gear audience grew throughout the hour. FACT. Won its slot. FACT. Still number one on i Player. FACT. These are THE FACTS folks.

— Chris Evans (@achrisevans)

May 30, 2016
Last week the BBC was forced to defend Top Gear against allegations that fake laughter had been used to make the often dubious gags sound successful.
"It's well known that Top Gear isn't a live programme and that the show is edited after filming but last week's episode was edited in exactly the same way as previous series," a spokesperson said. "Sunday marked the beginning of a new era for Top Gear, which Chris and Matt kicked off in style and viewing figures have been growing steadily since broadcast."
The ratings for the most recent episode of Top Gear are yet to be released, but the BBC claims that consolidated figures for episode one have so far reached 8.15 million including 1.75 million on iPlayer.

Elsewhere, Clarkson's new series The Grand Tour is expected to air in autumn on streaming service Amazon Prime. He will be joined by his former Top Gear co-hosts Richard Hammond and James May, with the first episode confirmed to be set in South Africa.