Turnbull minister taunted me: Palmer

AAP
12/09/2016
Clive Palmer says a members of Malcolm Turnbull's cabinet has taunted him via email while he's being quizzed in court over the collapse of Queensland Nickel.
The former federal MP says his examination in the Federal Court is nothing but a political witch-hunt, and he offered to share with the court an email he received from an unnamed member of Mr Turnbull's ministry.
"Last night I received an email from a cabinet minister of the Turnbull government saying was I enjoying myself. This is a political witch-hunt, nothing more, nothing less," Mr Palmer told the court.
Earlier on Monday, Mr Palmer said a meeting he had with Mr Turnbull last October made him realise the federal and state governments had no interest in saving Queensland Nickel.
He said it was clear political forces were against him, personally, and the entire refinery workforce was going to suffer regardless of what he did in the interests of helping the nickel business.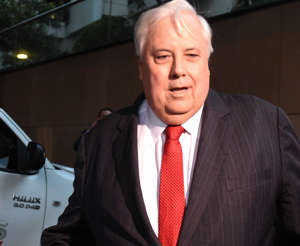 © AAP Image/Dave Hunt Businessman Clive Palmer Mr Palmer said he used the October meeting with Mr Turnbull to discuss plans to approach the major banks for credit for Queensland Nickel.
He said the meeting ended with "him assuring me he'd talk to the banks", including National Australia Bank.
But Mr Palmer said NAB later turned Queensland Nickel down.
"Since we had that discussion we saw NAB bank go against every credible principle in banking to destroyed that company. There's no doubt about that," the mining magnate said.
He also said he was sure the heads of the major banks were Liberal donors, and they were his political opponents at the time.
Mr Palmer told the court that assets worth at least $600 million had been offered to the banks in exchange for a line of credit to Queensland Nickel worth about $25 million.
That should have been a "no-brainer" for the banks as far as managing their risk went, Mr Palmer said, but Queensland Nickel was refused help on all fronts, he said.
The hearing continues.