Verdict due on Roe 8 Aboriginal heritage

AAP
23/08/2016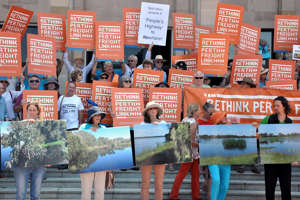 A judge is set to hand down her verdict on whether a traditional owner of Perth's Beeliar wetlands was granted procedural fairness when Aboriginal heritage approval was given for the Roe 8 highway extension.
The extension is the most contentious part of the largely federal-funded Perth Freight Link project, which opponents say will involve clearing about one-quarter of the environmentally-sensitive wetlands.
It is also controversial on Aboriginal heritage grounds, with traditional owner Corina Abraham challenging the approval.
Supreme Court of Western Australia Justice Janine Pritchard is due to hand down her decision on Wednesday.
Meanwhile, the Save Beeliar Wetlands protest group has raised more than $45,000 to fund its High Court challenge to the Environmental Protection Authority's approval of the project and also pay for previously incurred court costs.
The group seeks to raise $50,000.