Victoria teen in plea for Anzac Day terror plot

AAP
31/07/2016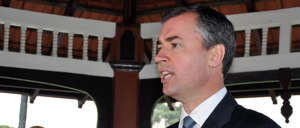 © AAP/ANGIE RAPHAEL Minister Assisting the Prime Minister for Counter Terrorism Michael Keenan speaks to the media following the Anzac Day A teenager who plotted to behead a police officer in a terror attack on Anzac Day in Melbourne will face court on Monday for a plea hearing.
Sevdet Ramadan Besim, 19, of Hallam, planned to run the officer over, behead him with a knife and then go on a violent rampage that would end in his own death.
Besim, who has pleaded guilty to a single terror charge, will face the Victorian Supreme Court at 10.30am.