Digos City aiming for Guinness World Record with massive lechon roast

GMA News Online
9/10/2018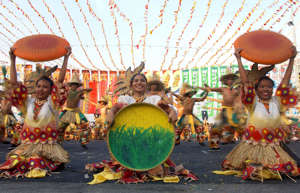 To celebrate Digos City Day, residents of Davao del Sur's capital are hoping to win for a Guinness World Record for the "Largest Serving of Roasted Pig" by cooking 1,400 pigs at the city hall.
"Lechonan sa Kadalanan," or roasting pork on the streets, has been part of the tradition of Digos City Day.
This year, part of the celebration will be a bid to snatch the world record from current titleholder Mexico.
According to a report on "Kapuso Mo, Jessica Soho," the local government asked help from "lechoneros" to beat the world record. Their original target was to get 800 pigs, but the number ballooned to 1,400 pigs. The National Meat Inspection Commission was there to check the safety of the meat.
Digos City—which hopes to be known for having the tastiest roast pork in Mindanao, boasting of their lechon's trademark crispy and flavorful skin—is also holding a local contest among 200 lechoneros. The one with the yummiest lechon will take home P50,000 cash and two pigs—and bragging rights, of course.
Violy, a lechonero from Brangay Tres De Mayo, was the champion from 2013 to 2016 and is planning to make a comeback this year. She contributed five lechons to the event, all seasoned with her winning recipe of 13 secret ingredients.
Her competition is reigning champion Linda Paping's Lechon, which contributed 25 pieces of roasted pigs for the world record attempt and is proud to say that it is the first lechon store to open in Digos, all the way back in 1970.
The engineer who was invited to inspect the weight of the roast pork they prepared announced that they have successfully beat the current record and only need the confirmation from the Guinness World Record to make the title official.
The roasted pork prepared was sold to visitors for P450 per kilo. — Jannielyn Ann Bigtas/BM, GMA News