Tiffany Trump shunned by fashion editors at New York Fashion Week

Harper's Bazaar
2/16/2017
© Provided by National magazine company ltd (Hearst UK) Left to right: Tiffany Trump at Taoray Wang, Philipp Plein and Dennis Basso NYFW shows While to the untrained eye, it may look like Tiffany Trump is experiencing this season's New York Fashion Week just as she has for many years before, it's clear that the fashion industry's relationship with the Trump family is becoming increasingly strained.
The 23-year-old sat on the front row of up-and-coming designer Taoray Wang's show on Saturday, followed by Philipp Plein on Monday evening and then Dennis Basso's show on Tuesday morning.
The New York Post
reported that the first daughter's appearance at the Philipp Plein show on Monday was a somewhat awkward affair. She was allegedly shunned by fashion editors, who scrambled to sit afar from Trump - and took to Twitter to air their disapproval.
Alyssa Vingan Klein, editor-in-chief of Fashionista.com expressed her annoyance at the delay Trump's attendance caused: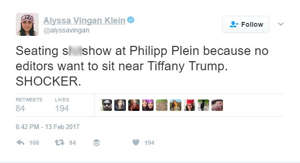 Nikki Ogunnaike, senior fashion editor at Elle.com, agreed with Klein tweeting:
Phillip Plein at 10PM: 1 hour late start, editors fleeing just so they don't have to sit behind Tiffany Trump.

- Nikki Ogunnaike (@NikkiOgun) February 14, 2017
Ogunnaike also responded to Alyssa's post writing, "we moved and are down the hall. Come thru."
Former Wall Street Journal columnist Christina Binkley posted a photo of Trump with several empty seats next to her:
Empty seats next to Tiffany Trump. pic.twitter.com/axvYJAFupl

- Christina Binkley (@BinkleyOnStyle) February 14, 2017
"Nobody wants to sit next to Tiffany Trump at Philipp Plein, so they moved and the seats by her are empty," she wrote.
But, the industry's refusal to mix with the Trumps doesn't end with Tiffany. We present a guide documenting the fashion world's continued efforts to distance itself from the Presidential family.
Donald Trump
© Provided by National magazine company ltd (Hearst UK) According to the Guardian, stylists and casting directors have been advised to avoid working with Trump Models, Donald Trump's very own model agency, which brands itself as "the brainstorm and vision of owner, Donald Trump". The firm formerly represented Melania Trump, and currently has names including Yasmin Le Bon and Pat Cleveland on its books. 

An anonymous casting director said that the boycott started last autumn and has spread "by word of mouth". The agency has also come under fire for allegedly encouraging models to avoid US visa laws and forcing them to live in overcrowded apartments. 
Ivanka Trump
In the period following her father's inauguration as President, first daughter Ivanka Trump's eponymous fashion line has been dropped by several fashion retailers, perhaps most notably with Nordstrom. Most retailers have claimed that this is due to failing sales, and not the result of a political statement.
However, Donald Trump clearly doesn't see it that way. Tweeting: 
My daughter Ivanka has been treated so unfairly by @Nordstrom. She is a great person -- always pushing me to do the right thing! Terrible!

- Donald J. Trump (@realDonaldTrump) February 8, 2017
Melania Trump
© Provided by National magazine company ltd (Hearst UK) In the run up to Trump's inauguration, the possibility of dressing First Lady Melania seemed to conflict and divide designers, with many vowing not to.

Sophie Theallet was the first designer to take a stance on the issue, releasing an open letter announcing that she would not ever dress the future First Lady and urging other designers to do the same. Several designers, including Marc Jacobs and Tom Ford, refused to dress her while on the other hand, Tommy Hilfiger, revealed he would be "proud" to dress both Trump's wife and daughter Ivanka Trump.
Once it was revealed that Melania Trump's powder blue suit was in fact Ralph Lauren, the brand unfortunately faced a social media backlash with the hashtag #BoycottRalphLauren appearing on Twitter. That said, the label's shares soared as a result.
Front row and parties at New York Fashion Week Fall 2017