Nicki Minaj felt 'humiliated' after Cardi B brawl

Cover Media
11/9/2018
(Billboard)
Nicki Minaj has broken her silence following a Friday night (07Sep18) scuffle with rap rival Cardi B.
The two MCs clashed at a star-studded Harper's Bazaar party for New York Fashion Week after Cardi accused the Super Bass hitmaker of disrespecting her and her baby daughter, Kulture.
At one point, Cardi lunged and reportedly threw a shoe at Minaj, but Nicki declined to press charges and she addressed the drama on her Apple Music Queen Radio show on Beats 1 on Monday, revealing she still felt "humiliated" about their headline-grabbing encounter.
Download the all-new Microsoft News app – available now on iOS and Android
"The other night I was a part of something so mortifying, so humiliating to go through in front of upper echelon people - it's not about black or white - people who have their lives together," she said. "I was mortified... I could not believe how humiliated I felt... how we - and I use the term 'we' loosely - made ourselves look."
Taking aim at reports suggesting she poked fun at her rival's baby, Nicki added, "I would never discuss anyone's child.
"It's so sad for someone to pin that on me. I would never talk about anyone's child or parenting, I don't give a s**t... You know I didn't say or never did talk about anyone's child... I am not a clown, that's clown s**t."
Minaj insists she didn't retaliate after Cardi's shoe came flying at her because, "I'm such an ill n**ga, I didn't feel the need to defend myself that night."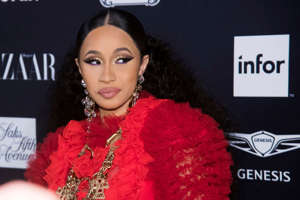 Security staff at the party escorted a shoeless Cardi out of the venue.
The Bodak Yellow star has since confirmed it was a comment Nicki allegedly made about her baby that upset her: "I've let a lot of s**t slide!" she wrote on Sunday (09Sep18) via Instagram. "I let you sneak diss me, I let you lie on me, I let you attempt to stop my bags (money), f**k up the way I eat!
"You've threaten other artists in the industry, told them if they work with me you'll stop f**kin with them (sic)!! I let you talk big s**t about me!! I addressed you once in person, I addressed you a second time in person, and every time you copped the plea!!
"But when you mention my child, you choose to make comments about me as a mother, make comments about my abilities to take care of my daughter is when all bets are f**kin off!! I've worked to hard and come too far to let anybody f**k with my success (sic)!!!!"
Cardi previously played down reports of a nasty feud between herself and Nicki, but confessed the two had "issues".
Gallery: The Biggest Celeb Feuds of All Time (US Weekly)