How Ariana Grande became the biggest star on the planet

Evening Standard
5/12/2018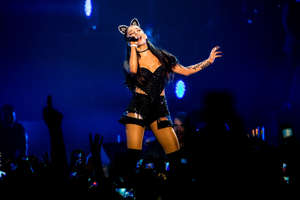 When you broke up with your last ex you ate a box of Crunchy Nut in one sitting and drank a pint of gin.

When the poreless pint-sized hypebeast Ariana Grande did it she wrote a single that broke the record for streams received by a single song in a single day by a female artist on Spotify (8.19 million) and continued to break this record for four days. 
This same song also became the fastest song to pass 100 million streams, doing so in 11 days. You have gone for periods of 11 days without achieving anything of note.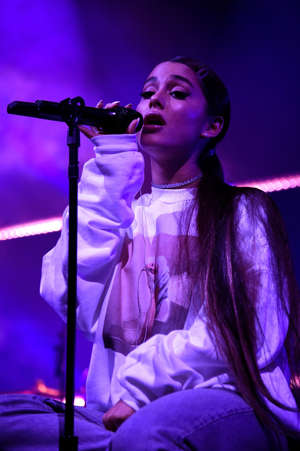 But these numbers were just the appetiser, cuing up the main act: the music video, directed by Hannah-Lux Davis, a high-octane pastiche of four cult millennial films, Bring It On, Legally Blonde, Mean Girls and 13 Going on 30.
Unsurprisingly, this has translated well. Within 22 hours it had been watched more than 46 million times — decimating YouTube's all-time record for the most views of a video in the first 24 hours after its release. At the time of writing it has been viewed more than 114 million times.
Sensation is an understatement: the 25-year-old singer has played a blinder. Modern pop culture is oversaturated and overstimulating; in such an environment, the secret to going viral and then some is to write an earwormer then create a "watching experience" — one embedded with inside jokes, savvy casting, visual tricks and blink-and-you'll-miss-them references.
In other words, a discrete world that will be revisited time and again — 114 million times and counting. This is the anatomy of a smash-hit video.
Song notes
Thank U, Next is a break-up song, though it is neither vengeful nor wistful. Instead, it is an ode to lessons learned and an ambition to learn more (hence the title).
It's also a self-reckoning: despite all the knocks, Grande's still here. As she puts it, "I've learned from the pain/I turned out amazing." Moreover, as she also notes, she's getting the last laugh: "this song is a smash". Quite.
The mood is consistent with Grande's brand of millennial feminism: mischievous, unapologetic, brash. Grande has become a siren for a new generation of internet-savvy young feminists uncowed by the old rules of attraction.
Not that she skimps on the titillating stuff. The opening verse is a roll call of her most meaningful relationships to date: rapper Big Sean ("but he wasn't a match"); dancer Ricky Alvarez; Mac Miller — who died in September of a reported overdose, duly Grande calls him "an angel".
And then there's Pete Davidson, the comedian and Saturday Night Live star to whom Grande was fleetingly engaged this year. Though crucially, it's her story, in her words; Grande is possessing her own narrative.
The Easter eggs
Now for the fun bit. Grande handpicked the cult moments from her four cult films and reimagined them with herself in the protagonist's role, a masterstroke of pop cultural inspiration and ego; spotting them all becomes a game. The opening segment borrows from Mean Girls, with Grande self-cast as as Regina George. A synth beat accelerates in the background, as various characters — several from the original Mean Girls film — hyper-emote over her. "One time on Twitter I heard Ariana was pregnant, so I got pregnant so we could be pregnant at the same time," says one girl, smizing into the camera. "It was a rumour."
"I heard she's a lesbian now and dating some chick named Aubrey," pipes up Troye Sivan, the bleach-blonde singer with whom Ariana duetted this year. He adds, without missing a beat, "It's f***ing sick." "I heard if you record her snoring and play it backwards it sounds like Fantasia," quips another superfan.
The first verse about her exes runs over a scene with Grande flicking through a Burn Book — zoom in for clues, like the detail that it was Grande who broke it off with Pete Davidson. As she processes down the school corridor — shoving Sivan into a locker; he looks like he's been touched by an angel — she is wearing a shirt reading, "A little bit needy" — the name of one of the songs on her latest album.
During the Legally Blonde skit Grande — dolled up in Pepto Bismol pink — is spotted reading a book about immigration law (burn, Trump, burn) and the UPS delivery man who turns up in the salon wears a uniform reading BDE — Big Dick Energy, a coded, saucy reference to Pete Davidson (Google it; or don't).
She plays the bathroom scene from Bring It On, though the mixtape is not from a paramour but "To Ari, from Ari"; she has the doll's house from 13 Going on 30.
Star power
We need to talk about Kris: the Kardashian-Jenner klan's matriarch has a scene-stealing turn as Amy Poehler's character in Mean Girls — forever enshrined as "not a regular mom [but] a cool mom". During the Jingle Bell rock sequence Jenner throws herself around the auditorium to catch the sequence on video camera — a casting coup.
Besides Jenner the chatter has been about Jonathan Bennett, aka the OG Aaron Samuels, who is now 37 and does not appear to have aged a day since 2004, when the original Mean Girls came out. There's no time to hyperventilate — you must watch Thank U, Next 15 more times today.
A big shout-out also to Jennifer Coolidge, who played the inimitable nail technician Paulette Bonafonté in the original Legally Blonde, and has an extended cameo in the video. And then there's the actress Liz Gillies, who is a perfect doppelganger for Lindsay Lohan' Mean Girls character.
The reaction
Grande's no novice: the hype around Thank U, Next was orchestrated with aplomb. She has been tweeting and Instagramming clips from the video for several weeks — as have members of the supporting cast — and the video itself had a trailer, released last week: a peculiarly modern phenomenon of the social media age. Presumably soon it will be trailers for trailers, ad infinitum, until we all lose our grip on reality.
Anyway, by the time the video was ready, the world was champing at the bit. The fallout has been accordingly off-the-scale — the video has already inspired memes, conspiracy theories, column inches and homages.
She has also mobilised those in the video's cultural orbit. Reese Witherspoon — the original Elle Woods in Legally Blonde — has been Instagramming snapshots of herself alongside Ariana's iteration of the character. Kris Jenner shared a scene of her cameo on Instagram — it's been liked more than 1.9 million times. Troye Sivan's picture of Ariana, the Mean Girls and Aaron Samuels has been liked almost a million times.
Thank U, Next
What do you do after you break records, the internet, and fans' minds? Some fans speculate she'll release A Little Bit Needy as a single; though others have pointed to the number plate of her car in the Legally Blonde scene, which reads "7 rings". Those in the know suspect this could be areference to an anecdote Grande tells about buying seven female friends a ring at Tiffany's — bear with me — and that this might be being whipped into a girl power anthem as we speak. Thank U, next hit, please.
Related: Iconic songs originally meant for other singers [StarsInsider]