Miley Cyrus Really Regrets Her 'Wrecking Ball' Video: 'I'll Always be Known for Licking a Sledgehammer'

ETOnline
18/5/2017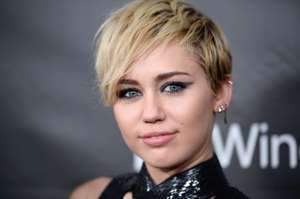 © Jordan Strauss/Invision/AP Miley Cyrus arrives at the 2014 amfAR Inspiration Gala at Milk Studios on Wednesday, Oct. 29, in Los Angeles. (Photo by Jordan Strauss/Invision/AP) Much like a real wrecking ball, Miley Cyrus is ready to have hit it and quit it with her most iconic song.
Even though the "Malibu" singer's 2013 "Wrecking Ball" video -- the one where she strips down and swings on a-OK, no, you get it -- has racked up nearly 900 million views on YouTube, and turned into one of the most memorable Miley moments, the singer keeps indicating that she may like to have that one back.
"It's kinda crazy that I'll always be known for licking a sledge hammer," the 24-year-old artist revealed to Long Island's Cooper Lawrence morning show.

It's not the only shade Miley has thrown on her hit song during her press tour promoting her new look and sound.
On Tuesday, the pop star went on WKTU's Cubby and Carolina Bermudez radio show, where she admitted, it's not her favorite song to play these days.
"'Wrecking Ball' -- I'll do it, but I don't love it," she admitted. "It's when you're so stoked about something and then you have to sing a song that bums you out. And I'll never live down when I licked a sledgehammer."
While it's sad to see that Miley and sledgehammers have had a falling out, at least we have her forthcoming sixth album due out soon, which is sure to have new and exciting Miley memories.
...Just don't expect her to take her tongue to any construction tools.