Emily Ratajkowski's engagement ring is unlike any we've ever seen.

Mamamia
12/7/2018
Nearly five months after her New York City Hall wedding, Emily Ratajkowski has finally debuted her engagement ring to fans, and it's definitely unique.

The 26-year-old model and Gone Girl actress married filmmaker Sebastian Bear-McClard after what was believed to be just over a month of dating.
However, now they're ready to make it truly official with a wedding and engagement ring featuring not one, but two diamonds. Because nothing says commitment more than a ring with a possible six-figure price tag.
Flashing her spectacular rock (*ahem* rocks) on Instagram, Page Sixestimates the ring has a combined five carats worth of diamonds, and puts the value at AU$67,510 – $121,518 depending on the quality of the stones.
Here it is in detail:
A post shared by Emily Ratajkowski (@emrata) on Jul 11, 2018 at 7:23pm PDT
Speaking to Jimmy Fallon on the Tonight Show in April, Ratajkowski said her initial 'engagement ring' wasn't quite so luxe.

"He proposed to me at Minetta Tavern and he didn't have a ring, so I was like, 'Mmm, nah,'" she said.
"And then he took the paper clip that the bill was paid with and made me a ring, which I actually thought was really romantic."
And I guess up until now, they were just waiting to find the right ring.
A post shared by Emily Ratajkowski (@emrata) on Feb 23, 2018 at 1:32pm PST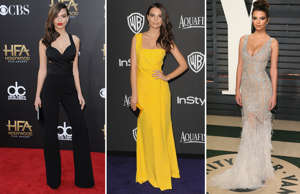 In pictures: Emily Ratajkowski's style file