How this grandmother lost 30kg

Yours
28/3/2018
As a loving wife and mother , Carolyn Broomfield spent many happy years at home bringing up her three kids and helping husband Keith, 63, doing the books for his business.
In what little spare time she had, she supported her community in Nerang, Queensland – assisting the local children's playgroup, mothers' support groups and sitting in on various school committees.
But nothing filled her heart with more happiness than looking after her brood and running a loving household. A big part of that was ensuring a healthy home-cooked meal was dished up every evening.
With the usual horrible symptoms – weight gain, sleeplessness, anxiety and mood swings – she began feeling really down and turned to comfort eating.
Carolyn feasted on pizza, pasta, chocolate and ice-cream and started drinking more to beat the blues, yet it only made her feel even more depressed and upset.
She felt terribly unattractive, too, and shied away from socialising, something that she'd once loved. And although her husband never said anything about her weight, Carolyn's confidence was in freefall.
"Keith was always supportive but I'm sure he tired of me complaining about my size and lack of fitness," she admits.
"Life was busy but I loved it," the grandmother of four remembers.
"But somewhere along the way I was so busy caring for everyone else, I forgot to care about myself."
When her children Rebecca, now 37, Scott, 35 and Kate, 33, flew the nest and started families of their own, Carolyn jumped at the chance to be with the littlies whenever she could.
"I loved being a grandmother and wanted to spend all my spare time with them," she says.
But with just her and Keith rattling around the house, home-cooked meals became a rarity and were replaced with unhealthy takeaways.
Then menopause set in.
The bigger Carolyn got, the harder life became, and it was tough keeping up with her young, active grandkids.
Plus finding clothes to fit her size-24 frame was getting ever harder.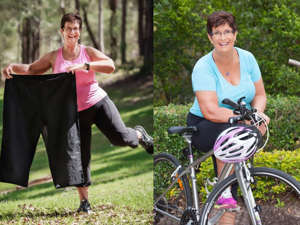 "I had to start getting my outfits specially made as I was so big," she says.
At 49, Carolyn felt like a "failed, frumpy old woman". Then tragedy struck. Jenny, her dear friend of 14 years, died after battling breast cancer. She was just 46 and a mother to three children under 20.
"She slipped away at such an early age, yet she had so much ahead to look forward to," Carolyn reflects.
Jenny's untimely death made Carolyn take a long, hard look at herself. She realised with her bad habits spiralling out of control that she, too, could be heading for an early grave.
"It made me realise how fragile life is," she says. "And I wanted to be around for my grandchildren."
She decided to take control of her health once and for all. On tipping the scales at 115kg she stopped drinking alcohol, cut out the junk food and loaded up instead on fresh, green salads, lean meats and steamed veggies.
Keith had never struggled with his weight but adopted Carolyn's new eating habits to show his support.
Next she mustered the courage to join a gym and employed a personal trainer three times per week to keep her motivated and focused.
In no time her weight started to decrease and she began to feel fitter than she had in years.
"The feelings of anxiety and depression started to fade," she says.
"My overall mood was positive and I had a higher opinion of myself."
The best part, though, was having the energy to keep up with the young ones.
"I really enjoyed going to the park or chasing them around the yard," she says, beaming. "It felt wonderful."
A year on and Carolyn had lost an absolutely astounding 30kg!
Fitting comfortably into a healthy size 16, she ditched her specially made outfits and updated her wardrobe with new off-the-rack looks.
She was a new woman. In fact, Carolyn was so enthusiastic and inspired by her new life, she decided to launch a new career and became a personal trainer!
"With my own experiences, I wanted to offer support, guidance and motivation to women from all walks of life," she says.
She had a home gym studio built and her business – New Horizon Fitness – is now flourishing.
Carolyn works with women who are overweight, stressed, cancer survivors or regaining their strength and fitness after injury or illness.
Every day is just so rewarding and her entire family are enjoying her newfound passion for life that's come with her clean bill of health. Her grandkids – Josh, 18, Ryan, 11, Layla, nine, and Poppy, two – are especially proud of their fit granny.
As for Carolyn, she's excited for what the future holds and is looking forward to being around to celebrate and enjoy many family milestones.
She strives to be a good example to her business clients and family – especially her beloved grandchildren. She says, "While none of us will ever be perfect, we can perfect our lifestyles."