Beat the frizz with a hot oil treatment

Cover Media
21/7/2019
With hot and humid conditions this summer, it can be a struggle to keep your hair looking silky and smooth.
If you are someone who ends up with frizzy hair on humid days, then make-up artist Nigit Begum suggests you should treat yourself to a hot oil treatment, which will keep your hair looking luscious and healthy as well as protect your scalp.
To begin, place the oil in a small plastic bowl or a mug and pour some hot water over it. Once you've done a patch test on your wrist to ensure the oil is not too hot, pour the liquid onto your scalp and hair and comb through for even coverage. Massage it in for five to 10 minutes to stimulate blood flow, which will also help treat a dry, itchy scalp and dandruff.
"You can either place a plastic bag or a towel around your hair to keep the heat and oil in," Nigit says. "Leave on for 20 to 25 minutes then rinse off with shampoo and conditioner. For a further deep treatment for luxurious locks, leave the oil on your hair for 24 hours. You can repeat this treatment a couple of times a week, but if you have an oily scalp just use once a month."
Hot oil treatments can be used for all hair types and Nigit recommends products such as VO5's Nourishing Coconut Hot Oil or Schwarzkopf Professional 's BC Oil Miracle Warming Treatment, although she notes that you can actually use any oil you may have in your kitchen cupboards.
Related Slideshow: 28 facts to know about hair (Provided by Photo Services)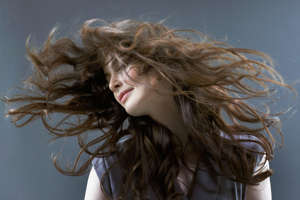 In addition to this treatment, the expert also recommends applying a serum after washing your hair to protect and detangle your tresses and eliminate any frizz. She suggests using two pumps of Neal & Wolf's Velvet Nourishing Hair Oil on newly-washed hair or John Frieda's Frizz Ease Original to combat that humidity.
Additionally, make sure to apply a heat protecting spray before going out in the sun this summer or before using straightening irons or curling tongs, because that will also make a huge difference in your fight against frizz.