I won't be PM again, but let me talk, says Najib

Free Malaysia Today
5/11/2018
PETALING JAYA: Najib Razak says he has no intention to return as prime minister or the Umno president, saying he is being vocal to fulfil his duties as an elected representative.
"My wish is only to give my views and ideas to strengthen Umno, improve the well-being of the people and the economy," Najib said during a live session on Facebook.
Najib said he could contribute his experience and knowledge to the party.
"I can contribute towards these goals, especially in the face of lies and misinformation," said Najib.
Najib added that he felt it was his duty as an MP to explain issues.
"I hope all parties will give me space to do this as it is my contribution to the people, my party and country."
Also on MSN:
1MDB scandal timeline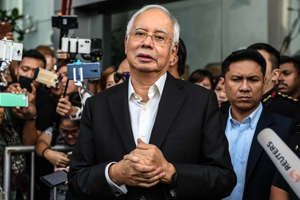 Watch: Najib in court after spending overnight under MACC custody