Moody's proves PH govt's claims on national debt not true, says Najib

Free Malaysia Today
13/6/2018
PETALING JAYA: Former prime minister Najib Razak has taken the Pakatan Harapan (PH) government to task after the international credit rating agency Moody's said today that the country's debt ratio was at 50.8% and not 80.3% as claimed by Putrajaya.
He said Moody's had independently assessed the government's claims of RM1 trillion debt and "self-declared" debt-to-GDP ratio of 80.3% and found them to be untrue.
Instead, it had maintained the debt ratio declared by the Barisan Nasional government previously.
"You can mislead the people but you cannot mislead the experts.
"Knowing how important such figures are and the impact is has on the economy, we had always been transparent in our disclosures and had adhered to strict international standards of reporting," Najib said in a statement posted on his Facebook account.
He said the PH government must have the integrity to adhere to international standards and keep politics out when it comes to financial reporting.
Earlier today, Moody's Investors Service had maintained its estimate of Malaysia's direct government debt at 50.8% of GDP in 2017.
It said its assessment of contingent liability risks posed by non-financial sector public institutions had also not changed following some statements by the new government.
"However, the new administration's treatment of large infrastructure projects that may be placed under review but have benefited from government-guaranteed loans in the past, and outstanding debt from state fund, 1Malaysia Development Bhd, will play an important role in determining risks that contingent liabilities pose to the credit profile," Moody's said.
Najib said if the government's debt ratio of 80.3% was accepted, it was still lower than the 103.4% ratio reached in the mid 1980s – a ratio that had stayed above 70% for a long period during Dr Mahathir Mohamad's tenure as prime minister.
"Malaysia did not go bankrupt then so there is no logic that Malaysia will be bankrupt at 50.8% or even at 80.3% – especially since 97% of our government debt is denominated in ringgit," he said.
Najib added that the claim of RM1 trillion national debt had contributed to the large foreign funds out-flow from Malaysia's bond markets and to the 25 consecutive days of net foreign selling of the share market.
He said the situation could only cause losses to retail investors as well as the savings and dividends of funds such as the Employees Provident Fund, Tabung Haji and Amanah Saham Nasional (ASN)/Amanah Saham Bumiputera (ASB).
More on MSN:
In photos: Malaysia general election 2018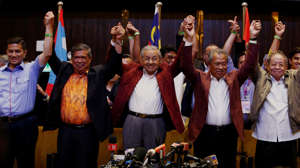 Content provided by Microsot