Netizens have field day with memes of politicians' 'love confessions'

The Star Online
21/7/2018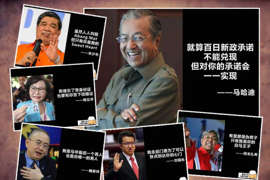 © The Star Online PETALING JAYA: A wave of memes showing politicians "professing" their love has hit social media.
Featuring leaders like Prime Minister Tun Dr Mahathir Mohamad, DAP adviser Lim Kit Siang, Defence Minister Mohamad Sabu and even PKR Wangsa Maju MP Datin Paduka Dr Tan Yee Kew, the memes have the personalities uttering love quotes in Chinese.
Also featured are leaders from Barisan Nasional - former prime minister Datuk Seri Najib Tun Razak, Umno president Datuk Seri Dr Ahmad Zahid Hamidi, MCA deputy president Datuk Seri Dr Wee Ka Siong, MCA Youth chief Datuk Chong Sin Woon and Rembau MP Khairy Jamaluddin.
"Although people call me Abang Mat, I only want to be your sweetheart" is the "pick up" line for Mohamad.
Dr Tan, who forgot to bring her MyKad during nomination for the 14th General Election, had the words in Chinese written beside her picture: "Although I forgot my IC, I want to sign the marriage certificate with you."
The memes were submitted by netizens after local parody Facebook page – shi lan ren bao bu shi cha shao bao (a lazy person's bun, not a char siu bun) – called for ideas and suggestions.
The meme for Dr Wee, who is the sole MCA MP in Parliament, says: "I am MCA's ONLY man left, also your FIRST man!"
Dr Ahmad Zahid's line is "Pakatan men are all hypocrites, I am your only Prince on a white horse".
Liew Chin Tong, who was recently sworn in as Senator and made Deputy Defence Minister is seen as saying: "I go through the back door so that I can quickly reach your heart" while Dr Mahathir's poster has these words written:
"The new Government's promises cannot be fulfilled within 100 days but what I promised you will be realised."
Finance Minister Lim Guan Eng is "saying": "It does not matter if it's the GST or the SST, I will not break your heart."
The Facebook page is known for taking complex issues and making these into easy-to-understand infographics.
The memes have been shared over 12,000 times and judging by the comments, the most popular were the ones with Education Minister Dr Maszlee Malik who had the words: "It does not matter if it's white or black shoes. I just want to be your most beloved pair of shoes."