Report: Malaysia's slide towards conservative Islam and intolerance will continue

Free Malaysia Today
4/10/2017
© Provided by MToday News Sdn Bhd islam-wahabi-malay-voters-1 KUALA LUMPUR: Malaysia is sliding more and more towards a conservative Islam, with intolerance fast gaining ground.
An article in The Diplomat says this is largely due to the influence of Saudi Arabia's Wahabi-style Islam and the Malaysian government's desire to hold on to power.
It says economic inequalities, the government's pandering to Muslim hardliners, and its silence on racially divisive politics have created a situation where youths find fundamentalist teachings attractive.
Saying the past two decades have seen Malaysia slowly but steadily shifting towards an increasingly conservative Islam, The Diplomat article notes that this is the result of successive administrations' close ties to the Saudi royal family and an attraction to its petrodollars.
It traces this relationship from the time of first prime minister Tunku Abdul Rahman to Prime Minister Najib Razak and the February 2017 announcement that Saudi Aramco would make an investment worth US$7 billion in Petronas.
Saudi Arabia, it says, has long seen Malaysia, along with Indonesia, as regional bastions of Islam, and has consistently tied its investment in both countries to Wahhabism – the brand of conservative Islam initially embraced by Muhammad Ibn Saud in 1744 through a pact with Abd al-Wahhab to expand the former's empire.
The pact resulted in support for Wahhabism gaining legitimacy and followers representing themselves as defenders of the true teaching of Islam.
This position, the report says, is "prevalent in Malaysia and Indonesia today as a majority of Muslims in both countries conflate conservative Arab culture and practices with Islam, although historically, Southeast Asia has always been more inclined towards a more moderate version of Islam."
The Diplomat article says in Malaysia, a "good" Muslim is seen as someone who adheres to Arab culture, and practices the literal version of Islam exported by Saudi Arabia.
"While Islam has been written into the country's constitution as the religion of the federation, the constitution's drafters saw only a ceremonial role for the religion. Shortly after independence, Malaysia's first prime minister, (Tunku Abdul) Rahman, informed parliament that Malaya 'is not an Islamic state as it is generally understood'."
The article says Umno, which has dominated politics since independence in 1957, has found it increasingly difficult to maintain its stronghold on government during the past two elections.
Although initially rolled out as a strategy to curb the opposition PAS's influence on young middle class Malays, Umno has come to rely more and more on political campaigning focused on Islam to attract and retain the Malay vote, it says.
"Many urbanites today worry that this shift will lead Malaysia down the rabbit hole of a stricter, more literal version of Islam instead of the more moderate and tolerant version upon which the nation was founded."
The article notes that in June 2014, while celebrating the 20th anniversary of one of Umno's branches, party president Najib had called on members to emulate Islamic State to ensure the survival of Umno.
Quoting an example where IS defeated the Iraqi army despite being outnumbered, Najib reportedly said, "when someone dares to fight to their death, they can even defeat a much bigger team" .
"Economic inequalities, the government's pandering to Muslim hardliners, and its silence on racially divisive politics have created a perfect storm – youths unable to compete in an urban setting find purpose in fundamentalist teachings."
After talking about Malaysians who have been radicalised, the article notes that the government continues to invite "the likes of Zakir Naik, a hate preacher banned in India and the UK for talks in Malaysia, while it arrests moderates such as Turkey's Mustafa Akyol".
Citing official figures on the number of Malaysians who have gone to Syria and Iraq to join IS, the article cautions that when and if those militant Malaysians return home, they will find large swathes of rural Malaysia eager to listen to tales of their jihad.
"Malaysia will inevitably continue down a less tolerant, more conservative path, unfriendly to unbelievers and suspicious of everyone not conforming to a fundamentalist way of life.
"The reliance of successive governments on race-based policies to address the long-standing socio-economic inequalities has resulted in more racial and religious tension, thus rendering conservative Islam an attractive vehicle for change.
"Many are eager to look to Saudi Arabia for paternalistic assistance without much thought for the strings attached to the assistance. The closer Malaysia inches to the Kingdom, the wider the door opens for conservative values which criticise a gold-medal winning gymnast's attire, call for a ban on a beer festival, and deny social justice and women's rights."
The article says Pew Research Center's Spring 2015 Global Attitudes Survey found that only 26% of Malaysians were very concerned about the rise of Islamic extremism in the country.
The same question, it notes, yielded 48% in Pakistan, 67% in Lebanon, and 20% in Indonesia.
Also on MSN:
Major cities viewed from space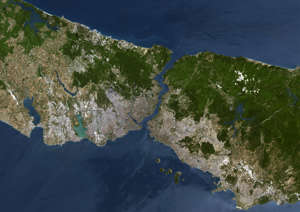 Major world cities viewed from space
More From Free Malaysia Today

Free Malaysia Today