Here are the 20 best airlines in the world

Business Insider
18/6/2015
© Provided by Business Insider Qatar Airways has been named the Best Airline in the World for 2015 by leading aviation consumer website Skytrax.

The Gulf-based carrier was presented with the honor at an award ceremony on Tuesday at the 2015 Paris Air Show.
"I am honored to lead a company that has paved such an accomplished path to excellence, and innovation, demonstrating the team's unwavering pride in their work and the experience provided to each of our passengers," Qatar Airways Group CEO Akbar Al Baker said in a statement.
"Becoming an award-winning airline takes dedication and passion— and retaining such a ranking takes commitment, which I thank each and every team member at Qatar Airways for."
The Skytrax rankings are based on the impression of 18.9 million travelers from 105 different countries. The survey, which covered more than 245 airlines, measured 41 different parameters ranging from boarding procedures to seat comfort to the quality of service. 
Here are the 20 best airlines in the world according to the result of the Skytrax survey. 
20. British Airways
© Provided by Business Insider Previous rank: 17

Why it's awesome: Although British Airways didn't take home any superlatives at the award show, the airline cracked the top 20 list by putting in a solid performance. Skytrax reviewers gave BA consistent middle of the road ratings across the board for value, inflight entertainment, staff service, and seat comfort. 
See additional airline information at Skytrax
19. Thai Airways
Previous rank: 14

Why it's awesome: Thai Airways has long been an industry leader for quality service. So it's no surprise to find the Thai national carrier so high up on the list. Though its most heralded products are its business and first-class services, fliers found their economy seats to be of high quality, as well.
Economy fliers on Skytrax also noted the crew's friendly demeanor and delectable dining options. However, some customers found the lack of seat-back-mounted personal entertainment displays on some of the fleet's older Airbus and Boeing jets to be disappointing.
18. Dragonair
© Provided by Business Insider Previous rank: 28

Why it's awesome: Dragonair is Hong Kong-based Cathay Pacific's regional subsidiary and is the only regional airline to crack the top 20. In fact, Skytrax named Dragonair the World's Best Regional Airline — an honor the airline also held in 2010 and 2011. 
17. Air New Zealand
Previous rank: 16

Why it's awesome: Air New Zealand achieved an impressive feat at the 2015 World Airline Awards. The Kiwi airline swept the awards the for premium economy  —  winning for World's Best Premium Economy Class, World's Best Premium Economy Seat, and World's Best Premium Economy Catering. 
This the fourth time that Air New Zealand has won for Best Premium Economy.
16. Virgin Australia
© Provided by Business Insider Previous rank: 15

Why it's awesome: As the biggest airline in billionaire Richard Branson's portfolio of Virgin brands, Virgin Australia has experienced massive growth in the Asia-Pacific market since its founding in 2000.  
In typical Virgin fashion, the airline's fleet of long-haul Boeing 777 and Airbus A330 jets come with interior mood lighting and feature a state-of-the-art 9-inch touchscreen entertainment system.
15. Air France
Previous rank: 25

Why it's awesome: Air France's 10-place improvement over the past year earned the airline the honor of being named the World's Most Improved Airline. Although the carrier has suffered through a series of labor and financial issues, the company has rolled out an impressive lineup of new product offerings. This includes the highly-impressive new "La Premiere" first class suites.
14. Swiss International Airlines
© Provided by Business Insider Previous rank: 13

Why it's awesome: Swiss International Air Lines emerged in 2002 from the remnants of the now-defunct Swissair and is now a member of the Lufthansa corporate family. The Basel-based airline employs a relatively young fleet of Airbus A330-300 and A340-300 wide-body jets for long-haul routes.
Though some fliers found economy-seat comfort to be lacking, most praised the cabin crew for its friendly service and the airline for its wide assortment of complementary adult beverages. 
13. Austrian Airlines
Previous rank: 21

Why it's awesome: Though the Lufthansa-owned airline has had to work its way through a series of labor disputes, its high level of service seems to have remained intact. The Austrian flag carrier boasts a fleet of newly renovated long-haul Boeing 767-300ER and 777-200 jets flying out of its Vienna base. 
Economy fliers gave the Star Alliance member high marks for its efficient and effective service, as well as the wealth of on-board dining and entertainment options.
12. Lufthansa
© Provided by Business Insider Previous rank: 10

Why it's awesome:  Europe's largest airline has undergone significant budget cuts in recent years, but its service and overall quality is still exceptional. In fact, Lufthansa comes close to the top of the list by receiving solid if not spectacular scores across the board.
For the most part, Lufthansa's long-haul service is very good, but, for the best results, it would be wise to aim for the fleet's newer A380 superjumbos and 748-8 Intercontinentals. 
11. Asiana
Previous rank: 8

Why it's awesome: For the second year in a row, South Korea's Asiana takes the top prize for Best Economy Class and Best Economy Class Catering. Skytrax reviewers gave the Seoul-based airline full marks for its staff service. Asiana currently operates a fleet of relatively new Airbus and Boeing jets.
10. Qantas
© Provided by Business Insider Previous rank: 11

Why it's awesome: Despite suffering through a series of severe financial struggles, the quality of Qantas' service has not suffered. The airline received praise for its strong customer service and inflight entertainment. And then there's Qantas' calling card — it has a fatality-free safety record in the jet era. 
9. EVA Air
Previous rank: 12

Why it's awesome: Taiwan's EVA Air (pronounced /ee-vee-ay/) was founded in 1989 and is an offshoot of global container-shipping giant Evergreen Group. The Taipei-based carrier has grown immensely in the past two decades and now operates a large fleet of Airbus and Boeing wide-body jets. The airline is credited with pioneering the "premium economy" cabin.  
EVA also took home he prize for the World's Best Airline Cabin Cleanliness. 
8. Garuda Indonesia
© Provided by Business Insider Previous rank: 7

Why it's awesome: After being deemed unsafe to fly into the European Union from 2007 to 2009, Garuda Indonesia has experienced a dramatic turnaround in recent years. The Indonesia flag carrier has undertaken extensive fleet renewal and service-improvement measures to regain the trust of both fliers and safety regulators. 
Economy fliers have raved about the airline's comfortable seats and selection of southeast Asian cuisine. This March, Garuda became a full-fledged member of the Skyteam global airline alliance. 
7. All Nippon Airways (ANA)
Previous rank: 6

Why it's awesome: All Nippon Airways is the largest international carrier in Japan and home to one of the world's largest fleet of Boeing 787 Dreamliners. ANA drew high praise from Skytrax reviewers across the board, scoring near perfect scores for cleanliness, service, and safety. Many of its planes feature slide-forward-style reclining seats that increase overall privacy, as well as power and USB outlets even in economy.
6. Etihad Airways
© Etihad Airways Previous rank: 9

Why it's awesome: Abu Dhabi-based Etihad airways is the flag carrier of the United Arab Emirates, with its Airbus and Boeing fleet traveling to about 96 destinations. Some of its special features include noise-reduction headphones and mood lighting in the cabin that's adjusted to keep passengers well rested. 
5. Emirates
Previous rank: 4

Why it's awesome: Over the past 10 years, Dubai's Emirates has developed into one of the world's premier long-haul carriers. Operating almost exclusively through its palatial hub at Dubai International Airport, the carrier boasts the world's largest fleet of Airbus A380 super jumbos and Boeing 777 wide-body jets.
Emirates' state-of-the-art in-flight entertainment system includes a wide selection of video and music options on demand, and even allows for live television on some "ice" entertainment system-equipped 777 aircraft. In fact, Emirates has taken home Skytrax's award for best in-flight entertainment 10 years running. 
4. Turkish Airlines
© Provided by Business Insider Previous rank: 5

Why it's awesome: Turkish Airlines is the flag carrier of Turkey with a hub in the increasingly popular travel destination Istanbul. The airline breaks records with its available destinations, flying to over 100 countries and over 200 cities worldwide. 
The airline is extremely fast-growing, is a member of Star Alliance, and has won the Skytrax award for Best Airline in Europe five years in a row.
3. Cathay Pacific Airways
Previous rank: 1

Why it's awesome: Although Hong Kong-based Cathay Pacific no longer hold the top spot, the airline still managed to take the prize for Best Transpacific Airline. With a fleet of long-range Boeing 777-300ER jets and a business strategy centered on offering a high frequency of flights, Cathay is one of the finest flying experiences in Asia.
Skytrax reviewers gave the airline high marks for seat comfort, service quality and inflight entertainment.
2. Singapore Airlines
© Provided by Business Insider Previous rank: 3

Why it's awesome: Its standout service makes for famously pleasant journeys during which flight attendants are trained to treat customers with extreme care and respect. Personal TVs with plenty of entertainment options and hot towels served before take-off are just some of the economy perks.
The airline's home base at Changi International Airport is one of the finest facilities in the world and has been named by Skytrax as the Best Airport in the world three-years in a row.
1. Qatar Airways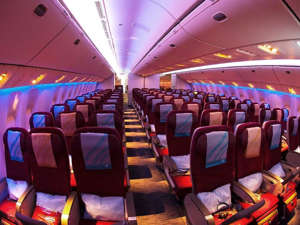 © Provided by Business Insider Previous rank: 2

Why it's awesome: This is the third time Qatar has taken home the top honors with the carrier also winning in 2011 and 2012. 
The Doha-based received praise from reviewers for its seat comfort and in-flight entertainment. In fact, the airline also took home the prize for Best Business Class Seats. Economy class guests get to enjoy features like smartphone and tablet connectivity to their personal screens.  The airline links over 125 destinations across the globe and is expanding its services from Qatar to 50 new destinations, including direct flights to Los Angeles, Miami, and Dallas.