Portugal wildfires: Man arrested in connection with blazes sweeping across central regions

The Independent
22/7/2019
A man has been arrested in connect with a police investigation into three massive wildfires that are ravaging central Portugal.
In a statement released on Sunday afternoon, police said a 55-year-old man was detained on suspicion of starting a blaze that has injured 20 and scorched 8,000 hectares, an area equivalent to 10,000 football pitches.
"The suspect's actions put people's lives, houses and the forest at risk," the police said, without explicitly saying that the detained man was responsible for the ongoing wildfire.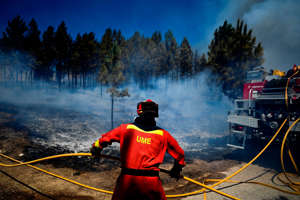 © PATRICIA DE MELO MOREIRA/AFP/Getty Images Representative Image
Some 1,000 firefighters are using over 200 vehicles, thirteen aircraft and four bulldozers to battle flames in three different locations of central Portugal.
The fires started on Saturday in the inner Castelo Branco district, some 225 kilometers (139 miles) northeast of Lisbon, and soon spread to the adjacent Santarem district.
Internal administration minister Eduardo Cabrita told reporters that authorities launched an investigation because they found it strange that all the blazes started between 2:30pm and 3:30pm local time on Saturday around the same area.
Firefighters were able to extinguish two of the wildfires, but strong winds and sizzling temperatures are making it harder to put out the remaining blaze.
"It will be an afternoon of intense work," Belo Costa, a Civil Protection official, told reporters.
The fires have already injured eight firefighters and 12 civilians, authorities said on Sunday. One civilian was evacuated to hospital and is in a serious condition after suffering first and second degree burns.
Most of the other injured are being treated for smoke inhalation.
Authorities closed at least one road and partially evacuated a village.
The Portuguese Army deployed a mobile kitchen to help feed those affected by the fire and was using its tracked vehicles to help clear roads for firefighting crews.
Ricardo Aires, the mayor of Vila de Rei, one of the affected municipalities, told Portugal's public broadcaster RTP that firefighters and resources were lacking.
The Portuguese Civil Protection warned on Thursday that favourable conditions for the spread of wildfires would develop over the weekend, with temperatures climbing over 30C and humidity decreasing. It said Santarem and Castelo Branco would see 'high' to 'maximum' levels of risk.
The warm, windy weather makes the dense forests of Portugal a frequent victim of severe wildfires.
In June 2017, a devastating wildfire tore the central town of Pedrógão-Grande, killing killed 64 people and injured more than 250. The fire was the worst disaster in modern Portuguese history.
Wildfires killed 106 people in total in 2017. The death toll pushed the Portuguese government to back stronger prevention measures, leading to no wildfire death in 2018.
This year's blazes are near the place where the 2017 fire developed. Pedrógão-Grande lies only some 58 kilometres, or 36 miles, west of Castelo Branco.
The wildfires came as a new heatwave is forecast to grip western Europe next week, giving July 2019 a chance of being the hottest month ever recorded.
Temperatures will peak at 39C in Paris on Wednesday, while France Météo is forecasting temperatures over 40C in parts of the country.
It will also be 33C in Amsterdam and Berlin, 38C in Madrid and 36C in Rome.