Woman claims to have bought a maggoty sausage bun from a bakery in Hougang mall

Coconuts
18/4/2017
If Yishun grew in disrepute for the amount of crazy happenings in the neighborhood, Hougang is showing signs of being a district where maggots tend to populate sandwiches.
Just a couple of months after someone allegedly bought a maggot-filled Ramly burger from a stall at the Hougang bus interchange, another lady has taken to Facebook to showcase her protein-packed purchase: a hot dog bun that's teeming with creepy crawlies.
Claiming that she bought the maggoty bun from Hougang Mall's Four Leaves Bakery outlet, the lady swears vengeance against the store for "the trauma that u done to (her) 8 yo boy". Traumatic indeed, if you did take a bite of this bun:
Of course, her allegations are unverified for now, and our attempts to reach out to both the lady and Four Leaves Bakery have yet to ascertain any reply. We'll update this article when we receive more details, but for now, it's probably best that you check your bun's meats for, er, bonus nutrition.
The post Woman claims to have bought a maggoty sausage bun from a bakery in Hougang mall appeared first on Coconuts.
More from MSN: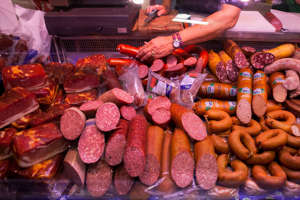 18 most dangerous foods in the world