20 of the most breathtaking national parks in Asia

Photos
10/6/2019
National parks are the marvels of nature with beautiful scenery, colorful lakes and magnificent waterfalls. Asia is home to several such parks in countries such as Japan, Vietnam, Indonesia and Thailand that you can visit. Take a look.

Bromo Tengger Semeru National Park, Indonesia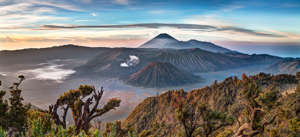 © LRPhotographies/Getty Images Covering an area of 308.8 square miles (800 square km), it is a must-visit destination for people who have an interest in volcanoes. It is home to an active volcano — Mt Semeru — that rises 2.284 miles (3,676 meters) above sea level. Visitors can either walk around, rent a jeep or hire a horse even.
Phong Nha-Ke Bang National Park, Vietnam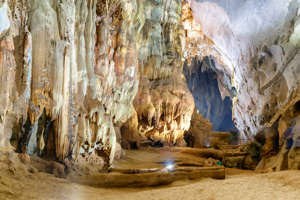 © Efired/Getty Images In 2003, it was declared a World Heritage Site by UNESCO. It consists of Asia's oldest karst mountains that were formed some 400 million years ago. The park is also known for its hundreds of cave systems and forest trekking.
Kinabalu National Park, Malaysia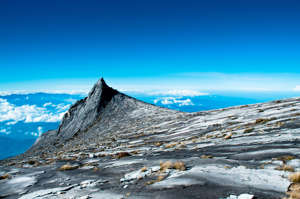 © Mohd Ihsanuddin Zulkifli/Getty Images Located in the Malaysian state of Sabah, the park's most prominent structure is Mount Kinabalu. Designated a World Heritage Site by UNESCO in 2000, the park is home to nearly 5,000 plant species. Here visitors can indulge in some adventurous activities such as rock climbing and paragliding.

Ao Phang Nga National Park, Thailand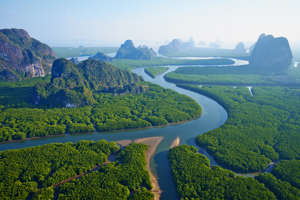 © Tuul & Bruno Morandi/Getty Images Featured in the James Bond film "The Man with the Golden Gun" (1974), this national park is known for its different islands that are surrounded with limestone pillars. While here, visitors can enjoy canoeing and caving.
Jiuzhai Valley National Park, China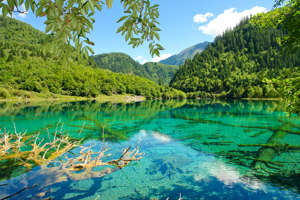 © loonger/Getty Images The picturesque park boasts colorful lakes, snowy mountains and rolling grasslands which are dotted by Tibetan villages. In 1992, it was named a UNESCO World Heritage Site and five years later it was declared UNESCO Man and Biosphere Reserve.

Komodo National Park, Indonesia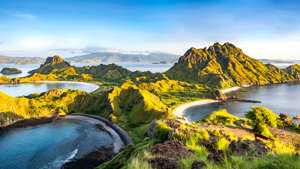 © Pannaponn Tantimasakul/Getty Images Home to Komodo dragons, the park was designated a UNESCO World Heritage Site and a Man and Biosphere Reserve in 1986. It features three main islands Komodo, Rinca and Padar. The park is also known for a rich marine life that includes coral reefs, mangroves, and seagrass beds.
Hemis National Park, India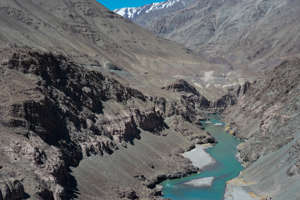 © Kraisol Siriwal/Getty Images Located in Ladakh, the park is named after the region's famous Hemis monastery. The main attraction of the park is the population of snow leopards and urials, two animals not found anywhere else in the country. Its varied landscapes, mountains, flatlands and cold deserts are some of the other big draws to the region.
Erawan National Park, Thailand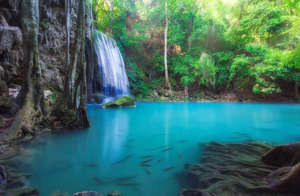 © Run Kanchano/Getty Images Established in 1975, the park's main attraction is the Erawan Falls that is named after Hindu mythology's three-headed white elephant. Some animals that live here are Indian muntjac, wild elephants, wild boar, and sambar deer.
Fuji-Hakone-Izu National Park, Japan
© oluolu3/Getty Images Mountain Fuji and Lake Ashi with Hakone Temple Declared a national park in 1936, it comprises volcanic landforms, hot springs and islands. The vegetation ranges from deciduous to coniferous forests and is home to a wide variety of birds, earning it the name wild birds' paradise.

Taroko National Park, Taiwan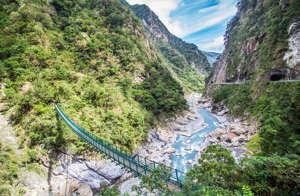 Founded in 1986, the park consists of more than 25 mountain peaks, waterfalls and represents almost all the plant and animal species found in Taiwan. The spectacular Liwu River has gradually cut through the marble mountains leading to the formation of Taroko Gorge (pictured), the most recognizable feature of the area.

Seoraksan National Park, South Korea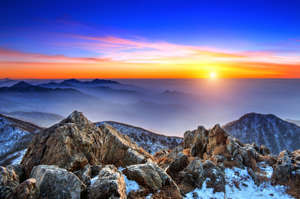 © Tawatchaiprakobkit/Getty Images A UNESCO Biosphere Protection site, the park is home to Seoraksan the third-highest mountain in the country. It houses two iconic Buddhist temples — Baekdamsa and Sinheungsa and is home to over 1,000 species of plants and 1,562 species of animals.
Khao Sam Roi Yot National Park, Thailand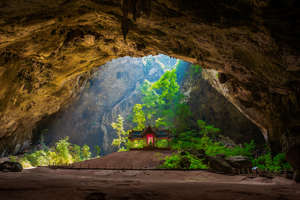 © Banjongseal324/Getty Images With its name translating to "three hundred mountain peaks," the park is the largest wetlands area in the country. It is known for its beautiful caves and beaches, and is mostly visited by bird-watchers as it is home to a huge diversity of bird species.
Jim Corbett National Park, India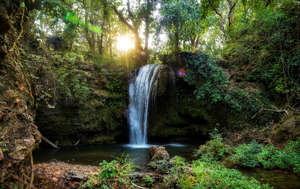 © Pankaj Singh/Getty Images Situated in Uttarakhand's Nainital district, the park is known for a wide range of wildlife including royal Bengal tiger, elephant, and different species of deer. Jeep and elephant safaris are the most popular activities undertaken by tourists here.
Yàdīng Nature Reserve, China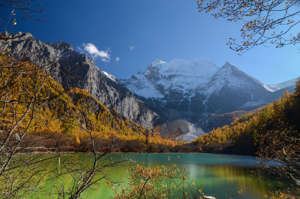 © Wichitra Watchasang/Getty Images Located in the middle of three snowcapped mountains — Chenresig, Chana Dorje and Jampelyang – believed to be sacred by the locals, the reserve stretches across an area of 520 square miles (1,344 square km). Some of the activities visitors can enjoy here are hiking, riding and camping.
Naejangsan National Park, South Korea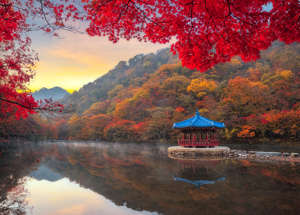 © Atakorn/Getty Images Declared a national park in 1971, it is one of the best hiking spots in the region with its ridge shaped like an amphitheater.The park is also known for waterfalls such as Dodeokpokpo and Geumseonpokpo and temples Baekyangsa and Naejangsa.
Khao Yai National Park, Thailand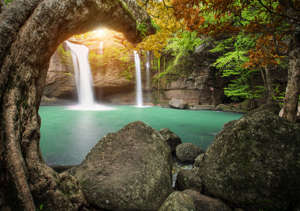 © Whitestudio2015/Getty Images The oldest park of the country was declared was declared a UNESCO World Heritage Site in 2005 as a part of Dong Phayayen-Khao Yai Forest Complex. It boasts an exotic fauna which includes animals such as elephants, macaques, barking deer, sambar deer and porcupines.
Puerto Princesa Subterranean River National Park, Philippines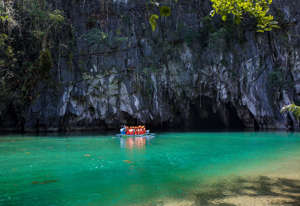 © Eddieins/Getty Images A UNESCO World Heritage Site since 1999, the park is popular among tourists for its underground river which can be experienced aboard non-motorized paddle boats.
Gunung Mulu National Park, Malaysia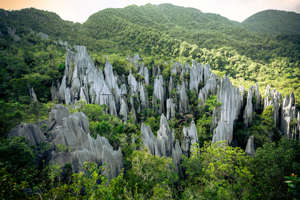 © Zodebala/Getty Images In 2000, the park was declared a World Heritage Site by UNESCO. Featuring a wide range of plant and animal species, the park's standout features are the mountains — Gunung Mulu and Gunung Api. The park is also home to an elaborate karst cave system which includes the Sarawak Chamber, the largest known cave chamber in the world.
Hong Kong Global Geopark, Hong Kong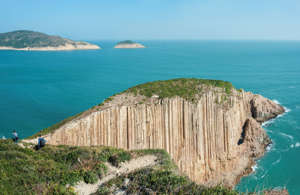 © LeeYiuTung/Getty Images The park's biggest draw are the stunning hexagonal rock formations that were formed due to a series of volcanic eruptions some 140 million years ago.
Nikko National Park, Japan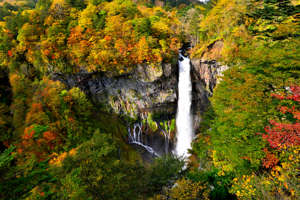 © Nobutoshi Akao/Getty Images Kegon Falls of Nikko, which is 97 meters high and located in Nikko National Park, is one of the most famous and popular waterfalls in Japan. It is the only exit for the waters of Chuzenji Lake, which is located not far from the falls. The photo was taken at the peak of autumn colors. One of the first national parks of the country, it was founded in 1934. As most of the area falls under the Nasu Volcanic Belt, it is replete with lakes, waterfalls and valleys. The wide variety of flora and fauna found here include Asian black bear, Japanese macaque, pine trees, beech trees and oak trees.