Homeboy's gonna like, get it: Sneakerhead punched in the face over Adidas x Pharrell shoe

Coconuts
4 days ago
Hypebeasts, fuccbois, well-styled basics: we're sure you got the memo that Adidas was releasing their hotly anticipated Adidas x Pharrell Williams Hu NMD "Trail Holi" Pack sneakers over the weekend. Let the queuing begin!
Limited stores in Malaysia had the shoes in stock for the release Saturday morning, one of them being the Adidas Originals shop in the Suria KLCC shopping mall, just under the Petronas Towers. Like all things of this sort (H&M collabs, iPhone releases) it is first come, first served, so best you arrive early, bring a pillow, and settle in nicely before those doors open.
It seems confusion ensued when a group of line-dwellers began a list to keep track of who was in which position in the line. This unofficial ranking of closest to shoe turned out to be problematic later on when a man with a backwards cap decided it was high-time that he punched a man wearing a Palace shirt (fuccboi level: 7/10, but we'd cop it in a second), causing him to fall.
Luckily, sneakerheads present broke up the fight. An upload to the video onto Instagram had commentators explaining that the backwards hatted man had tried to cut the queue, and was stopped by others.
Other netizens called the whole incident an embarrassment and "a disgrace to the sneaker collecting community."
Looks like you've been outdid in sneaker embarrassment, Bella Hadid.
The post Homeboy's gonna like, get it: Sneakerhead punched in the face over Adidas x Pharrell shoe appeared first on Coconuts.



In case you missed this: 

Crazy Things Stars Have Spent Their Money On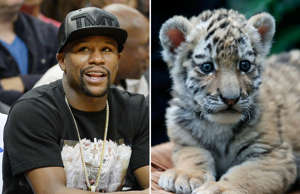 24 crazy things sports stars have spent their money on
(content provided by Microsoft GES)