Judge OKs death penalty for 'human monster' linked to slayings of 5 California women

FOX News
6/10/2018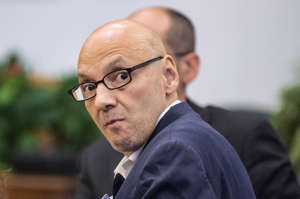 A serial killer linked to the deaths of five women more than 20 years ago in Southern California will face the death penalty.
A Superior Court judge in Orange County issued the sentence Friday for Andrew Urdiales, 54, who was convicted of killing the women in Riverside, Orange and San Diego counties between 1986 and 1995. The judge's decision came after a jury recommended the death penalty for Urdiales earlier this year.
Urdiales was previously linked to the deaths of three women in his native Illinois.
"I'm gratified that we finally got this result," Orange County District Attorney Tony Rackauckas said in a statement, adding that the death penalty was the only just punishment for Urdiales.
"When you think about the serial killings and terrible things he did, it's hard to think of Urdiales as a person — he's a human monster," Rackauckas said. "He doesn't deserve to be in the planet with the rest of us."
During the sentencing hearing, Urdiales, a former Marine, apologized to his victims' families, many of whom were present, and said he respects the jury's decision.
"To the victims' families, I express my condolences for their loss," Urdiales said, according to the Orange County Register. "I'd like to express my sincere apologies for what happened. ... If I was a juror in my case, I probably would have done the same thing."
Jennifer Asbenson is the only known woman to escape Urdiales in a remote Riverside County desert in 1992, the Register reported. She said it was "surreal to be standing here because I imagined I was going to be chopped up and left in that desert."
"I forgive you for what you did to me," Asbenson told Urdiales, according to the paper. "That does not mean what you did was right, not one bit. That is not because you don't deserve the death penalty, because we all know you do."
During the trial Denise Gragg, Urdiales attorney, argued that brain scans and other tests showed he had symptoms of someone suffering from partial fetal alcohol syndrome stemming from his mother's drinking while she was pregnant, the Los Angeles Times reported, citing City News Service (CNS).
Gragg said brain damage and traumatic events during his childhood caused him to have problems managing his anger and emotions, according to CNS.
Authorities said Urdiales, who moved to Southern California as a 19-year-old Marine, killed four women while in the military and a fifth while vacationing in Palm Springs in 1995.
He attacked Robbin Brandley, 23, a volunteer usher, after a piano concert at an Orange County community college in 1986 and fatally stabbed her 41 times in the parking lot.
Two years later, he picked up Julie McGhee, a 29-year-old working as a prostitute, drove her to a remote area, had sex with her, shot her in the head and left her body in the desert, authorities said.
Charles Erwin, whose daughter Tammie, 18, was fatally shot in the head after Urdiales picked her up and drove her to a remote area of Palm Springs, talked in court about the severe impact her death has had on him.
Urdiales "not only killed my daughter, but he killed me inside," Erwin said, according to prosecutors. "This has ruined my life. It has turned my physical being into pieces, my mental being into pieces."
"It's a relief, a new life to start," Erwin said, according to the Register. "It's been a long time coming. My heart right now is pounding out of my chest. But I was here every day in court, I wanted him to know I was here, I wanted him to know that someone cared for all these women."
The California murders went unsolved for years until Urdiales was arrested after he returned home to Illinois.
"It's not closure, it just feels like it is a second chance in life with the antagonist gone," Asbenson said.
Urdiales previously was sentenced to death for killing three women in Illinois in 2002, but that sentence was commuted to life without parole after that state barred the death penalty.
Authorities stopped Urdiales in 1996 and found a gun in his truck, prosecutors said. That weapon was matched the following year to the one used to kill the Illinois women.
The most dangerous serial killers in history (StarsInsider)