Najib says personal bank account is frozen

The Star Online
11/7/2018
© Provided by The Star Online PETALING JAYA: Datuk Seri Najib Razak's personal bank account was frozen last week, the former prime minister said.
Najib said he only realised his account was frozen when his personal cheque issued for the payment of his daughter's medical treatment bounced.
"This bank account had no other transactions, as it was only used to receive my salaries as a Member of Parliament and my pension as the Menteri Besar of Pahang," he said in a statement on Facebook Wednesday (July 11).
"This account has nothing to do with politics. It has nothing to do with matters relating to the investigation conducted by the authorities," he added.
Najib said his children's bank accounts have been unfrozen after they posted his RM1mil bail on Monday (July 9).
However his personal bank account, which he had maintained for years, remains frozen.
Without naming the 1Malaysia Development Berhad (1MDB) scandal, he said he has complied with the authorities' investigations but had still become a victim of "mudslinging politics" and "draconian actions by the Government of the day".
He said the undue conduct of the relevant agency and the timing of the freezing of my account is uncalled for.
"Some have speculated to me that due to the timing of the freezing, this might be to circumvent or frustrate the order of the court for me to raise bail, If taken in its entirety, it seems to allude to mala fide (with intent to deceive)," he said.
"Why is my personal liberty been circumvented when the court had already granted me bail pending trial and the fact that I have complied with my bail conditions?" he questioned.
"The Authorities need to realise that I as an ordinary citizen too. As the head of my household, I too have bills to pay, medical bills to attend to and a household to run," Najib said.
He urged the relevant authorities to give him access to his personal freedom until his trial is completed.
"I am pleading with all concerned to stick to the rules of a fair and impartial investigation.
"If we do not respect the rule of law, rules of Natural Justice and the Federal Constitution, we would eventually become a failed state," he added.
Najib has been charged with three counts of criminal breach of trust and one count of abuse of power involving RM42bil linked to SRC International Sdn Bhd, a former 1MDB subsidiary.
His bail for the case was set at RM1mil and paid in full on Monday (July 9).


In case you missed this: 

1MDB Timeline Scandal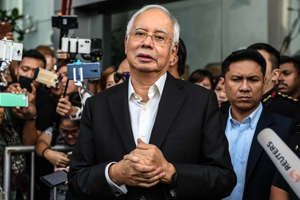 (content provided by Microsoft GES)