Sabrina Meng Wanzhou and Annabel Yao: Huawei founder's two daughters

South China Morning Post
6/12/2018
The two daughters of Chinese smartphone giant Huawei's founder, Ren Zhengfei, have been making headlines – and for quite different reasons. The elder one, 46-year-old Huawei chief financial officer Sabrina Meng Wanzhou, was detained by Canadian authorities this month at the request of the United States government, reportedly for violating sanctions against Iran; the younger daughter, Harvard computer science student Annabel Yao, 21, was a sensation at last month's Le Bal des Debutantes (or Crillon Ball) in Paris.
Neither daughter bears their father's surname – and a quick look at the family tree offer clues as to why that is.
Ren, born in China's poorest province, Guizhou, in the country's southwest, has married three times.
His first wife was Meng Jun, daughter of a former senior official in Sichuan province, Meng Dongbuo; she bore Ren, who is now 74 years old, two children: Meng Wanzhou (who has also been referred to as Cathy Meng, including in a 2013 The New York Times report) and a son, Meng Ping.
Annabel Yao is his daughter by his second wife, Yao Ling. Ren's third wife is Su Wei who, according to Chinese media reports, is a millennial who was formerly his secretary.
According to Chinese news websites, Meng Wanzhou and Meng Ping, who both work for Huawei, took their mother's surname to "avoid unnecessary attention" (though the son was also known as Ren Ping in the past).
This practice is not uncommon among the families of China's elite. The co-founder of Chinese auction house China Guardian, Wang Yannan, opted not to take her father's surname – she is the daughter of late Chinese premier Zhao Ziyang.
Ren is one of the most watched entrepreneurs in China and was on Time magazine's list of 100 most influential people in the world in 2005 and again in 2013.
This article originally appeared on the South China Morning Post (SCMP), the leading news media reporting on China and Asia. For more SCMP stories, please download our mobile app, follow us on Twitter, and like us on Facebook.
Copyright (c) 2018. South China Morning Post Publishers Ltd. All rights reserved.
In case you missed this: 

The Biggest Companies In Asia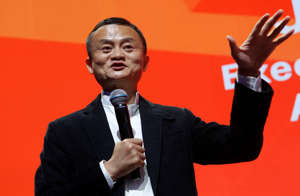 (content provided by Microsoft GES)