Secret North Korean Missile Base Detected

Newsweek
6/12/2018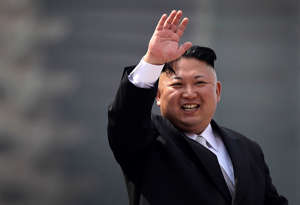 © AP In this Saturday, April 15, 2017 photo, North Korean leader Kim Jong Un waves during a military parade in Pyongyang, North Korea, to celebrate the 105th birth anniversary of Kim Il Sung, the country's late founder and grandfather of current ruler Kim Jong Un. (AP Photo/Wong Maye-E, File) North Korea has expanded a long-range missile base in the interior of the country and appeared to have started building a new one, it has been reported.
Satellite images seen by CNN show that the Yeongjeo-dong missile base and a nearby, previously unreported site are not only active but are being upgraded.
Denuclearizing the Korean peninsula was the focus of the summit in Singapore in June between leader Kim Jong-Un and President Donald Trump.
But a report by the Middlebury Institute of International Studies at Monterey says there has been construction on a new facility just seven miles away from the older Yeongjeo-dong site that had not been previously publicly identified.
Slideshow: The shocking secrets of Kim Jong-un's luxury life
"Satellite images show that the base remains active. Moreover, in the past year North Korea has significantly expanded a nearby facility that appears to be another missile base,"  the report says, adding it was not known if the bases were separate or if one was subordinate to the other.
"Construction on the previously unidentified site has continued even after the Singapore Summit between Kim and President Donald Trump in June," Jeffrey Lewis from the Institute said.

"Whatever Kim says about his desire for denuclearization, North Korea continues to produce and deploy nuclear armed missiles," he told CNN.
North Korea has announced the testing of an unspecified "newly developed ultramodern weapon" amid reports that it is continuing to develop its nuclear and missiles programs. 
The report said that the site's unique location would be ideal for North Korea's newest long-range missiles, including those that can carry nuclear weapons and can strike the United States.
Vipin Narang, a politics professor at the Massachusetts Institute of Technology, tweeted : "North Korea isn't disarming. It never said it would.
Life in North Korea: What you are allowed to see
"(Trump) has to be well aware of these developments. He just doesn't care. Kim pretends to disarm and Trump pretends to believe him. That'll get everyone to halftime."
Kim announced at a summit in September with South Korean leader Moon Jae-in the dismantlement of a nuclear facility at another site in Nyongbyon, which Trump described in a tweet as "very exciting."
But national security adviser John Bolton said Tuesday that there should be another summit with Kim, telling the Wall Street Journal's annual CEO Council conference in Washington: "They have not lived up to the commitments so far.
"That's why I think the president thinks that another summit is likely to be productive."
Evan S. Medeiros, the senior Asia policy director in the National Security Council during the Obama administration, said that another meeting between the leaders would play into the hands of Kim.
"This move defies any negotiating logic. Meeting Kim again only validates Kim's strategy of using Trump to play for time and sanctions relief, and keep North Korea on the pathway to becoming a de facto nuclear weapon state," Medeiros told the New York Times.
North Korea destroys 10 guard posts to lower tensions (Independent)

Download the Microsoft News app for your Android or iPhone device and get news & live updates on the go.