God's Footprint: stunning aerial Australia photos taken on flights

Photos
|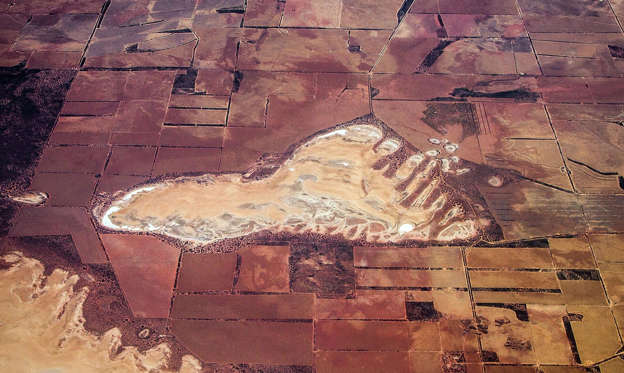 Other-worldly photos of Australia taken from a flight
What do you do on long flights, watch a movie?
Paul Williams takes jaw-dropping images of the landscape unfurling below him.
His impressive series of pictures capture a rare view of Australia only viewable from thousands of feet in the air.
Some of the sights include a 'desert footprint' in the Western Australian wheatfields (pictured), a fried-egg shape between Broome and Perth and what looks like a human sperm - which Paul has entitled 'desert seed'.
The English 34-year-old is a producer/director at the BBC Natural History Unit so is used to traversing the globe in search of impressive natural wonders.
But his in-transit images, shot with a Canon EOS 7D, make for a remarkable gallery of an untamed continent.
He explains: "As a director for the BBC Natural History Unit, I spend a lot of time flying around the world, and it isn't long before I've exhausted all of the onboard movies. To keep myself occupied I make sure that I always have my camera with me, and I think carefully before choosing my seat. I check out the path that the flight might take, consider which side will give me the best view, what time of day and where the sun will be, and most importantly make sure that I am as far away from the wing as possible - my favourite seat is a couple of rows from the back.
Since 2003, Paul has worked on a range of high-profile BBC TV series including, 'Life in Cold Blood', 'Life' and 'How Earth Made Us'. He has filmed around the world, from remote arctic valleys and the craters of active volcanoes, to isolated pacific islands. Paul is passionate about conservation and works as a freelance photographer and writer helping to raise awareness of the issues that he encounters during his travels.
You can follow his adventures at http://www.ironammonite.com.
© REX/Paul Williams/ironammonite.com