2018 Chevrolet Bolt EV

Motor Trend
4/5/2017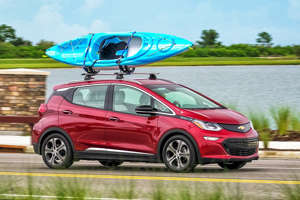 Vehicle Summary
The Chevrolet Bolt EV is an all electric vehicle with a hatchback body style. On a single charge, the EPA estimates that the Bolt EV can travel up to 238 miles on a single charge. The car can be charged to 90 percent in 30 minutes when using a level 3 fast charger or nine hours with a level 2 charger. You can also charge the Bolt EV using a standard home wall outlet but it might take over 24 hours to fully charge the car.
Overview
It's unlikely that the 2018 Chevrolet Bolt EV will receive major updates as the car was all-new last year (we'll update this space with official info as soon as it's available). However, minor tweaks such as new colors could be part of the update for the 2018 model year.
The Chevrolet Bolt EV was the 2017 Motor Trend Car of the Year. Read about how it earned the award here.
Key Competitors