2018 Tesla Model S – Audio and Infotainment

Car and Driver
10/18/2018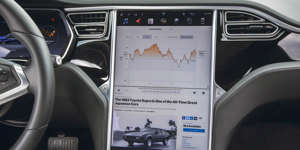 Audio and Infotainment Rating:
In the same way that the Tesla brand as a whole has disrupted the automotive industry, the Model S's infotainment system has led the way for more advanced setups in the vehicles of other manufacturers. The system is quick to load its various menus and it looks stunning, but the infotainment system requires a steep learning curve.
Infotainment Features
The Model S's touchscreen-centric interior relies on a large, 17-inch, vertically oriented display to access nearly all of the vehicle's controls-from the radio, media, and map features to even things as simple as adjusting the temperature or opening the optional power sunroof. Technophiles will be in heaven, but we're not completely sold. The screen's positioning on the dashboard will require some drivers to lean forward in their seat to reach certain icons, especially those near the top right of the display. We're also not convinced that completely eliminating physical controls makes using the Model S's various features any easier-in fact, we'd go so far as to say it's a barrier to usage. Give us a couple of buttons for heated seats, a dial to set our desired temperature, and a volume knob for the audio system, and we'd be happy.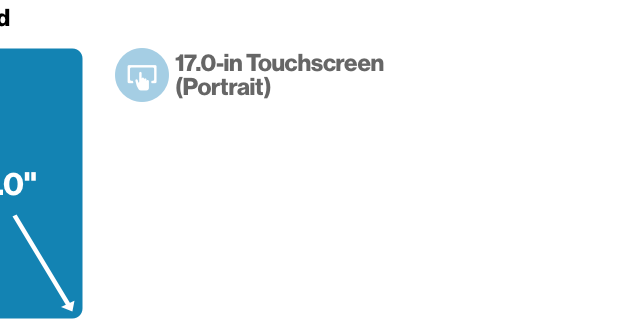 Audio and Infotainment
© Car and Driver
Infotainment Performance
Infotainment Controls


We measure the electrical current that each USB port provides. All USB ports found in a vehicle provide 5.0 volts, per the USB standard. Current, measured in amps, varies and dictates the charge times of devices. The higher the amps, the quicker a device's charge time. Not all USB devices are created equal. Most modern smartphones can charge at 2.0 amps, while slow or stagnant charging can result from using current at 1.0 amp or lower when the device is in use.
Test Results: USB Performance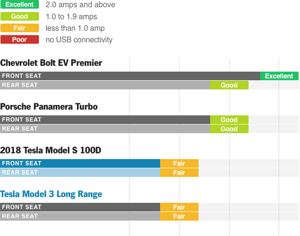 Audio System and Features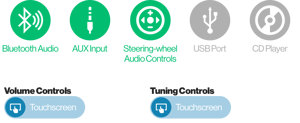 Available Audio Systems
Now that the Premium Upgrades package is standard across the range, every new Model S features a 12-speaker audio system. You won't find a CD player or an auxiliary input jack in any Model S, but an accessory charging dock for compatible smartphones is offered for a measly $34-well worth it in our eyes. 
Continue Reading: 
• 2018 Tesla Model S – Overview and Pricing
• Powertrain and Charging
• Fuel Economy and Driving Range
• Performance and Driving Impressions
• Audio and Infotainment
• Interior and Passenger Space
• Cargo Space and Storage
• Exterior Design and Dimensions
• Safety, Driver Assistance, and Warranty
• Video Overview: Interior, Infotainment, Cargo Space
Read more auto reviews on MSN Autos