2018 Tesla Model S – Cargo Space and Storage

Car and Driver
10/18/2018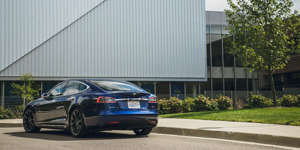 Cargo Space and Storage Rating:

The Model S's sloped roofline cleverly hides a rear liftgate that opens up to reveal a huge 26-cubic-foot trunk. We managed to stash eight of our carry-on-size cases without folding down the rear seats, the most in this comparison. Paltry small-item cubby stowage throughout the interior-especially in the back seat-is offset by a large underfloor bin in the rear cargo area (unless the optional third-row seat is ordered).
Research the Tesla Model S on MSN Autos | Find a Tesla Model S near you
Carry-On Luggage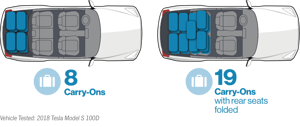 Test Results: Carry-On Luggage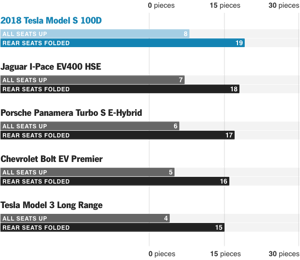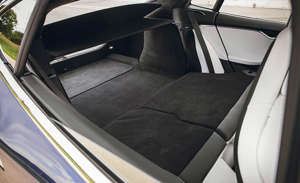 Cargo Configurations

Lift-Over Height

Interior Cubby Storage
If you're stuck in the back seat of the Model S, you'll be forced to hold onto all of your belongings since there are no stowage bins or map pockets—or even cupholders—back there for you to stash your small items. Front-seat occupants can use the large center console and glovebox, but there are no door pockets. Luckily, Tesla provides a large underfloor bin in the trunk for additional storage, although that is also where the optional third-row seat tumbles when it's stowed.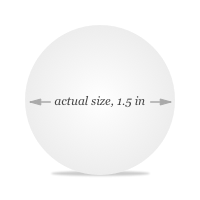 Why do we use ping-pong balls?
To determine the interior space available to stash travel essentials, we've devised a range of measuring protocols. We use six beverage containers ranging in size and shape to gauge cupholder accommodation. We stack, stuff, and arrange 9-by-14-by-22-inch cardboard boxes to quantify the number of airline-carry-on-size suitcases that will fit in a trunk or folded seat's cargo space. To measure irregularly shaped gloveboxes, door pockets, and console bins, we fill each container with 1.5-inch-diameter ping-pong balls. It's tempting to convert the number of spheres to a volume (cubic inches), but we resist that calculation because—as with the box of tissues, 12-ounce can of soda, or gallon of milk you might stash in these compartments—there are voids between the balls. Random packing (our procedure) nullifies approximately one-third of the available space. The negative space between the balls could theoretically be reduced to 25 percent of an irregular shape with precise stacking, but while we might be pedantic, we're not crazy.

Test Results: Maximum Cubby Storage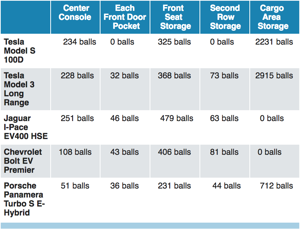 Continue Reading: 
• 2018 Tesla Model S – Overview and Pricing
• Powertrain and Charging
• Fuel Economy and Driving Range
• Performance and Driving Impressions
• Audio and Infotainment
• Interior and Passenger Space
• Cargo Space and Storage
• Exterior Design and Dimensions
• Safety, Driver Assistance, and Warranty
• Video Overview: Interior, Infotainment, Cargo Space
Read more auto reviews on MSN Autos