2018 Tesla Model S – Exterior Design and Dimensions

Car and Driver
10/18/2018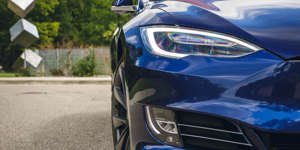 Exterior Design and Dimensions Rating:

In profile, the Model S is low-slung, athletic, and streamlined with bright chrome trapezoidal door handles that automatically extend to meet your hand when the car senses your approach. The front end continues the sporty theme, but the rear appears fairly generic and out of step with the rest of the design. Regardless, the Model S is a fine-looking car with handsome detailing.
Research the Tesla Model S on MSN Autos | Find a Tesla Model S near you
Exterior Dimensions
Considering the Model S's low ground-clearance measurement, we'd understand concerns about speed bumps or sharply inclined driveways, but the Tesla comes standard with an adjustable air suspension that can raise the car's body to provide greater ground clearance. Better yet, the system can remember where these obstacles are and can automatically raise itself the next time the car approaches that area.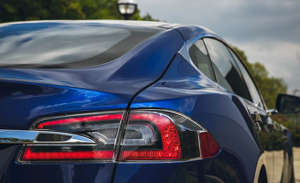 Exterior Features
Nineteen-inch wheels are standard and come in either a silver or dark-gray finish, while 21-inchers are optional. All Model S trims come with an all-glass roof as standard, but those who like to open the top to let the sun shine in will want to select the panoramic sunroof for $2000.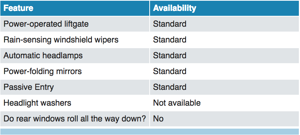 © Car and Driver Exterior Design and Dimensions

© Car and Driver Exterior Design and Dimensions
The Model S doesn't have a key like normal cars; it comes with a car-shaped fob and proximity sensors. Approach the Model S and it unlocks itself, extends its door handles, and prepares for imminent departure. Simply get in, close the door, buckle your seatbelt, shift to drive, and you're off-no push-button ignition or fumbling with a key to slow you down. The fob itself provides access to both the front and rear trunks and even serves as a remote control for the Model S's Summon feature, which allows it to be maneuvered into and out of tight parking spaces without someone in the driver's seat.
Continue Reading: 
• 2018 Tesla Model S – Overview and Pricing
• Powertrain and Charging
• Fuel Economy and Driving Range
• Performance and Driving Impressions
• Audio and Infotainment
• Interior and Passenger Space
• Cargo Space and Storage
• Exterior Design and Dimensions
• Safety, Driver Assistance, and Warranty
• Video Overview: Interior, Infotainment, Cargo Space
Read more auto reviews on MSN Autos