2018 Tesla Model S – Fuel Economy and Driving Range

Car and Driver
10/18/2018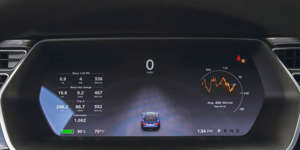 Fuel Economy and Driving Range Rating:

While rivals such as the Chevrolet Bolt and even Tesla's own Model 3 have encroached on its driving-range superiority, the Model S remains an impressive alternative to gasoline-powered vehicles when it comes to long-distance usability. The top-of-the-line P100D sacrifices some of its driving range to provide brutal acceleration performance.
We've devised our own fuel-economy test in an attempt to replicate how most people drive on the highway. Our procedure entails a 200-mile out-and-back loop on Michigan's I-94 highway. We maintain a GPS-verified 75 mph and use the cruise control as much as possible to mimic the way many drivers behave during long trips.
Research the Tesla Model S on MSN Autos | Find a Tesla Model S near you
Fuel Economy Ratings Compared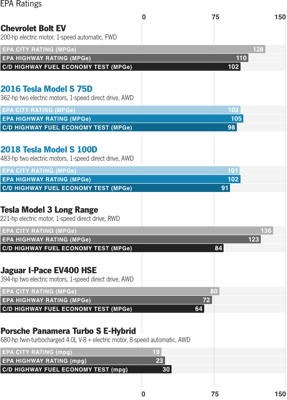 © Car and Driver Fuel Economy and Driving Range

© Car and Driver Fuel Economy and Driving Range
Electric-Only Range
The 100D model's larger battery pack adds almost 80 extra miles of potential range versus the 75D, but upgrading to the P100D reduces that number slightly because of the model's high-performance intentions. The Porsche Panamera Turbo S E-Hybrid we tested delivered 30 mpg and a much longer overall driving range but relies on a gasoline-fueled twin-turbocharged V-8 to propel itself beyond the 14 miles of electric-only driving range it offers.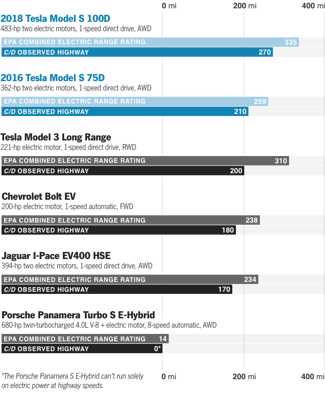 Continue Reading: 
• 2018 Tesla Model S – Overview and Pricing
• Powertrain and Charging
• Fuel Economy and Driving Range
• Performance and Driving Impressions
• Audio and Infotainment
• Interior and Passenger Space
• Cargo Space and Storage
• Exterior Design and Dimensions
• Safety, Driver Assistance, and Warranty
• Video Overview: Interior, Infotainment, Cargo Space
Read more auto reviews on MSN Autos