2018 Tesla Model S – Interior and Passenger Space

Car and Driver
10/18/2018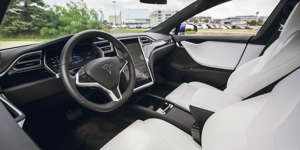 Interior and Passenger Space Rating:

With Model S prices starting at more than $70,000, buyers should expect a reasonable amount of luxury inside the car. The cabin's atmosphere is nice enough, but it's not as plush as those of our favorites such as the Mercedes-Benz E-class and the Volvo S90. A few missteps, such as a lack of rear-seat cupholders and poorly aligned interior panels, remind us that Tesla is still working through some growing pains as a young carmaker.
Research the Tesla Model S on MSN Autos | Find a Tesla Model S near you
Interior Space Comparisons
Front-seat space is adequate, and most occupants should find plenty of head- and legroom. Those forced to ride in the back seat may find their hair touching the Model S's faux-suede headliner. Tesla offers a pop-up rear-facing third row of seats (a $4000 option), but they are strictly for young children since the sloping roofline of the rear hatch severely limits headroom.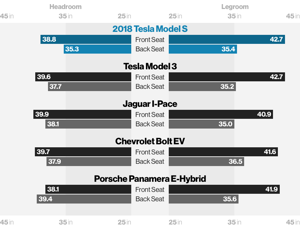 Front-Seat Passenger Space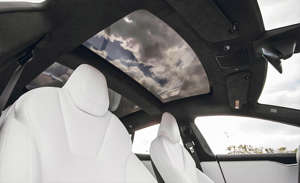 Back-Seat Passenger Space
Interior Features
Fans of modern minimalism will adore the Model S's cabin, which comes standard with a giant infotainment screen that controls almost all of the vehicle's functions. The dashboard and door panels are covered in faux leather and, in our test vehicle, accented by a lovely glossy wood trim. Unfortunately, some of the interior panels in our 100D test car were misaligned and spoiled the otherwise upscale design. The standard power-adjustable tilting-and-telescoping steering column provides a good range of motion to help suit a broad range of the driving public. Neither the front nor the rear seats are plush in the way of those in most luxury cars, but they're well bolstered and supportive enough to hold you tightly when you decide to put the spurs to the Model S 100D's 483 ponies.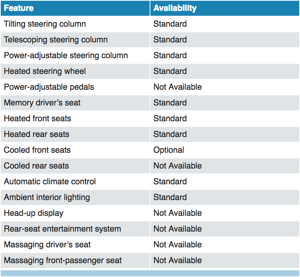 Interior Sound Level
To measure a vehicle's interior quietness, we use a sound meter to take two measurements at the height of the driver's ear while traveling at 70 mph. We then average the results. As illustrated by the graphic below, decibels are a logarithmic unit, so a rating of 60 decibels isn't 1.5 times the sound pressure of 40 decibels; it is 10 times the sound pressure.
The Model S's results in this test are quiet but unremarkable; the Jaguar I-Pace, on the other hand, delivered one of the quietest results we've recorded recently.

Test Results: Interior Sound Levels at 70 mph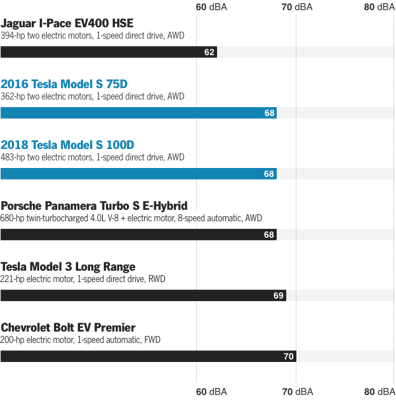 Seating and Step-In Heights
To accurately measure seating height—the distance from the road to the driver's hip—we use an H-Point Machine (HPM), a precisely engineered device marketed by SAE International. This versatile tool, in conjunction with a laser device, reveals the width and location of roof-pillar visibility obstructions (blind spots). Our HPM and laser measurement tools determine the length of road obscured by the hood as well as the road obscured by the trunk or hatch (as seen through the rearview mirror).

Blind Spots, Visibility, and Obscured Roadway
Wider than average front roof pillars impede forward visibility slightly more than in rivals—at least according to our measurements. In the real world, the Model S's forward visibility seems fine, and large exterior mirrors mounted on grandiose chrome arms help reduce blind spots. The view through the rearview mirror, however, is problematic: the Model S's rakish roofline and severely sloped rear window create a very narrow opening to see what's approaching from the rear.
Roof pillars protect occupants in a rollover crash, but they also create blind spots. We determine visibility by measuring the location and width of each pillar using an H-Point Machine and a laser beam (surrogates for a driver and eyeball, respectively). Front and rear visibility are calculated by subtracting the viewable area blocked by the pillars from a perfect 180-degree score.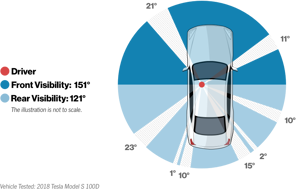 Continue Reading: 
• 2018 Tesla Model S – Overview and Pricing
• Powertrain and Charging
• Fuel Economy and Driving Range
• Performance and Driving Impressions
• Audio and Infotainment
• Interior and Passenger Space
• Cargo Space and Storage
• Exterior Design and Dimensions
• Safety, Driver Assistance, and Warranty
• Video Overview: Interior, Infotainment, Cargo Space
Read more auto reviews on MSN Autos