2018 Tesla Model S – Performance and Driving Impressions

Car and Driver
10/18/2018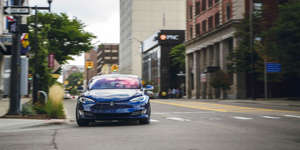 Performance and Driving Impressions Rating:

With all-wheel-drive traction and immediate power delivery, all Model S trims perform heroically when the driver punches the throttle. A low center of gravity and quick steering lend a decidedly nimble feeling to its handling capabilities, and the aggressive electricity regeneration from the motors makes quick work of scrubbing off speed for an upcoming corner.
Research the Tesla Model S on MSN Autos | Find a Tesla Model S near you
Acceleration
Peppy isn't an accurate word to describe the Model S's acceleration performance, considering how our base-model 75D and midrange 100D test vehicles both laid down hasty zero-to-60-mph and quarter-mile times at our test track. Wealthy leadfoots who can afford the top-spec P100D model can enjoy a claimed 2.5-second zero-to-60-mph time, which is sure to give unsuspecting passengers a serious case of the butterflies.
Test Results: Acceleration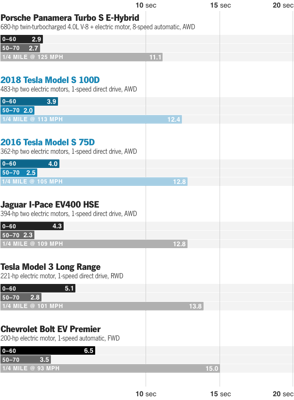 Ride, Handling, and Steering
Under the Tesla's floor lies a battery pack that yields a low center of gravity and evenly distributed weight from front to rear. The Model S is an agile sports sedan with well-controlled body motions and direct steering. Two different settings allow drivers to choose heavy or light steering effort, but neither of them enable more feedback from the road ahead. Ride comfort is good, and the Model S imparts a solid feeling on the road that perfectly accompanies its tranquility when cruising.
Test Results: Maximum Cornering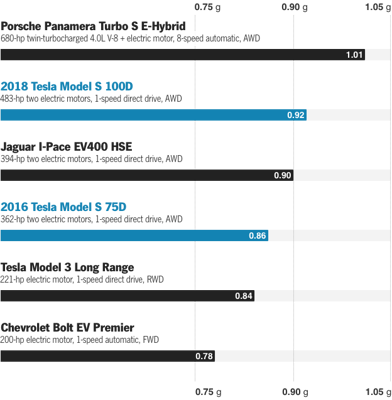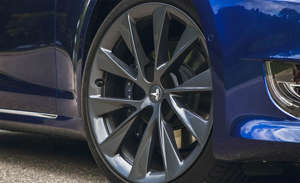 Braking
When driving the Model S, using the brake pedal is a rarity due to its aggressive regenerative coasting that allows for mostly one-pedal driving. The regenerative braking system recharges the battery when you lift off the accelerator, which means you can drive in most scenarios without ever touching the brake pedal. When you do have to step on the brake pedal, it feels firm and reassuring underfoot.
Test Results: Maximum Braking Capability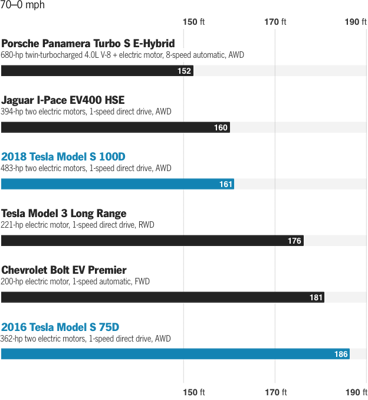 Test Results: Curb Weight and Weight Distribution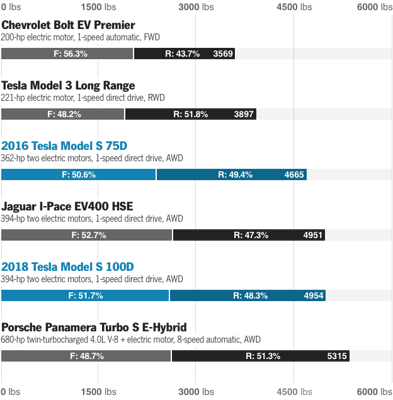 Continue Reading: 
• 2018 Tesla Model S – Overview and Pricing
• Powertrain and Charging
• Fuel Economy and Driving Range
• Performance and Driving Impressions
• Audio and Infotainment
• Interior and Passenger Space
• Cargo Space and Storage
• Exterior Design and Dimensions
• Safety, Driver Assistance, and Warranty
• Video Overview: Interior, Infotainment, Cargo Space
Read more auto reviews on MSN Autos