2018 Tesla Model S: What You Need to Know

US News & World Report - Cars
6/8/2018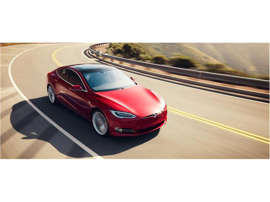 The 2018 Tesla Model S really is the total package. It delivers world-class performance and has a spacious cabin loaded with tech features. For these reasons, it's one of the highest-rated cars on our site. 
The 2018 Tesla Model S is ranked:
Is the Tesla Model S a Good Car?
"Good" really undersells it; the Tesla Model S is an outstanding car. It has better acceleration than almost any car on the road, it's far more nimble than many large cars, and it gets the excellent efficiency you want from an EV. It also has a much longer range than most other electric vehicles.
On top of that, the Model S has a stylish, well-built cabin. Both rows of seats are spacious, as is the cargo hold. Unlike most sedans, the Model S has an available third row. It also offers an impressive array of tech features, including the famous Autopilot system.
Should I Buy the Tesla Model S?
The Model S deserves strong consideration from luxury large car shoppers – even those who aren't EV fans. If you are an EV fan, however, the Model S is about as good as it gets. The main factor working against this Tesla is its higher starting price than most rivals. Should you decide to shop around, you'll want to check out rivals like the Mercedes-Benz CLS and Porsche Panamera.
Should I Buy a New or Used Tesla Model S?
The Tesla Model S was introduced as a new vehicle in 2012, and it has been updated on a regular basis since then. However, there have been no drastic overhauls, meaning the 2018 model is still part of the vehicle's first generation.
For 2017, Tesla reshuffled the Model S lineup, cutting the Model S 70 trim and adding the Model S 100D. It also increased the driving range across the lineup. For 2018, side collision warning and automatic emergency braking are now standard, and the lineup has been cut down to three trims. The base price for this Tesla also went up by about $5,000, and all models now include all-wheel drive.
You can potentially save some money by shopping used, but you may miss out on new features and the added range of the newer models. If you're interested in a used model, be sure to visit our overviews of the 2016 Tesla Model S and 2017 Tesla Model S. Also, check out our Used Car Deals page to learn about savings and discounts on used vehicles.
We Did the Research for You: 37 Pieces of Data Analyzed
Our car reviews include everything you need to know before heading to the dealership. We combine the opinions of the automotive press with quantifiable data like crash test results and reliability ratings to form a complete picture of every vehicle we rank.
This review uses applicable research and data from all model years of the current Model S generation, which runs from 2012 to 2018.
Why You Can Trust Us
U.S. News Best Cars has been ranking vehicles since 2007, and our team has more than 75 years of combined experience in the automotive industry. Our car reviews are objective. To keep them that way, our editorial staff doesn't accept expensive gifts or trips from automakers, and a third party handles all the advertising on our site.
How Much Does the Tesla Model S Cost?
The Model S 75D has a base price of a little under $75,000. That's one of the highest starting prices in the class; some competitors have base prices that are tens of thousands of dollars lower.
The Model S 100D, which has the longest range in the lineup, starts at around $94,000. The Model S P100D, which comes with the aptly named Ludicrous Speed upgrade, has a starting price of around $135,000. Few rivals' top trims have comparable price tags.
To help offset the cost of a new Model S, you may be eligible to claim up to $7,500 in tax incentives.
Tesla Model S Versus the Competition
The Model S is one of three Tesla models (along with the Model X and Model 3) that aim to redefine the electric vehicle by providing luxurious interiors, plenty of technology, and outstanding performance. They also have much longer ranges than most other EVs. For these reasons, the Model S straddles the line between a luxury sedan and a sports car – with an environmentally friendly twist.
Which Is Better: Tesla Model S or Mercedes-Benz CLS?
The Mercedes-Benz CLS is one of the few class rivals in the Tesla's price range. The CLS doesn't move like the Model S (few cars do), but it still has several powerful engines, nimble handling, and a generally smooth ride. Both cars have upscale cabins, but the Model S seats more people and has more space for rear-seat passengers. It also provides more cargo space. Both vehicles are pretty well-equipped as far as technology goes. As good as the Mercedes is, at the end of the day, the Model S is just a better car.
Which Is Better: Tesla Model S or Porsche Panamera?
Like the Model S, the Porsche Panamera has virtually no flaws. The Panamera delivers outstanding performance and has a plug-in hybrid variant. It also handles well, has an upscale interior, and offers lots of features – though it only seats four people and has less cargo space than the Model S. The Panamera is much more expensive as well. It starts at around $10,000 more than the Model S, and the plug-in hybrid has a starting price of just under $100,000. Choosing between it and the Model S will likely come down to personal preference, but your decision could be swayed by your budget or how much you want the Model S' all-electric function.
Model S Interior
How Many People Does the Model S Seat?
The Model S seats five in its standard configuration. You can add two rear-facing jump seats to increase capacity to seven – more than every class rival. Both forward-facing rows are spacious and comfortable, and it's easy to get into and out of the vehicle. The available jump seats are pretty small; they likely won't fit adults.
Model S and Car Seats
There are two full sets of LATCH car-seat connectors. The lower anchors are hard to reach and tough to maneuver around. On the bright side, the tether anchors are easy to find, and you won't confuse them with other equipment.
Model S Interior Quality
The Model S may not ooze high-end luxury like some rivals, but you'll have trouble finding any flaws in this Tesla. Its interior is sleek, well-built, and stylish, and there are soft-touch materials throughout.
Model S Cargo Space
The Model S upends the competition when it comes to cargo space, thanks to its hatchback body style. The trunk area has over 26 cubic feet of room, which could hold a weekend's worth of luggage or bags from a colossal shopping spree. Fold the rear seats down, and you'll get more than 58 cubic feet of space. That's more than some SUVs provide, and it's enough room for large items like a bicycle.
Model S Infotainment, Bluetooth, and Navigation
Standard features include automatic climate control, a 17-inch touch screen, Bluetooth, two USB ports, HD Radio, and navigation. Available features include a cabin air filter system, an 11-speaker premium sound system, a panoramic glass roof, and a sunroof.
The Model S almost seems like it revolves around technology, and the giant touch screen furthers that notion. The screen is responsive, but some of the menus are complex. Despite the Model S' sterling reputation for technology, connectivity features like Apple CarPlay and Android Auto are conspicuously absent from the features list. For more information, read What Is Apple CarPlay? and What Is Android Auto? Then, see the Best Cars With Apple CarPlay and Best Cars With Android Auto.
Model S Performance
Model S Engine: Hold on Tight
Regardless of which trim you select, the Model S delivers outstanding acceleration and easily outpaces many other large sedans. The slowest Model S has a zero to 60 mph time that's barely above 4 seconds. The fastest is the high-performance P100D, and … wow. It'll go from zero to 60 mph in just 2.5 seconds, making it one of the quickest street-legal cars in the world.
Model S Range and Charging: Like Steph Curry, Its Range Is Nearly Limitless
The Model S' range is more than double that of many electric vehicles. The shortest-range trim, the Model S 75D, can still travel nearly 260 miles on a single charge. The Model S 100D, which has the longest range, can go roughly 335 miles between charges. These numbers may vary depending on factors like tire size and driving speed.
When it comes time to charge, you can plug your Model S into a standard 120-volt outlet, but it'll charge much faster with a 240-volt outlet. You can also use Tesla's nationwide network of Supercharger stations; these stations will recharge up to 80 percent of the battery's full range in about half an hour. Additionally, owners can get up to 400 kWh (or about 1,000 miles' worth) of charging for free each year at Supercharger stations.
The Model S doesn't just have great range; it also has the supreme efficiency that people associate with electric vehicles. The Model S earns 102 mpg-equivalent (mpg-e) in the city and 105 mpg-e on the highway.
Compared to gas-powered rivals like the Mercedes CLS and Porsche Panamera, the Model S will save you well over $1,000 each year in fuel costs.
Model S Ride and Handling: Sedan or Sports Car?
Every Model S comes with all-wheel drive, which contributes to its excellent handling. Sharp steering and strong brakes will also give drivers confidence on winding roads. The ride is firm, but it's never uncomfortable.
Model S Reliability
Is the Tesla Model S Reliable?
The 2018 Tesla Model S does not yet have a predicted reliability rating from J.D. Power.
Tesla Model S Warranty
Tesla backs the Model S with a four-year/50,000-mile warranty and an eight-year/unlimited-mile battery and powertrain warranty. Many luxury vehicles have similar warranty terms.
Model S Safety
Model S Crash Test Results
The 2018 Model S has not been fully crash tested, but it receives a perfect five-star rating in the National Highway Traffic Safety Administration's rollover test.
Model S Safety Features
Standard driver assistance features include front and rear parking sensors, front- and rearview cameras, lane departure warning, side collision warning, automatic emergency braking, and blind spot monitoring.
Available features include adaptive cruise control, lane keep assist, automatic parking, a summon feature, a 360-degree camera system, and the Autopilot system, which also encompasses some of these other features.
Which Tesla Model S Model Is Right for Me?
The major difference between the three Tesla models is their range. However, even the base Model S has a range of over 250 miles, which dwarfs the range of most electric vehicles. Unless you're frequently driving great distances, stick with the base 75D. You can put the money you save toward some of the available features, if you're so inclined.
The Model S has a base price of $74,500. The base 75D model has a 259-mile range and comes standard with leatherette seats, power-adjustable and heated front seats, automatic climate control, a 17-inch touch screen, Bluetooth, two USB ports, HD Radio, navigation, front and rear parking sensors, front- and rearview cameras, lane departure warning, and blind spot monitoring.
There are several option packages you can add. The Premium Upgrades package ($5,000) includes an air filtration system, heated rear seats, a heated steering wheel, and more. The Enhanced Autopilot package ($5,000), adds several driver assistance technologies that allow the Model S to drive down the highway and park itself with minimal oversight from the driver.
If you add Enhanced Autopilot, you can take it a step further with the Full Self-Driving Capability package ($3,000). This system more or less does everything a human would when behind the wheel. It can navigate routes and recognize intersections, stoplights, and stop signs. It can also automatically park after you step out of the car at your destination.
You can add two rear-facing jump seats – increasing seating capacity to seven – for $4,000.
Tesla Model S 100D
The Model S 100D has a starting price of $94,000. It boasts a 335-mile range, which is the longest range of any Model S. The 100D is also slightly quicker than the base model and has a higher top speed. The 100D and the 75D offer the same features, and the same option packages are available.
Tesla Model S P100D
The high-performance Model S P100D starts at $135,000. Its range drops to 315 miles, but it's the only trim to offer Ludicrous Speed mode. Other standard features include a cabin air filtration system, a premium audio system, heated rear seats, and a heated steering wheel. The P100D offers the same option packages as the lower trims, with the exception of the Premium Upgrades package (because those features are standard in this trim).
The Final Call
The 2018 Tesla Model S continues this vehicle's tradition of being one of the finest cars on the road. It's loaded with features, has the look and feel you want from a luxury car, and delivers unbelievable performance. The Model S isn't perfect, but it's pretty close, and it deserves a look from every luxury large car shopper and every EV fan.
Don't just take our word for it. Check out comments from some of the reviews that drive our rankings and analysis.
Read the full 2018 Tesla Model S review on U.S. News & World Report for more details, photos, specs and prices.
Research the Tesla Model S on MSN Autos | Find a Tesla Model S near you
More from U.S. News & World Report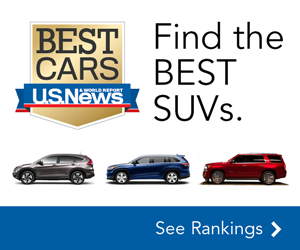 US News & World Report - Cars