2018 Tesla Model S

Car and Driver
10/18/2018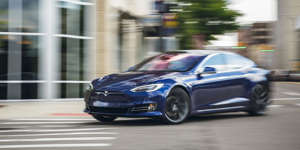 Overall Rating:
The Tesla Model S has disrupted the automotive industry more than any other car since the days of Henry Ford. Since its grand entrance in 2012, Elon Musk's groundbreaking all-electric hatchback sedan has earned critical acclaim and a cult following while accelerating mainstream manufacturers such as Chevrolet and BMW to prioritize development of electric vehicles (EVs). For the price, you'd expect sumptuous luxury, but the Model S's cabin is an exercise in minimalism, with few physical buttons or knobs, a massive infotainment touchscreen, and only the necessary creature comforts. On the road, the Model S is dynamite, with colossal acceleration power, nimble handling, and standard all-wheel drive. Add in the Model S's ability to drive for long distances before you have to plug in to recharge the battery, and you've got yourself one of this century's greatest automotive innovations.
What's New for 2018?
Research the Tesla Model S on MSN Autos | Find a Tesla Model S near you
Tesla massaged the Model S slightly for 2018 by updating the onboard media control unit to smooth out some rough spots in the infotainment and digital gauge displays—and we can confirm this update has done just that. A new, optional 21-inch wheel design joins the roster, and ordering the available Cream faux-leather interior nets a new wood-trim design for the dashboard. The high-performance P100D model now comes with ventilated seats, contrast stitching, updated floor mats, and aluminum doorsill kickplates with the P100D logo. Last year's Premium Upgrades package—in-cabin air filter with Bioweapon Defense mode, upgraded stereo system, SiriusXM satellite radio, heated front and rear seats, heated steering wheel, wiper-blade defroster, heated windshield-washer nozzles—is now included in the price of any Model S trim. The Model S also can now prepare itself for your journey ahead of time by firing up those heated seats as well as other features if you use the available smartphone app to set your departure time.
Trims and Options We'd Choose
The Model S comes in three distinct models—for now. The base 75D offers an EPA-estimated 259 miles of driving range, while the midrange 100D's larger battery pack increases that rated range to 335 miles. We'd suggest sticking to either of these versions, as the high-performance P100D—which starts at $136,200—is very expensive and suited mainly for speed freaks with well-padded wallets. The 75D model still comes standard with plenty of features, including: 
• Heated steering wheel and rear seats
• 12-speaker stereo 
• HEPA air-filtration system
We would, however, add Tesla's Enhanced Autopilot feature for $5000. Buyers of the 75D model with the Enhanced Autopilot feature can expect a sticker price of $83,200; opt for the 100D and that price balloons to $102,700. Qualified buyers may be eligible for up to $7500 in tax credits (not included in our calculations above), and some states offer additional credits above and beyond the federal government's outlay. The $7500 credit drops to $3750 for vehicles delivered on January 1, 2019 or later.
• Click here to learn about how the EV tax credit works.
• Click here to learn if the vehicle you are interested in qualifies.
Base Price Comparison

Continue Reading: 
• 2018 Tesla Model S – Overview and Pricing
• Powertrain and Charging
• Fuel Economy and Driving Range
• Performance and Driving Impressions
• Audio and Infotainment
• Interior and Passenger Space
• Cargo Space and Storage
• Exterior Design and Dimensions
• Safety, Driver Assistance, and Warranty
• Video Overview: Interior, Infotainment, Cargo Space
Read more auto reviews on MSN Autos