2018 BMW 5 Series: What You Need to Know

US News & World Report - Cars
6/12/2018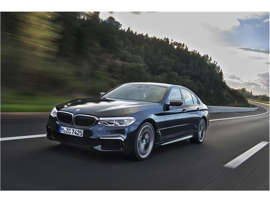 The 2018 BMW 5 Series has few faults, which helps it secure a top spot in our rankings. Its powerful engines and athletic handling make it a joy to drive, and its high-class interior and sophisticated technology make it a pleasure to ride in.
The 2018 BMW 5 Series is ranked:
Is the BMW 5 Series a Good Car?
In the luxury midsize car class, the BMW 5 Series is one of the best vehicles you can buy. The well-rounded 5 Series excites with its powerful engines and lithe handling. Moreover, it pampers occupants with a smooth ride, handsome cabin materials, comfortable seats, and a user-friendly infotainment system. Factor in excellent fuel efficiency and an abundance of safety features, and it's easy to see why the 5 Series was a finalist for our 2018 Best Luxury Midsize Car for Families award. 
Should I Buy the BMW 5 Series?
If you have room in your budget, buy the BMW 5 Series. It has fantastic crash test scores, a comfortable cabin with advanced technology, a solid predicted reliability rating, and performance that driving enthusiasts will adore.
The Lexus GS and the Mercedes-Benz E-Class give the 5 Series a run for its money. The GS has more standard safety features than the 5 Series, and the E-Class offers a classy interior with cutting-edge technology.
Should I Buy a New or Used BMW 5 Series?
Though the 5 Series was redesigned for the 2017 model year, the car sees some significant changes for 2018. BMW introduced a plug-in hybrid model, a diesel model, and two high-performance M-branded versions for 2018. The new 530e iPerformance can go 16 miles on electric power only and gets up to 72 mpg-e combined. The diesel-powered 540d yields an efficient 26/36 mpg city/highway. The M550i boasts a 456-horsepower V8 engine, along with all-wheel drive, an adaptive M Sport suspension, M Sport brakes, and aggressive design elements. The M5 ups the ante even further with its 600-horsepower V8 engine.
If you're not interested in any of these new models, consider saving money by shopping for a used 2017 5 Series. If you're after the hatchback Gran Turismo (535i GT), a 2017 model is your last chance; BMW ditched it for 2018. To learn more about older models, check out our reviews of the 2015 and 2016 BMW 5 Series. If you decide an older model is right for you, check out our Used Car Deals page to learn about savings and discounts on used vehicles.
We Did the Research for You: 16 Reviews Analyzed
Our comprehensive BMW 5 Series review includes evaluations from 16 automotive professionals, along with concrete data such as fuel economy, safety features, and reliability ratings. To help you find the best match for you, we compare these details with other luxury midsize sedans like the Volvo S90, Jaguar XF, and Audi A6. This 2018 BMW 5 Series review incorporates applicable research for all model years in this generation, which spans the 2017 and 2018 model years.
Why You Can Trust Us
Our goal at U.S. News & World Report is to provide you with accurate, jargon-free information so you can make the best buying decision for you. We've been rating cars since 2007, and our Best Cars team has more than 75 years of combined automotive knowledge. To prevent bias or favoritism, we use a third party for advertising, and we don't accept expensive handouts from automakers.
How Much Does the BMW 5 Series Cost?
With its starting price of $52,650, the BMW 5 Series sedan is one of the pricier models in our luxury midsize car rankings. In addition to the base 530i trim, this car is available as the 540i ($58,200), the 540d ($62,000), the M550i ($73,900), and the M5 ($102,600). The plug-in hybrid 530e has a price tag of $52,650, but some shoppers may be able to lower this by $4,668, thanks to a federal tax credit. BMW's xDrive all-wheel-drive system is standard in the 540d, M550i, and M5. It can be added to the other trims for about $2,300. For great savings at your local BMW dealer, check out our U.S. News Best Price Program. You can also find manufacturer incentives on our BMW deals page.
BMW 5 Series Versus the Competition
Which Is Better: BMW 5 Series or Audi A6?
Just like the 5 Series, the Audi A6 gets you the finest in German engineering, but it costs a few thousand dollars less. It has one of the nicest interiors among luxury midsize cars and outstanding performance. Additionally, it has a few more standard features than the BMW, including heated front seats and leather upholstery. The Audi's ride can occasionally feel jarring over rough pavement, but it's mostly smooth. The big difference between the two is predicted reliability – the A6 has a rather poor rating. Go with the 5 Series.
Which Is Better: BMW 5 Series or Mercedes-Benz E-Class?
The Mercedes-Benz E-Class has a posh interior and a plethora of advanced safety technology, with available near-self-driving features. Most comparable 5 Series and E-Class models are similarly priced. Still, the 5 Series is the better value. It delivers better all-around driving performance and rates higher for predicted reliability. You'll also spend less on gas, thanks to the highly efficient 530e and 540d models.
Which Is Better: BMW 5 Series or Lexus GS?
The Lexus GS has a long history of excellent reliability. It offers a ton of features, including an infotainment system with a 12.3-inch screen, smartphone integration, and an extensive list of advanced driver assistance features. Although the Lexus has an opulent cabin and engaging performance, the 5 Series is even better inside and out, making it a superior choice. However, keep in mind that the Lexus costs about $6,000 less. So, even if you're on a stricter budget, the GS will satisfy your craving for a luxury car.
5 Series Interior
How Many People Does the 5 Series Seat?
The 5 Series holds five people, and its front seats are extremely comfortable. With either 16 or 20 ways to adjust the front seats, it takes little effort to find the perfect position. If you don't want the standard synthetic leather, you can upgrade to Nappa or Dakota leather and add contrast stitching for extra flair. The rear seats are relaxing and spacious, though they don't match the level of comfort you get from sitting up front.
5 Series and Car Seats
Buckling a child safety seat into the back of a 5 Series is trouble-free for the most part. There are two sets of lower anchors – one set on each outboard seat – and a tether anchor for all three rear seats. The hardware is clearly marked, easy to find, and doesn't require extra grunt to use, though the lower anchors can be tricky to maneuver around.
5 Series Interior Quality
It's a pleasure to spend time inside a 5 Series sedan. The design is modern and sophisticated, and first-class materials are plentiful. Examples include synthetic or genuine leather trimming on the dash, and wood trims with a matte or gloss finish. Build quality is similarly top-notch.
5 Series Cargo Space
With 18.7 cubic feet of cargo room, the 5 Series sedan can carry more stuff in its trunk than most rivals can. The split-folding rear seat creates a generous amount of space for oversized items, and the available hands-free trunk lid makes loading the back a breeze when your hands are full.
5 Series Infotainment, Bluetooth, and Navigation
The 5 Series gets an A-plus for technology. In addition to conventional buttons on the steering wheel and in the center of the dash, you can operate the infotainment system using the responsive 10.2-inch touch screen (which has a customizable layout) via voice commands or a control knob mounted between the seats. If you really want to impress your friends, get the available gesture control system so you can reject an incoming phone call and turn up the stereo using only hand motions. Other notable features include a standard navigation system and available Apple CarPlay. For more information, read What Is Apple CarPlay? Then, check out the Best Cars With Apple CarPlay.  
5 Series Performance
5 Series Engine: From Hybrid to Holy Cow
Each of the six trims comes with its own powertrain, ranging from a plug-in hybrid to a 600-horsepower V8. The two main engines are the 530i's four-cylinder (248 horsepower) and the 540i's inline six-cylinder (335 horsepower). Neither one is a slouch off the line, but the six-cylinder's extra grunt makes for a more thrilling drive. Every trim comes with a polished eight-speed automatic transmission and paddle shifters on the steering wheel.
5 Series Gas Mileage: Outstanding Fuel Economy
You'll get one of the highest fuel economy ratings in the class with the 530i's four-cylinder engine. It's rated at 24 mpg in the city and 34 mpg on the highway. That drops to 21/30 mpg city/highway with the 540i's six-cylinder engine. You can save a little on fuel costs with the 530e plug-in hybrid. It can drive about 16 miles on electric power alone and gets 29 mpg in combined city/highway driving. The diesel-powered 540d is another efficient choice in the lineup; it returns 26/36 mpg city/highway.
5 Series Ride and Handling: Comfortable and Composed
The 5 Series is gratifying to drive; its steering, brakes, and suspension have been finely tuned to deliver a polished, smooth ride. You can adjust handling to match your driving style with three drive mode settings: Eco Pro, Comfort, and Sport. Rear-wheel drive is standard, and the available xDrive all-wheel-drive system adds extra grip.
5 Series Reliability
Is the BMW 5 Series Reliable?
The 2018 5 Series has a great predicted reliability rating of 4.5 out of five from J.D. Power.
BMW 5 Series Warranty
BMW includes a four-year/50,000-mile warranty with new 5 Series models.
5 Series Safety
5 Series Crash Test Results
The Insurance Institute for Highway Safety named the 5 Series a 2018 Top Safety Pick+. The 5 Series has top crash test scores across the board. It also received a Superior front crash prevention rating when equipped with available Frontal Collision Warning with City Collision Mitigation (included in the Driving Assistance Plus package).
5 Series Safety Features
Every 5 Series sedan comes with BMW's Active Protection System. When this system detects a possible collision, it protects passengers by automatically closing the windows and moonroof and tightening the front seat belts. It then activates the brakes immediately after the impact to keep the car in place. A rearview camera and adaptive LED headlights are also standard.
Available safety features include a surround-view camera, a night vision camera with pedestrian detection, front and rear parking sensors, parallel park assist, a head-up display, adaptive cruise control, blind spot monitoring, lane departure warning, and forward collision warning with pedestrian detection and automatic braking.
Which BMW 5 Series Model Is Right for Me?
When selecting the best 5 Series for you, start by narrowing down your price range and performance needs. You have the choice between six trims (530i, 530e, 540i, 540d, M550i, and M5). Each is accompanied by a distinct powertrain. Starting prices ranging from $52,650 to $102,600. All 5 Series sedans come with an eight-speed automatic transmission.
The 530i – with its turbo four-cylinder engine – is certainly a joy to drive, but those seeking out a more thrilling experience will want to pony up more than $5,500 to get the 540i. Horsepower increases from 248 to 335. In a side-by-side race from zero to 60 mph, the 540i beat the 530i by a full second.
Powering the base 530i is a 248-horsepower four-cylinder engine and an eight-speed automatic transmission. This trim comes with leatherette seats, dual-zone automatic climate control, push-button start, a moonroof, and adaptive LED headlights. Standard tech features includes BMW's iDrive infotainment system, a 10.2-inch high-resolution display, a rearview camera, navigation, 12 speakers, and HD Radio. Pricing starts at $52,650 for the 530i and $54,950 for the 530i xDrive.
The 530e iPerformance ($52,650) is BMW's all-new plug-in hybrid trim. It shares the 530i's standard features, but its powertrain pairs a four-cylinder engine and a single electric motor (248 horsepower, combined). Add an extra $2,300 for the xDrive all-wheel-drive system.
The 540i ($58,200) comes with a 335-horsepower six-cylinder engine. Its list of standard features closely mirror those of the previous trims, plus leather upholstery. Pricing starts at $60,500 for the all-wheel-drive 540i xDrive.
BMW 540d xDrive
The 540d ($62,000) has a 261-horsepower six-cylinder turbodiesel engine and all-wheel drive. Its standard features also mirror the previous trims.
Pricing jumps to $73,900 for the M550i, which comes with a twin-turbo 456-horsepower V8 and all-wheel drive. Other standard features include an adaptive M Sport suspension, M Sport brakes, parking sensors, a 16-speaker Harman Kardon surround-sound system, and a power trunk lid.
BMW M5
The high-performance BMW M5 ($102,600) packs a 600-horsepower V8 and all-wheel drive. Standard features include Active Driving Assistant (an option in all other trims), which bundles forward collision warning, automatic emergency braking, blind spot monitoring, and lane departure warning.
Check out our U.S. News Best Price Program for great savings at your local BMW dealer. You can also find excellent manufacturer incentives on our BMW deals page.
The Final Call
Whether you are driving or being driven, the 2018 BMW 5 Series is a delight. Its engaging performance adds flavor to the chore of everyday driving. The base engine combines spirited acceleration with outstanding fuel economy, and its available six- and eight-cylinder engines deliver an exhilarating amount of power. Inside, the cabin is replete with first-class materials and user-friendly technology, treating travelers to a quiet, comfortable ride. The 5 Series' starting price is higher than most, but if you can afford it, this sedan is worth the money.
Don't just take our word for it. Check out comments from some of the reviews that drive our rankings and analysis.
Read the full 2018 BMW 5 Series review on U.S. News & World Report for more details, photos, specs and prices.
Research the BMW 5 Series on MSN Autos | Find a BMW 5 Series near you
More from U.S. News & World Report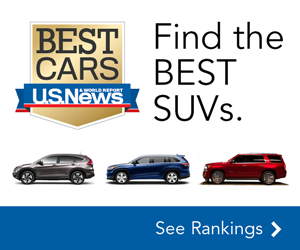 US News & World Report - Cars