2018 Cadillac CT6: What You Need to Know

US News & World Report - Cars
7/9/2018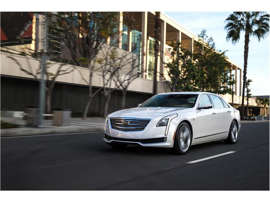 The 2018 Cadillac CT6 has a powerful engine lineup and spacious seating, helping it reach the top half of our luxury large car rankings. While there are plenty of reasons to like this car, it's worth noting that its trunk is small and its touch screen can be difficult to operate.
The 2018 Cadillac CT6 is ranked:
Is the Cadillac CT6 a Good Car?
The 2018 Cadillac CT6 is a great car that delivers better performance and fuel economy than most other luxury large cars. Unlike some competitors, it also offers a hybrid powertrain. There's plenty of space for adult passengers, especially when it comes to legroom. The CT6 isn't perfect, though. Its infotainment system can be difficult to use, and its interior doesn't quite match the quality of some others in the class. 
Should I Buy the Cadillac CT6?
If you're looking for a big luxury sedan, the CT6 should definitely be on your shopping list. Athletic driving dynamics will put a pep in your daily commute, and the car's spacious, comfortable cabin makes it a great companion for longer trips as well. The CT6's starting price of around $54,000 is right in the middle of the class, so you'll get a lot for your money.
Depending on your budget and what you look for in a car, you might be interested in some class rivals. The Mercedes-Benz CLS offers commendable performance similar to the CT6, including some bona fide high-performance models. However, its MSRP is about $20,000 more than the Cadillac's sticker price. The Cadillac XTS starts at about $10,000 less than the CT6, though it's not as fun to drive.
Should I Buy a New or Used Cadillac CT6?
The Cadillac CT6 was an all-new model for 2016, and there have been few major changes to the car since. If you're open to driving a used car, you may want to consider a used CT6 to potentially save thousands of dollars. The only major feature you'd miss out on is Cadillac's Super Cruise technology, a Level 2 autonomous driving system that is new for 2018. (Level 2 automation means some automated systems have been combined, but the driver must remain alert while driving.) Super Cruise only functions on the 130,000 miles of limited-access highways that Cadillac has mapped across the country. It can control the car's speed, braking, and steering, without you having to touch the wheel. It also monitors your eyes to ensure that you're still paying attention to the road. The cost savings of a used model may be worth it if you're not gung-ho on self-driving technology. Another minor difference between the two model years of used CT6s is the availability of the plug-in hybrid model, which was introduced late in the 2017 model year.
To further research used CT6 models, read our reviews of the 2016 and 2017 Cadillac CT6. If you decide an older model is right for you, check out our Used Car Deals page for information on incentives of used vehicles.
We Did the Research for You: 21 Reviews Analyzed
We analyzed 21 Cadillac CT6 reviews—along with safety and reliability ratings, fuel economy estimates, and more—to help you decide if the 2018 CT6 is the right new car for you. This 2018 Cadillac CT6 review incorporates applicable research for all model years in this generation, which spans the 2016 through 2018 model years.
Why You Can Trust Us
U.S. News Best Cars has been ranking and reviewing vehicles for a decade, and our team has more than a combined 75 years of experience in the automotive industry. To maintain objectivity, we don't accept incentives or expensive gifts from car companies, and an outside team handles the ads on our site.
How Much Does the Cadillac CT6 Cost?
The CT6 ranges in price from $54,095 for the base trim to $88,295 for the high-end Platinum trim. There are a few class rivals with lower base prices than the CT6, but many other luxury large cars have starting prices that are $10,000 higher, if not more.
There are two in-between trims—the CT6 Luxury and the CT6 Premium Luxury. They have starting prices around $59,000 and $65,000, respectively. These two trims give you the most bang for your buck. There's also the CT6 plug-in hybrid, which starts around $75,000.
Check out our U.S. News Best Price Program for great savings at your local Cadillac dealer. You can also find excellent manufacturer incentives on our Cadillac deals page.
Cadillac CT6 Versus the Competition
Which Is Better: Cadillac CT6 or Mercedes-Benz CLS?
The CT6 has a powerful engine lineup, but the Mercedes-Benz CLS' engines are even more powerful, starting with a standard turbocharged V6 engine and two optional turbocharged V8s. Despite its stronger powertrains, the CLS gets comparable fuel economy to the CT6. The Mercedes-Benz also balances a smooth, luxurious ride with agile handling. The CLS' interior is nicer than the CT6's, with elegant and high-quality materials throughout. However, the CLS' rear seats are smaller and less comfortable than those in the CT6. Also, you'll only get seating for four in the CLS compared to five in the CT6. These two rivals are pretty close in terms of their overall appeal, but the CLS could cost you around $20,000 more. Unless you're fixated on the Mercedes badge, there are few reasons to justify spending the extra money to get the CLS over the CT6. 
Which Is Better: Cadillac CT6 or Cadillac XTS?
The Cadillac XTS has lower fuel economy estimates than the CT6, and its handling isn't as dynamic. However, both cars have a plush ride and potent engine options. The XTS has a few more cubic feet of trunk space than the CT6, but the XTS' narrow trunk design makes it hard to fit larger items. Each car has good amounts of passenger space but also infotainment features that are unintuitive and frustrating. The CT6 is the better car overall, but it costs about $10,000 more. 
CT6 Interior
How Many People Does the CT6 Seat?
The CT6 seats five. Its front seats are generally supportive, and both rows have plenty of room for adults. The CT6 provides more rear-seat legroom than many class rivals.
CT6 and Car Seats
The Cadillac CT6 has two full sets of LATCH car-seat connectors in the rear outboard seats, so your little ones won't need to be left behind. The middle seat features a tether anchor but no lower anchors.
CT6 Interior Quality
While the CT6 features an attractive interior and plenty of high-grade materials, some other cars in the class still surpass the interior quality of this Cadillac.
CT6 Cargo Space
The CT6 has one of the smallest trunks in the class, but it's not completely useless. There's just over 15 cubic feet of space, which is enough for a few sets of golf clubs or carry-on luggage for a family of five. If you need more space, you'll want the available split-folding rear seats. The available hands-free power trunk lid is a nice convenience too.
CT6 Infotainment, Bluetooth, and Navigation
Standard features in the Cadillac CT6 sedan include wireless device charging, satellite radio, Apple CarPlay, Android Auto, a Wi-Fi hot spot, and the CUE infotainment system with a 10.2-inch touch screen. Available features include a panoramic sunroof, a heated steering wheel, navigation, a 34-speaker Bose Panaray audio system, and a rear-seat entertainment system.
There are a ton of features to choose from in this Cadillac. Some of its standard features—like Android Auto, Apple CarPlay, and a Wi-Fi hot spot—are optional or unavailable in some class rivals. The CUE infotainment system has a large touch screen, which is nice. However, its menus are a little confusing and the touch screen responds slowly at times.
For more information, read What Is Apple CarPlay? and What Is Android Auto? Then, see the Best Cars With Apple CarPlay and Best Cars With Android Auto.
CT6 Performance
CT6 Engine: Four Cylinders, or Six?
The CT6 sedan comes standard with a 265-horsepower turbocharged four-cylinder engine. A 335-horsepower V6 and a 404-horsepower twin-turbocharged V6 are available. All three engines have ample power, though the larger engines have better acceleration. It's worth noting that upgrading to one of the V6 engines also requires you to add all-wheel drive. All engines are mated to an eight-speed automatic transmission.
If none of the above options pique your interest, you might consider the CT6 plug-in hybrid. It features a turbo-four engine and an electric motor that combine to procude 335 horsepower. A continuously variable transmission comes standard.
CT6 Gas Mileage: Mpg Ratings That Won't Hold You Back
The base turbo CT6 gets better gas mileage than many other cars in the class. It earns 22 mpg in the city and 30 mpg on the highway, according to Cadillac's estimates. The V6 engines get about 18 mpg in the city and 26 mpg on the highway. The plug-in hybrid gets the best fuel economy in the lineup, earning about 62 mpg-e under electric power (though the all-electric range is just 31 miles) and about 25 mpg combined city/highway under gasoline power.
Even the CT6's V6s have ratings comparable to many competitors. With those engines, it costs about $3.33 to drive 25 miles, and you'll save about $100 per year on gas by driving the CT6 instead of rival Genesis G90.
CT6 Ride and Handling: She's Got Some Moves
The CT6 handles well for a large sedan, and the ride is generally smooth.  The steering is sharp, which helps give this Cadillac a good feel on winding roads. Rear-wheel drive is standard, and all-wheel drive is available.
CT6 Reliability
The 2018 CT6 has an average predicted reliability rating of three out of five from J.D. Power.
Cadillac CT6 Warranty
The 2018 Cadillac CT6 comes with a four-year/50,000-mile warranty and a six-year/70,000-mile powertrain warranty. This is similar to the warranty offered on many luxury large cars, though the Genesis G90's is better.
CT6 Safety
CT6 Crash Test Results
The 2018 CT6 has not yet been put through crash testing by the National Highway Traffic Safety Administration or the Insurance Institute for Highway Safety.
CT6 Safety Features
A rearview camera comes standard. Available active safety features include a surround-view camera system, low-speed automatic braking, forward collision alert, pedestrian detection, a following distance indicator, lane keep assist, active park assist, lane departure warning, blind zone monitoring, rear cross traffic alert, automatic high beams, adaptive cruise control, enhanced night vision, and a noise-control system that cancels out road noise.
Which Cadillac CT6 Model Is Right for Me?
This Cadillac comes in four trims: CT6, CT6 Luxury, CT6 Premium Luxury, and CT6 Platinum. Every trim has multiple engine options, and most offer various options packages beyond the trim's standard features.
Out of the lineup, the two trims offering the best value are the CT6 Luxury and CT6 Premium Luxury. These trims are available with the V6 engines and several options packages to add more features. The Premium Luxury trim offers one more package than the Luxury model, but the Luxury is available with the base four-cylinder engine. If you're OK with the base engine, go for the CT6 Luxury—you'll still get plenty of features, but it will cost you less than the two highest trims. If you'd rather have one of the V6 engines, the Premium Luxury is the best bet.
The base trim is just known as the CT6, and it starts at $54,095. A four-cylinder engine and rear-wheel drive are standard, but you can upgrade to a V6 and all-wheel drive for $2,000. You cannot add the V6 or AWD individually; you have to add both.
Several packages are available from $280 to $6,280, but most of them only change styling. The only features package is the Driver Awareness and Convenience package ($3,500), which adds a power panoramic sunroof, forward collision alert, a safety alert seat, heated front seats, and more.
The CT6 Luxury has a starting price of $59,195. In addition to the base trim's features, the CT6 Luxury comes with the Driver Awareness and Convenience package, a heated steering wheel, and a 360-degree camera. This is also the lowest trim to offer the twin-turbo V6 engine, though it will cost you an extra $6,000.
Several options packages are available with this trim beyond the styling packages. The Enhanced Vision and Comfort package ($2,500) adds a rear camera mirror, heated rear seats, and ventilated front seats. The Enhanced Entertainment package ($6,400) adds quad-zone climate control, a 34-speaker Bose audio system and the Rear Seat package. The Rear Seat package ($2,700) is also available individually; it adds quad-zone climate control and an air filtration system.
The CT6 Premium Luxury starts at $65,295. Standard features in this trim include a head-up display and a rear camera mirror. The CT6 Premium Luxury and higher trims aren't available with the four-cylinder engine, and all-wheel drive comes standard.
The Enhanced Entertainment and Rear Seat packages are available, but so is a Driver Assist package. For $3,100, it adds adaptive cruise control, night vision, and automatic braking.
The highest trim is the CT6 Platinum, which starts at $84,295. It comes standard with pretty much every feature you can get in a CT6, and you're only real choice is which V6 engine you want. If you want the twin-turbo V6, add $4,000 to the price tag.
Cadillac CT6 Plug-in Hybrid
The CT6 Plug-in Hybrid has a starting price of $75,095. It features a turbocharged four-cylinder engine and an electric motor that combine to produce 335 horsepower. A continuously variable transmission comes standard. Features-wise, the plug-in hybrid is similar the the CT6 Luxury trim.
Check out our U.S. News Best Price Program for great savings at your local Cadillac dealer. You can also find excellent manufacturer incentives on our Cadillac deals page.
The Final Call
The 2018 Cadillac CT6 is a good luxury large car. It's more fun to drive than many large sedans, and it has a spacious interior to complement its engaging performance. There are a few drawbacks, like the undersized trunk, but the CT6 has no glaring deal breakers. When you consider that this Cadillac costs significantly less than the other cars near to the top of the class rankings, it's clear that the CT6 is a good value.
Don't just take our word for it. Check out comments from some of the reviews that drive our rankings and analysis.
Read the full 2018 Cadillac CT6 review on U.S. News & World Report for more details, photos, specs and prices.
Research the Cadillac CT6 on MSN Autos | Find a Cadillac CT6 near you
More from U.S. News & World Report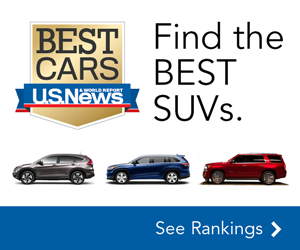 US News & World Report - Cars