2019 Dodge Challenger SRT Hellcat Redeye First Drive

Car and Driver
8/8/2018
Putting a little Demon in the Hellcat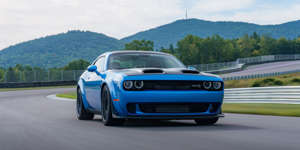 When real-life superhero Joey Chestnut inhaled 66 hot dogs in just 12 minutes in 2007 to obliterate the 53.75-dog record of six-time defending champion Takeru "Tsunami" Kobayashi, the victory marked the beginning of his journey, not the end. America, after all, is a fickle sweetheart with a short memory, and today's feat of ludicrous magnitude is just tomorrow's punchline. How else do you explain Dodge following up its 707-hp Challenger SRT Hellcat with a Redeye version making 797 horsepower? Or, maybe, the brand simply figured it had to capitalize on go-fast engine know-how gleaned from the limited-production 2018 Dodge Challenger SRT Demon, an 808-hp, quarter-mile-annihilating beast that, optioned properly, offered 840 horsepower when running on 100-octane fuel. It might not outdo that beast, but the Redeye certainly will prolong the Challenger's time in the spotlight. 
Research the Dodge Challenger on MSN Autos | Find a Dodge Challenger near you 
Larger Supercharger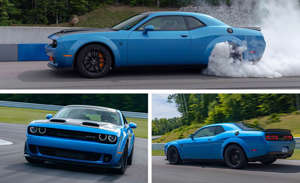 The semi-Demonized V-8 in the 2019 Challenger SRT Hellcat Redeye gets, as Joe Dirt liked to say, "the good stuff." That means-compared with the 707-hp Hellcat V-8-it gets a larger airbox that inhales from three subtle sources: the new, fully functional dual-snorkel hood; the driver's-side air-catcher headlamp (check out the new internal graphics in the gallery), and an inlet near the left-front wheel liner. A larger supercharger (2.7 liters compared with the standard Hellcat's 2.4 liters) provides increased boost pressure (14.5 psi versus 11.6 psi). An updated fuel-injection system with two dual-stage fuel pumps supplants the normal Hellcat's solo unit. Engine internals are fortified with strengthened connecting rods and pistons, a high-speed valvetrain, and an improved lubrication system to help it rev to its 6500-rpm redline, 300 revs north of the Hellcat's 6200. Rated at 797 horsepower and 717 lb-ft of torque, the Redeye packs 90 more ponies and 54 lb-ft of extra torque compared with the standard Hellcat. The Redeye also ups the gluttony factor, with Dodge claiming that, at full throttle, its 6.2-liter V-8 can drain its 18.5-gallon fuel tank in 11 minutes, whereas a mere regular Hellcat requires 13.4 minutes.
The trio of air sources provides an 18 percent greater flow rate, but the real benefits come from the crafty SRT Power Chiller that uses the car's air-conditioning system to cool the incoming air by passing it through a radiator and by directing the chilled coolant to heat exchangers for the supercharger. Standard across the Hellcat lineup for 2019 is the After-Run Chiller, which keeps the engine fan and low-temperature-circuit cooling pump running after shutdown to minimize heat-soak effects and shorten intervals between quarter-mile runs by keeping supercharger and inlet temperatures under control. Both can be monitored via the SRT Performance Pages menu in the Uconnect center touchscreen. The Redeye is the only non-Demon in the Challenger lineup to get both the SRT Power Chiller and the After-Run Chiller. 
Launch Control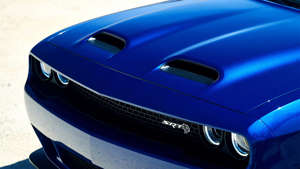 The single transmission choice is the ZF 8HP90 eight-speed automatic with an upgraded torque converter borrowed from the Demon for an 18 percent gain in torque multiplication over its standard SRT sibling. A high-strength steel prop shaft provides a 15 percent increase in torque capacity, and upgraded 41-spline half-shafts offer a 20 percent increase.
A 2.62:1 limited-slip final drive is standard, but serious strip rats can order a shorter 3.09:1 for increased launch intensity. Speaking of drag strips, Dodge's collection of fun features designed to simplify the sweet science of launching a car are included here. Launch Assist reduces wheel-hop-induced loads in the driveline by up to 20 percent for clean getaways; Torque Reserve charges the intake with boost pressure and manages fuel and timing to provide 3.9 psi of boost and up to 55 percent more torque on step-off; Launch Control holds the engine at optimal rpm for five to 10 seconds before the driver initiates the launch by stepping off the brake pedal; and Line Lock holds the car at a standstill by engaging the front brakes while leaving the rear tires free to spin themselves into orbs of hot, gooey tar. The line-lock feature also can modulate pressure to facilitate a rolling burnout. 
Ride the Redeye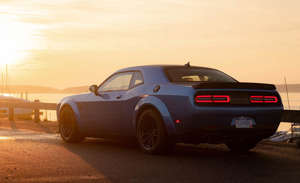 Like the Challenger Hellcat, the Redeye is capable of alternating between a docile transportation device and an all-out destroyer of reputations and tires. The smell of burning rubber is available on demand. Shifts can hit a little hard even at light throttle openings, but when you consider the amount of torque going to the rear wheels, it seems somehow forgivable. The three-mode Bilstein adaptive dampers from the Hellcat are standard in the Redeye and provide a reasonable ride for a vehicle wearing 20-inch 305/35ZR-20 Pirelli P Zero tires, just as it demonstrated in our previous Hellcat tests. (Non-Widebody Hellcats wear 275/40ZR-20 tires.)
Standard electrically assisted power steering makes turning those massive tires a breeze at slow speeds, although it can feel a bit fidgety and overassisted between 20 and 60 mph. Highway speeds above 65 mph blur into insignificance, and the quiet interior and relative heft of the vehicle (expect close to 4500 pounds, making it the heaviest roadgoing Challenger available) conspire with its surfeit of power to blur the speed of travel into 50-mph blocks of consequence. The sensations at the helm are largely the same at 70 mph as they are around 120 mph, and things don't get really interesting until about 150 mph or so; even then, however, any drama is largely due to the speed of the scenery racing past rather than any nervous behavior at the wheel. Claimed top speed is 203 mph.
Acceleration and Braking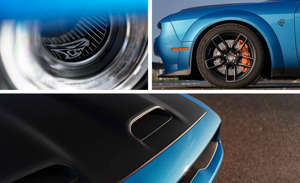 Although tearing up road courses will never be at the top of its résumé, the Challenger SRT Redeye nonetheless proved an entertaining companion for several rounds of lapping the Club Motorsports track in Tamworth, New Hampshire. Acceleration is a given, and Dodge's claims of 10.8-second quarter-mile at 131 mph for the Redeye Widebody seem optimistic given that we've never come close to duplicating SRT's claims in our testing. (Non-Widebody Challenger Redeyes complete the same in a claimed 11.1 seconds at 131 mph.) Given the size, heft, and power of the vehicle, we were-after a few sessions to familiarize ourselves with both vehicle and circuit-quite surprised at how receptive the big Widebody was to being tossed around the 15-corner circuit. It turns in obediently, but as with most vehicles, it's a rather one-way conversation. Compared with previous Hellcats we've driven, however, it feels far more secure and forgiving in the corners, although that feeling can easily be undone with a clumsy application of the accelerator.
Braking played the crucial role here. The SRT/Brembo six-piston front calipers bite down hard on the 15.4-inch rotors, featuring an aluminum hat and iron friction surface, while Brembo four-pot calipers do the same with 13.8-inch rotors in the rear. Easy to modulate and consistent in feel, they remove speed with the same eagerness with which the V-8 adds it. The key takeaway is the complete lack of fade, although we were instructed to take every third lap in cool-down mode. Knowing this, we defaulted to a style favoring heavy braking on entry with a heavy throttle coming out of corners. While perhaps not the quickest way around the track, it provided plenty of smiles in the cabin. If you can't have a little tail-wagging fun in a car like this, what's the point? 
Dodge's Price for Sin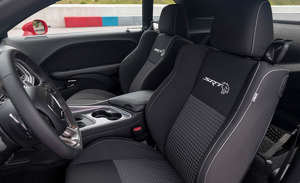 The Challenger Hellcat Redeye is no stripped-out drag racer. Referred to as the 27Z package in Dodge-speak, the $11,000 Redeye package brings the Hellcat's price to $72,745, including a $1700 gas-guzzler tax. For that sum, you get the demonized engine with the 2.62 rear-axle ratio, a 220-mph primary speedometer, the SRT Power Chiller, and the all-important reddening of the eyes on each of the vehicle's Hellcat badges. Going widebody on any Challenger is a $6000 proposition, and while it brings with it 11.0-by-20-inch aluminum wheels and 305/35ZR-20 all-season performance tires, our car was outfitted with the aforementioned Pirelli P Zero summer tires for an additional $695, bringing the total to a kind-of-crazy $79,440.
But that's just for the good stuff. Dodge offers plenty of options for those looking to build a grand tourer. Think a little sun would be nice? Budget $1995 for a sunroof. Interested in blind-spot and rear cross-path detection, power mirrors, HID headlamps? Bring another $1095 for the Driver Convenience Group. How does 18-speaker Harman/Kardon premium audio with trunk-mounted subwoofer and amp sound? Maybe good enough to part with another $1595. Spend enough time poking around the configurator, and you can find a way to option a Challenger Hellcat Redeye past the $90K mark. Need we remind you that the 2018 Challenger SRT Demon that spawned the Redeye wears-if you can find one selling for anywhere near list-a sticker of $86,340, or $86,341 with the Demon Crate? But again, who's counting?
Essentially, Dodge has done the classic hot-rodder engine swap, taking one of its most powerful engines and plopping it into an already notorious and readily available model. It's a tried-and-true formula guaranteed to make some noise, but it will need to continue to innovate or risk slipping off its perch. As for our hero Joey Chestnut, he recently placed second in an ice-cream-eating contest at the Indiana State Fair.