The 2020 Kia Telluride Three-Row SUV Is Big, Boxy, and Bold

Car and Driver
9/8/2018
Kia is going big with its new Telluride three-row SUV, both literally and figuratively. Not only will it be the biggest crossover in Kia's lineup, positioned above the (also three-row) Sorento. Upon this larger canvas Kia has painted bold styling that deviates little from that of the Telluride concept car from a few years ago.
Final details are forthcoming, but Kia says the Telluride is several inches longer and wider than the Sorento. It'll hold up to eight people, while the Sorento can only hold seven between its two front seats, three-across second-row bench, and its admittedly tight two-place third-row seat. That means you can expect the Telluride's third row to accommodate three humans, although don't rule out a seven-seat version with captain's chairs in the second row.
Click the right arrow to continue reading...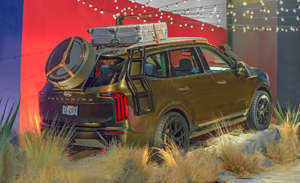 Beyond its extra size, the Telluride also is far more distinctive than the Sorento, with interesting head- and taillight designs and a boxy, truck-like silhouette. Disregard a few of the custom off-road-y bits seen on this particular vehicle-including all-terrain tires, beefy bumpers, an intake snorkel, a roof rack, and a hatch-mounted spare tire-as it's simply a modified version of the production car debuting at New York Fashion Week. 
The Kia's styling is so truck-like and bold, in fact, that you could be forgiven for thinking it's an old-school, body-on-frame SUV along the lines of Chevrolet's Tahoe or GMC's Yukon. Nonetheless, we suspect that the Telluride rides on a front-wheel-drive-based unibody platform, likely one that will be shared with a new three-row Hyundai SUV rumored to be called the Palisade. That it will be built at the same Georgia plant where Kia assembles the unibody Sorento serves as more evidence against the idea that this SUV is body-on-frame like the Borrego SUV that Kia sold for a brief while about ten years ago.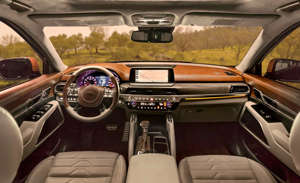 Kia says the Telluride will use a V-6 engine but offers no specifics beyond that, leaving us guessing as to whether it'll be the same naturally aspirated 3.3-liter found in the Sorento or possibly a more powerful twin-turbocharged version of the same engine like that in the Stinger. An eight-speed automatic transmission and all-wheel drive seem like sure bets, at least.
Inside, the Fashion Week–ified Telluride boasts a few unique bits of trim, including special leather and wood trim that won't see production. Otherwise, the cabin isn't likely to change all that much before it goes on sale early next year.