Toyota still builds a serious off-road Land Cruiser

Autoblog
3/8/2016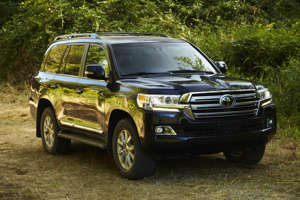 Over the last 25 years, the Toyota Land Cruiser has evolved into a genuine luxury SUV in the United States, but the leather-wrapped, $85,000 V8-powered beast you can buy at your local Toyota dealer remains a thinly-disguised workhorse called upon for severe duty in Earth's farthest reaches.
Proof rolls off the line every day at Toyota's flagship plant in Tahara, Japan. Directly behind a Lexus LX 570 bound for a well-heeled buyer in suburban Atlanta might be a white Land Cruiser with a snorkel snaking up its A-pillar headed for United Nations duty in a warzone.
Underneath, they're the exact same thing. That means there may not be a single new vehicle with more diverse demographics out there, and that represents a gigantic engineering challenge to Toyota. The company must engineer the Land Cruiser to be comfortable in Buckhead and capable in the Kalahari.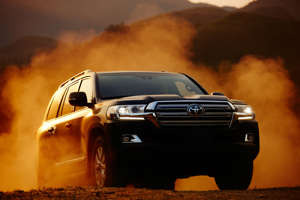 Those built for serious duty are generally badged Land Cruiser GX, depending on where they're set to be delivered. In Australia, where the insurgents are more likely to be poisonous spiders, the Land Cruiser GX is offered alongside luxed-up Land Cruiser Saharas, which are roughly equivalent to the luxury-oriented model sold in the United States. Their buyers couldn't be any different, however.
Toyota's Australian distributor tells Autoblog that it sold about 500 Land Cruiser GXs last year, a not insubstantial number that makes Down Under among the model's strongest markets. In Australia, the GX includes "barn doors" hinged at the sides rather than the top-opening lift gate standard on other specifications.
Befitting their work-oriented positioning, the Australian GXs ride on steel wheels wrapped in all-terrain tires, feature unpainted mirrors and door handles, and the chrome exterior trim is deleted in favor of black plastic. Their interiors are outfitted with vinyl flooring in place of carpet, hard-wearing cloth seats, simplified audio and climate controls, and durability-oriented plastics. Even details like the instrument cluster are plain and functional, not flashy.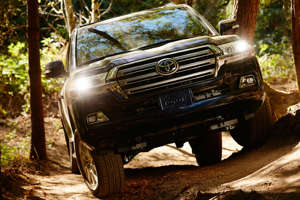 But not all of the changes are de-contenting. Most notably, the GX includes as standard the aforementioned snorkel, useful in both high-water crossings and the dusty Outback. An auxiliary fuel tank adds nearly 12 gallons of capacity. In place of the 5.7-liter V8 fitted to American Cruisers, the Australian GX utilizes a 4.5-liter twin-turbo diesel V8.
Other markets take things even further. A winch can be fitted behind the front bumper. Radios and side airbags can deleted for a true focus-on-the-basics approach. And, enthusiasts rejoice, a 5-speed manual transmission is available with the turbodiesel here and there. So, you can buy a new Land Cruiser with a stick shift, but you'll have to take delivery in places that require immunizations and a visa to visit.
The UN knows that. Its operations generally don't happen within sight of a Nordstrom. The organization wouldn't comment on how it orders its Land Cruisers, but it is safe to speculate that many are outfitted with equipment beyond what Toyota specifies. Think armor plating and advanced communications equipment.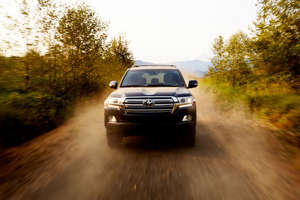 And then there are the ones that wind up in private hands as security patrol vehicles around mines in the Democratic Republic of the Congo, or as the only means of transportation to a remote oil field in the Arabian Peninsula.
The vehicle the United States calls "Land Cruiser" is generally known globally as the "Land Cruiser 200," and it serves as the flagship for a range of Land Cruisers. Our Lexus GX 460 is the next step down, sold in most markets as the Toyota Land Cruiser Prado. From there, the lineup becomes increasingly utilitarian and specific to places like Africa, the Middle East and Australia, where models more clearly descendent from the original Land Cruiser (known here as the FJ40) are still sold as pickups and wagons.
Even if Toyota Motor Sales, the American arm of Toyota, offered the Land Cruiser GX, the company says there would be insufficient demand. In other words, it's the off road equivalent of a brown, diesel, manually-shifted European wagon – a desirable unicorn for die-hard enthusiasts, but not really the general public.