2016 Dodge Charger: What You Need to Know

US News & World Report - Cars
4/27/2018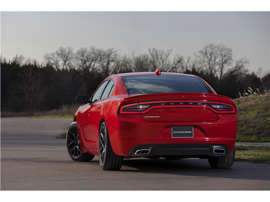 With several powerful engine options and engaging handling, the 2016 Dodge Charger has great performance for a large car. However, terrible predicted reliability banishes the Charger to the bottom of its class.
The 2016 Dodge Charger is ranked:
Is the 2016 Dodge Charger a Good Used Car?
The 2016 Dodge Charger is a good car with powerful engines, solid safety scores, and a spacious interior. However, its below-average predicted reliability makes it tough to recommend. It's a good choice for shoppers seeking a fun-to-drive large car that offers a wide range of muscular engines, including some hellacious V8s. Lower trim models have an unappealing interior quality, though infotainment features are generally easy to use.
Why You Can Trust Us
We've researched 47 Dodge Charger reviews, as well as hard data points like reliability scores and cost of ownership estimates, to help you make the best car-buying decision possible.
U.S. News & World Report has been ranking cars since 2007, and our team has more than 75 years of automotive industry experience combined. While we're passionate about cars, we're even more committed to providing helpful consumer advice. To ensure our reviews remain impartial, we refuse expensive gifts and trips from car companies, and an outside team handles the advertising on our site.
How Much Is the 2016 Dodge Charger?
List prices for a 2016 Charger range from $17,000 to $39,000, with the average price coming in a little under $22,000. These figures are based on the roughly 1,700 listings for the 2016 Charger on our site. Prices will fluctuate depending on the vehicle's features, mileage, condition, and location.
How Much Does the 2016 Dodge Charger Cost to Own?
The 2016 Charger's five-year costs for gas, insurance, repairs, and maintenance are projected to be about $28,000, or $5,600 per year. That's a little more expensive than its rivals' five-year costs. A 2016 Nissan Maxima, for example, will cost you about $1,600 less over five years, and you can expect to pay about $3,400 less on a 2016 Chevy Impala.
Is It Better to Buy a Used or New Charger?
The 2016 and 2018 Dodge Charger are part of the same generation. With a starting price of about $29,000, the new Dodge Charger is around $7,000 more than the average used 2016 Charger. The 2018 Charger comes standard with a 7-inch touch screen, Android Auto, Apple CarPlay, a rearview camera, and rear parking sensors. Otherwise, there aren't many significant differences between these two models. Unless you really care the latest smartphone integration technology, you're better off saving some money and going with a used 2016 Charger.
Read about the new Dodge Charger »
If you'd prefer to buy a new car, you'll have to drop down a class size to stay in the same price range as a 2016 Charger. You won't find a new car that delivers the Charger's muscle at this price point, but there are some intriguing options among midsize cars. Highly ranked cars like the 2018 Toyota Camry (starting at $23,495), 2018 Honda Accord ($23,570), and 2018 Ford Fusion ($22,215) all offer exciting handling and plenty of interior space. If you're looking for a fun-to-drive sedan that can also ferry four adults in comfort, these are good choices. However, the base engines in these cars are tame, and upgrading to a more powerful engine raises the price to around $30,000. Check out our Toyota deals page, Honda deals page, and Ford deals page for possible cash back deals and incentives that may narrow the price difference.
How Reliable Is the 2016 Dodge Charger?
The 2016 Dodge Charger scores two out of five for predicted reliability, according to J.D. Power. That's the lowest score available and the worst in this class.
2016 Dodge Charger Recalls
At the time of this writing, there are three open safety recalls for the 2016 Dodge Charger. One covers a part of the frame that may give out when the car is lifted on a tire jack without chocking the wheels, causing the vehicle to fall. Another involves front driveshaft bolts that may loosen or come out, increasing the risk of a crash. The third addresses a factory fire extinguisher that may be clogged or otherwise inoperable. Before buying a used Charger, make sure these recalls have been addressed.
See more information on Dodge Charger safety recalls »
Which Model Year of the Dodge Charger Is Best?
The 2016 Charger is part of a generation that launched for the 2011 model year. The Charger received a significant refresh for 2015, which brought interior and exterior updates, a new standard eight-speed automatic transmission, new advanced safety features, and several new trims (including the SRT Hellcat). There are no major differences between the 2015 and 2016 models. For 2017, Dodge added Apple CarPlay and Android Auto to the available infotainment system, which also got an upgrade.
If you like the look of Charger models prior to 2015, consider a 2013 or 2014 Charger to save some money. Average prices for a 2015 Charger and a 2016 model are about the same (around $22,000), while a 2014 model averages $19,000 and a 2013 model averages $17,000. However, you won't get any of the benefits from the 2015 refresh.
Which Used Dodge Charger Model Is Right for Me?
The 2016 Dodge Charger comes in seven trims: SE (base), SXT, R/T, R/T Road & Track, R/T Scat Pack, SRT 392, and SRT Hellcat. If you're looking for thrilling muscle-car power and performance, focus your search on R/T models or above, though they will likely have significantly higher prices than lower trims. Those in the market for an everyday driver will likely be satisfied with the SXT trim. It's one of only two Charger trims available with all-wheel drive. It also comes with the larger touch screen, an Alpine stereo, and heated front seats. You''ll find some SXT models with amenities like a rearview camera, navigation, leather seats, and advanced safety technologies.
Certified Pre-Owned Dodge Charger Warranty
Though it will likely cost more, a certified pre-owned Charger may suit you best. For its certified pre-owned vehicles, Dodge extends the original new-car powertrain warranty to seven years or 100,000 miles. CPO vehicles also get a three-month/3,000- mile Maximum Coverage Care warranty. There are restrictions related to mileage and models, so read the Dodge warranty page carefully. The model's original sale date determines whether it is eligible for the CPO program.
Dodge's CPO program is midrange among nonluxury brands.
How Safe Is the Charger?
The National Highway Traffic Safety Administration gave the 2016 Dodge Charger a five-out-of-five-star overall rating. It received five stars in the side crash and rollover tests and four stars in the frontal crash test. The Charger received the top rating of Good in four Insurance Institute for Highway Safety crash tests. It scored a Marginal rating, the second-lowest, in the small overlap front test. The Charger has good safety scores, but many class rivals score higher.
Advanced safety aids available in the 2016 Charger include a rearview camera, rear parking sensors, adaptive cruise control, blind spot monitoring, forward collision warning, automatic emergency braking, lane departure warning, lane keep assist, and rear cross traffic alert. One interesting piece of standard safety equipment is rain brake support. When the windshield wipers are on, the brake system pulses to keep the rotors and pads dry for improved control in rainy conditions.
2016 Dodge Charger Versus the Competition
Which Is Better: 2016 Dodge Charger or 2016 Chevrolet Impala?
The 2016 Chevrolet Impala has more rear-seat headroom and a larger trunk than the Charger, which makes it a better option for day-to-day use. Though the Impala isn't as performance-oriented as the Charger, it still feels composed around corners and has sufficient acceleration from its base four-cylinder engine. However, the Impala's available V6 engine delivers strong acceleration, and it's more powerful than the Charger's V6. The Impala also has the smooth ride that you look for in full-size sedans. Because of its combination of quality and value, we named the Impala our 2016 Best Large Car for the Money. We also deemed it our 2016 Best Large Car for Families thanks to its ample space, family-friendly features, and positive reviews from automotive critics.
Which Is Better: 2016 Dodge Charger or 2016 Nissan Maxima?
The 2016 Nissan Maxima is one of the most fun-to-drive large sedans. It boasts nimble handling and a muscular, standard V6 engine. You'll also find one of the most luxurious interiors in the segment, with supportive seats, plush materials, and an intuitive touch-screen infotainment system. The Maxima gets outstanding crash test ratings across the board, and it has just as many advanced safety features as the Charger. It also has excellent predicted reliability, making the Maxima the way to go.
Which Is Better: 2016 Dodge Charger or 2016 Dodge Challenger?
The 2016 Dodge Challenger is a retro-styled coupe that's more muscle car than family car. Its standard V6 engine produces 13 more horsepower than the Charger's V6, but the Charger might have the edge in handling. The hefty Challenger is more at home cruising on the highway than it is carving winding back roads. Both cars have an adult-friendly rear seat, but the Charger is a little more practical because it has rear doors. While the Charger has poor predicted reliability, it gets better safety scores than the Challenger. Both cars are OK but not great choices, so your final decision will likely come down to your personal preference.
2016 Charger Performance
How Does the 2016 Dodge Charger Drive?
The 2016 Dodge Charger features a standard V6 engine that puts out 292 horsepower. That will certainly get the job done, but any of three available V8 engines will really quicken your pulse. These are what you're looking for if you're inspired by the Charger's muscle-car history. R/T and R/T Road & Track trims feature a 370-horsepower V8. The Charger R/T Scat Pack and SRT 392 trims both have a 485-horsepower V8. The SRT Hellcat brings the fire with a supercharged V8 good for a mind-blowing 707 horsepower. The rear-wheel-drive Charger has athletic handling and cornering ability, though it occasionally suffers from understeer.
Does the 2016 Dodge Charger Get Good Gas Mileage?
The base Charger gets an EPA-estimated 19 mpg in the city and 30 mpg on the highway, which are OK figures for a large car. All-wheel-drive V6-powered models get 18 mpg in the city and 27 mpg on the highway. Estimates for the most powerful V8 models run as low as 13/22 mpg city/highway.
2016 Charger Interior
How Many People Does the 2016 Charger Seat?
The 2016 Dodge Charger sedan seats five on standard cloth upholstery with a six-way power-adjustable driver's seat. It's available with leather upholstery, 12-way power-adjustable front seats, heated and ventilated front seats, heated rear seats, and performance seats with added side support. The front seats are roomy, but the seat cushions don't offer enough support for long trips. Taller passengers may want more headroom in the second row, but overall space is sufficient. The Charger has large roof pillars all-around, which may limit the driver's outward visibility.
How Many Car Seats Fit in the 2016 Dodge Charger?
The Charger has complete sets of LATCH car-seat connectors for all three rear seats. The Insurance Institute for Highway Safety rated the system's ease of use as Marginal, the second-lowest rating.
2016 Dodge Charger Features
The 2016 Charger features mostly quality cabin materials, though some lower trims feature too many hard plastics. All models come standard with three USB ports, a six-speaker audio system, and the Uconnect infotainment system with Bluetooth and a 5-inch touch screen. Available features include dual-zone automatic climate control, a 19-speaker Harman Kardon audio system, and an upgraded Uconnect system with voice recognition, satellite radio, navigation, an 8.4-inch touch screen, Siri Eyes Free, and Uconnect Access, which features several apps and an on-demand Wi-Fi hot spot. Both versions of the touch-screen system are user-friendly, with quick response times and a sleek interface.
2016 Dodge Charger Dimensions
Dodge Charger Cargo Space
The Charger offers 16.5 cubic feet of trunk space, which is average for the class.
2016 Charger Length and Weight
Most 2016 Chargers are 16.5 feet long, while Scat Pack and SRT models are 16.7 feet long. The Charger weighs between 3,960 and 4,570 pounds, depending on trim.
Where Was the 2016 Dodge Charger Built?
The 2016 Dodge Charger was assembled in Brampton, Ontario.
Read the full 2016 Dodge Charger reviewon U.S. News & World Report for more details, photos, specs and prices.
More from U.S. News & World Report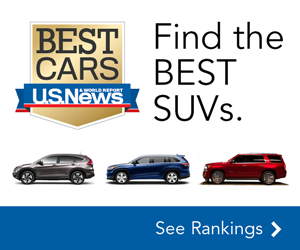 US News & World Report - Cars