2018 Dodge Charger: What You Need to Know

US News & World Report - Cars
10/31/2018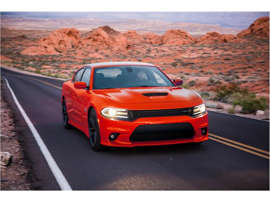 The 2018 Dodge Charger ranks near the bottom of the large car class. It isn't as upscale as some of its competitors, and it has a low predicted reliability rating. Those negatives work against the car's outstanding engine power and spacious interior.
Is the Dodge Charger a Good Car?
The Dodge Charger is a so-so car. Despite its low ranking, this large car delivers outstanding performance. Its base V6 engine is more than capable for everyday use, while three optional V8 engines provide tremendous acceleration. The Charger balances a smooth ride with engaging handling. Its cabin has plenty of space and user-friendly tech features, but interior quality lags that of most rivals. The Charger has several strengths, but many competitors offer much more.
Should I Buy the Dodge Charger?
If you're looking for a family sedan with muscle-car performance, the Charger is pretty much your only choice. For drivers who don't have a lead foot, there are more well-rounded large cars to consider. Aside from engine potency, the Chevrolet Impala is almost as engaging to drive, and it has a spacious interior and a lower starting price. The Chrysler 300 lacks the Charger's performance chops but has a more upscale cabin and plenty of tech features.
Should I Buy a New or Used Dodge Charger?
For 2018, Dodge updated the Charger's standard features and changed some trims around. While the 2017 Charger only had a basic 5-inch infotainment screen, the 2018 model has a standard 7-inch touch screen, along with Android Auto and Apple CarPlay. You can still get smartphone integration in 2017 models, you'll just have to hunt around for it. An 8.4-inch touch screen was available for most 2017 Chargers. Dodge dropped the 2017's base SE trim for 2018 and added a midrange GT trim, which is the only 2018 model you can get with all-wheel drive.
If you want to save money and you're open to driving a used car, you can likely save thousands of dollars by going with a used Charger. To research other models in this generation, read our reviews of the 2015, 2016, and 2017 Dodge Charger. If you decide an older model is right for you, check out our Used Car Deals page to learn about savings and discounts on used vehicles.
We Did the Research for You: 53 Reviews Analyzed
Our vehicle reviews are designed to be a one-stop shop for you to gather information before you head to the car dealership. We combine professional test driver opinions with data such as crash test results and reliability ratings to form a complete picture of every car we rank. This 2018 Dodge Charger review incorporates applicable research for all model years in this generation, which spans the 2011 through 2018 model years.
Why You Can Trust Us
U.S. News Best Cars has been ranking cars, trucks, and SUVs since 2007, and our team has more than 75 years of combined experience in the automotive industry. To ensure that our car reviews are unbiased, we don't accept expensive gifts or trips from automakers, and a third party handles all advertising on our site.
How Much Does the Dodge Charger Cost?
The Dodge Charger sedan's base retail price is $28,995, which is one of the lowest starting prices in the class. The all-wheel-drive GT trim – starting at $32,995 – is reasonably priced as well. Things can get pricey in a hurry, however, if you want one of the larger engines. The R/T and Daytona trims with the largest V8 have starting prices in the $40,000s, and the SRT 392 starts north of $50,000. The Dodge Charger SRT Hellcat, which is the most powerful sedan on the market, has a starting price of just under $68,000.
Check out our U.S. News Best Price Program for great savings at your local Dodge dealer. You can also find excellent manufacturer incentives on our Dodge deals page.
Dodge Charger Versus the Competition
Which Is Better: Dodge Charger or Chevrolet Impala?
The Chevrolet Impala ranks in the middle of this class, but there's a huge drop off between it and the Charger. Both large sedans offer about the same amount of cabin space, but the Impala provides more front-seat legroom. The Chevy also has a larger trunk. Under the hood, it's no contest: The Charger's base V6 engine has nearly 100 more horsepower than the Impala's standard four-cylinder, and the Impala's optional V6 can't hold a candle to the Charger's impressive available V8s. You'll get more technology in a base Charger, but these cars are comparably equipped as you move to higher trims. Overall, the Impala is the better large car. It has a well-designed interior, with mostly high-quality materials. And though it can't match the Charger's extravagant performance, it's plenty capable for daily driving duty.
Which Is Better: Dodge Charger or Chrysler 300?
The Chrysler 300 and Dodge Charger each comes with the same powerful 292-horsepower base V6 engine, and the 300 offers a 363-horsepower V8 that's a hair weaker than the V8s found in the Charger R/T and Daytona. The Chrysler is less agile than its Dodge counterpart, but inside, the Chrysler looks and feels more upscale. The 300 has plenty of space in both rows of seats and more standard and available features than the Charger. Choosing between these two comes down to whether you prefer better performance (the Charger) or a nicer interior (the 300).
Charger Interior
How Many People Does the Charger Seat?
The Charger seats five. Both rows of seats have plenty of space, and three adults can fit comfortably in the back seat. The front seats remain supportive on long drives, but driver visibility is slightly impaired by the thick roof pillars.
Charger and Car Seats
There are three full sets of LATCH car-seat connectors. The tether anchors are easy to use, but it takes a lot of force to attach car seats to the lower anchors. They're also set too deep in the seat.
Charger Interior Quality
The Charger's cabin isn't as luxurious as the interiors of some rival cars. However, it still features some soft-touch materials and an appealing design.
Charger Cargo Space
The Charger provides average trunk space for a large car. Its 16.5-cubic-foot trunk has enough room for a dozen shopping bags or a good amount of vacation luggage. Split-folding rear seats allow you to haul items that are too big for the trunk alone.
Charger Infotainment, Bluetooth, and Navigation
The Charger's standard features include proximity keyless entry, three USB ports, and the Uconnect infotainment system with voice recognition, Bluetooth, Apple CarPlay, Android Auto, and a 7-inch touch screen. Optional equipment includes a sunroof, a 19-speaker Harman Kardon audio system, satellite radio, and an upgraded Uconnect system with navigation and an 8.4-inch touch screen.
Apple CarPlay and Android Auto are newly standard in the Charger for the 2018 model year, giving you an easy way to connect your smartphone to the infotainment system. And speaking of Uconnect, it's one of the most user-friendly systems on the market.
For more information, read What Is Apple CarPlay? and What Is Android Auto? Then, see the Best Cars With Apple CarPlay and Best Cars With Android Auto.
Charger Performance
Charger Engine: Plenty of Power
The Charger's base engine is a 292-horsepower V6 that moves this large sedan with ease. However, it's noticeably slower with the V6 than with any of the V8s. There are three V8s to choose from, ranging from the 370-horsepower engine powering the R/T trim to the 707-horsepower monster you get with the SRT Hellcat. All the V8s deliver rapid acceleration and abundant power, but the Hellcat takes things to an entirely new level.
Charger Gas Mileage: For Best Results, Be Basic
The base engine gets the best fuel economy in the Charger lineup, earning 19 mpg in the city and 30 mpg on the highway. The V8s are less economical, with the most efficient V8 getting just 16 mpg in the city and 25 mpg on the highway.
You'll spend about the same on gas each year whether you drive the Charger or a rival like the Chrysler 300. The Chevrolet Impala's standard four-cylinder will save you about $150 per year compared to the Charger, but V6 Impalas cost about $50 more per year in fuel costs.
Charger Ride and Handling: More Than a Cruiser
The rear-wheel-drive Charger handles well for a large car. It's poised on winding roads, and there's little body roll. Available upgrades like sport suspensions (there are multiple) make this Dodge more athletic. The ride is smooth as well, and road imperfections are easily absorbed.
Charger Reliability
Is the Dodge Charger Reliable?
The 2018 Dodge Charger receives a below-average predicted reliability rating of two out of five from J.D. Power. That's the lowest rating in the class.
Dodge Charger Warranty
Dodge covers the Charger with a three-year/36,000-mile limited warranty and a five-year/60,000-mile powertrain warranty. Many other large cars have similar warranties.
Charger Safety
Charger Crash Test Results
The 2018 Dodge Charger earned a perfect five-star overall crash test rating from the National Highway Traffic Safety Administration. However, it only earned four stars in the frontal crash test. At the Insurance Institute for Highway Safety, the Charger received the top score of Good in four crash tests and a Marginal rating in the small overlap front test.
Charger Safety Features
The Charger comes standard with a rearview camera and rear parking sensors. Available active safety features include adaptive cruise control, blind spot monitoring, forward collision warning, lane departure warning, lane keep assist, and rear cross traffic alert.
Which Dodge Charger Model Is Right for Me?
There are nearly a dozen Charger trims to choose from: SXT, SXT Plus, SXT Plus – Leather, GT, GT Plus, R/T, R/T Scat Pack, Daytona, Daytona 392, SRT 392, and SRT Hellcat.
In addition to the standard features in each trim, almost every model offers at least one option package that includes styling modifications, more infotainment options, more comfort features, or more driver assistance technology. These packages vary in price, but many (though not all) are in the $1,000-$2,000 range.
For most buyers, the SXT and GT trims are great choices. The higher SXT and GT trims have lots of available features, to the point that the main difference between them and the top-level trims is the engine (and even the base engine has plenty of power). SXT and GT trims also cost thousands less than the trims with the larger engines.
The base Charger SXT has a starting price of $28,995. The SXT doesn't offer much beyond the standard features, but the Charger SXT Plus adds dual-zone automatic climate control, sport seats, power-adjustable front seats, heated front seats, a heated steering wheel, and an upgraded Uconnect system with an 8.4-inch touch screen.
The Charger GT is a new trim for 2018, and it starts at $32,995. Like the SXT trims, GT models come standard with the V6 engine, though this version has 300 horsepower. Unlike the rest of the lineup, the GT comes standard with all-wheel drive. AWD isn't available in any other Charger trim. The GT's feature list is comparable to the SXT Plus'.
The Charger R/T has a starting price of $35,495. The base R/T trim features a 5.7-liter Hemi V8, and the R/T Scat Pack (starting at $39,995) comes with a 6.4-liter Hemi V8. R/T trims come standard with a sport suspension and adaptive cruise control.
The Charger Daytona starts at $38,995. Like the R/T, the Daytona comes with the 5.7-liter Hemi V8, while higher Daytona trims come with the 6.4-liter Hemi. The Daytona comes with a performance suspension, leather upholstery, ventilated front seats, and heated rear seats.
The Charger SRT has a starting price of $51,145 (for the SRT 392 trim) and comes with the 6.4-liter V8 engine. SRT trims also come with blind spot monitoring and the upgraded Uconnect system with navigation.
The SRT Hellcat starts at $67,995. This is the big boy of the lineup, and it's the only trim to feature the supercharged 6.2-liter Hemi V8, which puts out 707 horsepower.
Check out our U.S. News Best Price Program for great savings at your local Dodge dealer. You can also find excellent manufacturer incentives on our Dodge deals page.
The Final Call
The 2018 Dodge Charger finishes near the bottom of our large car rankings, though it's not a bad car. The Charger offers powerful engine options, capable handling, and a spacious interior, but it doesn't have the all-around appeal of many competitors, which is why it might not be the best choice among large sedans. Its low predicted reliability rating may also deter some shoppers.
Don't just take our word for it. Check out comments from some of the reviews that drive our rankings and analysis.
Read the full 2018 Dodge Charger review on U.S. News & World Report for more details, photos, specs and prices.
More from U.S. News & World Report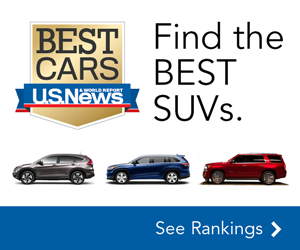 US News & World Report - Cars