Classic VW Bus With Half Tracks Is A One-Off All-Terrain Monster

motor1.com
5/26/2022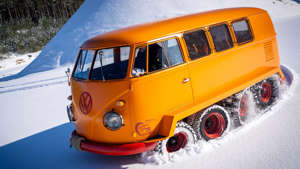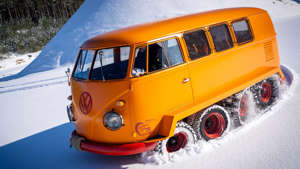 © Motor1.com Copyright Volkswagen Half-Track Fox
The four-axle beast underwent a thorough restoration.
Sixty years ago, a classic Volkswagen Type 2 T1 bus left the company's Hanover plant to a purchaser in Austria. It didn't spend much time trotting around the country as a van before Viennese mechanic Kurt Kretzner modified it into a one-off all-terrain monster. Kretzner spent four years designing and building what would become known as the Half-Track Fox.
The modified Volkswagen sports four axles. The two at the front, with 14-inche tires, steer the vehicle, while the pair at the rear feature a chain drive mechanism that turns the 13-inch spinners into tracks. The setup allows the bus to have a turning circle of about 32 feet (10 meters).
Source: Volkswagen Commercial Vehicles