Unity RV Concept Debuts With Trick Rear Lounge Layout
motor1
3/13/2019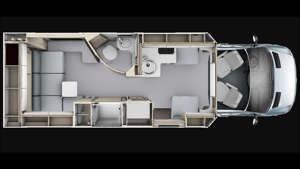 We've never seen a floorplan like this before.
The inaugural RVX trade show is currently wowing camping and motorhome fans in Salt Lake City, Utah, and Leisure Travel Vans is there with an RV concept called the Unity Rear Lounge Concept. As with many motorhomes these days, it's based on the venerable Mercedes-Benz Sprinter chassis cab. The RV part comes courtesy of Leisure Travel Vans, which combines luxury with plenty of technology and some truly clever packaging for a Super B-class motorhome.
© Motor1.com/Hersteller Unity Rear Lounge Concept Interior

More RV Debuts at RVX:
Sonic X RV Trailer Is A Fully Sustainable, Carbon Fiber Camper
Winnebago Debuts All-New Boldt Camper Van, Redesigned View RV
RV connoisseurs will likely notice the sizable lounge area at the rear – hence the name for this particular machine. A large sectional sofa with powered recliners is the cornerstone of this camper, and it spans nearly the width of the RV itself. The area also converts to a large bed, and a 32-inch television is mounted next to a pair of large windows for viewing the great outdoors whilst lounging inside. 
Just forward of the living area is a separate stand-up shower with a large door that can also be used to close off the lounge from the rest of the camper. A separate toilet and sink occupies the space across the narrow hall, with the front half of the RV devoted to kitchen and dining. Numerous configurations allow for expanded counter space and a table, and a second bed can be configured up front as well. A second television above the sink offers additional entertainment.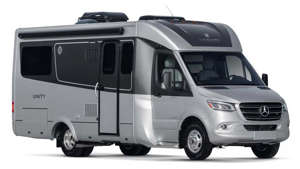 In-between camping destinations, the Unity Rear Lounge Concept utilizes a gamut of Mercedes-Benz driver assist systems and luxury options for front-seat occupants. It's also fitted with Merc's MBUX infotainment system with a 10.25-inch touchscreen. While at rest, the front seats can also swivel to become part of the Unity's dining area.
Van Life of a Different Sort:
$35,000 Buys You A Commercial Van Turned Into Woody Camper
Kimbo Camper Converts Pickup Truck To Go-Anywhere RV
Controlling all the RV's on-board electrical components is a nifty system called Dometic IoT Solution. Six touchscreens throughout the camper monitor and control everything from lighting to climate control, water tanks, batteries, and LP gas. The system can also be connected to a smartphone or tablet for wireless mobile monitoring and control.
The Rear Lounge Concept is the newest RV in the Unity line from Leisure Travel Vans, and despite being labeled a "concept," the company has said pre-orders are open now, with deliveries expected to commence in the fall.
Source: Leisure Travel Vans