2018 Ford Focus: What You Need to Know

US News & World Report - Cars
1/24/2019
The 2018 Ford Focus is fun to drive and offers a comfortable ride. It also has a solid safety score and an above-average predicted reliability rating, which help it finish in the top third of our class rankings.
The 2018 Ford Focus is ranked:
Is the Ford Focus a Good Car?
Yes, the Ford Focus is a good car. It has sporty handling for a compact car, and it offers two turbocharged engines in its performance trims. Inside, the Focus has an appealing list of infotainment features that are easy to use. It also earns a better predicted reliability rating than many of its classmates. However, rear passenger space is limited, and the sedan has a small trunk.
Should I Buy the Ford Focus?
The 2018 Focus is priced competitively for its class. With its wide range of body styles and engine options, there's a model for everyone. You can pick from a variety of personalities, including the affordable S sedan, the premium Titanium, and the performance ST and RS hatchbacks.
However, there are some compact cars that make interesting alternatives to the Focus. The Toyota Corolla is roomy inside and offers a top-notch predicted reliability rating. The Honda Civic is also spacious, yet it's fun to drive. A rival like the Mazda3 is affordable, and it has a quality interior along with the most agile handling in the class. 
Should I Buy a New or Used Ford Focus?
Ford made no major changes to the Focus between the 2017 and 2018 model years. Therefore, you may want to consider the nearly identical 2017 Focus over a new model to save money. Going further back in the car's current generation (which began with the 2012 model year) will likely save you even more. The main improvement over the past couple of years was the introduction of the SYNC 3 infotainment system for 2016. This intuitive, user-friendly system replaced the clunky MyFord Touch infotainment system.
To research some other models in this generation, check out our reviews of the 2015, 2016, and 2017 Ford Focus. If you decide an older model is right for you, visit our Used Car Deals page to learn about savings and discounts on used vehicles.
We Did the Research for You: 88 Reviews Analyzed
We analyzed 88 Ford Focus reviews – along with safety and reliability ratings, fuel economy estimates, and more – to help you decide if the 2018 Focus is the right new car for you. This 2018 Ford Focus review incorporates applicable research for all model years in this generation, which spans the 2012 through 2018 model years.
Why You Can Trust Us
U.S. News Best Cars has been ranking and reviewing vehicles since 2007, and our team has more than a combined 75 years of experience in the automotive industry. To maintain objectivity, we don't accept incentives or expensive gifts from car companies, and an outside team handles the ads on our site.
How Much Does the Ford Focus Cost?
When comparing entry-level editions, you'll spend about $1,000 less on a new Ford Focus than on the average new compact car. Prices for the Focus sedan start at $17,860 for the S trim and reach as high as $24,175 for the Titanium trim. For the hatchback body style, prices range between $20,445 and $41,120. The all-electric Focus EV costs $29,190 before applying the available $7,500 federal tax credit.
Check out our U.S. News Best Price Program for great savings at your local Ford dealer. You can also find excellent manufacturer incentives on our Ford deals page.
Ford Focus Versus the Competition
Which Is Better: Ford Focus or Honda Civic?
The top-ranked Honda Civic has few major faults, and it's a great overall car. It offers loads of passenger room and a good amount of trunk space, making the Civic a more inviting choice for families. Agile handling means you won't have to give up on having fun behind the wheel in the Civic. Also, there are two sport-oriented Civic models that can go toe-to-toe with the Focus' enthusiastic models. The Honda aces all of its crash tests, but the Focus has a higher predicted reliability rating. In the end, these are two solid choices. The right one for you comes down to personal preference.
Which Is Better: Ford Focus or Toyota Corolla?
The Toyota Corolla isn't as good as the Focus overall, but it has a couple of advantages, such as its high fuel efficiency. The Corolla boasts a history of excellent predicted reliability (though the 2018 Focus also has a strong rating). Those looking for a dependable daily driver may want to consider the Corolla. However, it has a lower-rent interior and is less fun to drive than the Focus. 
Which Is Better: Ford Focus or Mazda Mazda3?
The Mazda3 has likely the most exciting driving dynamics in the class, and its high-quality interior makes it well rounded overall. Like the Focus, the Mazda3 is available as either a sedan or a hatchback, but both are a little short on passenger and cargo space. If you're looking for a small car that's both sporty and affordable, either one of these is a good choice.
Focus Interior
How Many People Does the Focus Seat?
The Focus seats five. Its front seats are pleasant enough for road trips, but their unyielding armrests may be unappealing. There's a decent amount of vertical space in the back, but otherwise the rear seats feel tight for adults. If you need more legroom, rivals like the Toyota Corolla have more space to stretch your legs.
Focus and Car Seats
You can clip a child seat into any of the three rear seats in the Focus. Each seating position has its own clearly labeled tether anchor. Only the outboard seats have lower anchors, though you can put a child seat in the middle by borrowing an anchor from each adjacent seat.
Focus Interior Quality
The cabin of the Ford Focus feels durable, with an open layout that puts everything within reach. Hard plastics and some lower grade ingredients are present among a smattering of upscale materials, and the base trim misses out on features like power rear windows and cruise control. 
Focus Cargo Space
The amount of cargo space not only depends on the body style, but on the trim level as well. Most Focus Hatch trims have 23.3 cubic feet behind the seats, which is a smidge larger than the Chevrolet Cruze Hatch's space. This drops drastically to 14.2 cubic feet for the Focus Electric. At 13.2 cubic feet, trunk space for the Focus sedan is among the smallest in our compact car rankings.
Focus Infotainment, Bluetooth, and Navigation
Lower Focus trims come with an infotainment system that's straightforward and includes niceties like Bluetooth, two USB ports, and voice recognition. If you can afford it, look for a model that comes with Ford's SYNC 3 interface (standard in SEL and above trims). It comes with an 8-inch touch-screen display, a 10-speaker Sony sound system, HD Radio, satellite radio, and Apple CarPlay and Android Auto compatibility. 
For more information, read What Is Apple CarPlay? and What Is Android Auto? Then, see the Best Cars With Apple CarPlay and Best Cars With Android Auto.
Focus Performance
Focus Engine: A Diverse Assortment  
The array of Focus powertrain options ranges from a fuel-sipping three-cylinder to a sizzling high-performance turbo-four, with a number of selections in between. If the bulk of your time is spent running around town, you'll be fine with the Focus' standard 2.0-liter four-cylinder engine. The available three-cylinder engine is frugal and well-suited for neighborhood driving, but it's weak on the highway. Other options include a battery-electric powertrain in the Focus Electric, a spirited EcoBoost turbocharged 2.0-liter engine in the Focus ST, and a 350-horsepower turbocharged 2.3-liter engine with blistering acceleration in the performance-oriented Focus RS. Transmission options include a five-speed manual, a six-speed manual, or a six-speed automatic, depending on the trim.
Focus Gas Mileage: Mostly Thirsty Engines
Great fuel economy isn't an accolade given to most of the Focus powertrains. The base four-cylinder's EPA rating of 26 mpg in the city and 36 mpg on the highway is lower than the average rating in our compact car rankings. If good gas mileage is a concern for you, two fuel-saving options are available. The available three-cylinder engine, standard in the SE sedan, gets as much as 30 mpg in the city and 40 mpg on the highway. The Focus Electric gets 107 mpg-equivalent combined city/highway. This battery-electric vehicle can drive up to 115 miles on a single charge.
Focus Ride and Handling: Sprightly
Driving dynamics are where the Focus really shines. This small car meets the minimum requirement of providing a comfortable ride, then adds in sharp steering and a nimble demeanor. Even the basic trim levels are playful, while the high-performance variants bring a serious level of agility. 
Focus Reliability
Is the Ford Focus Reliable?
The 2018 Focus has a predicted reliability rating of four out of five from J.D. Power. That's a good rating in general – an average rating for any vehicle is three out of five. It's also an above-average score for a compact car.
Ford Focus Warranty
The Focus comes with a three-year/36,000-mile bumper-to-bumper warranty and a five-year/60,000-mile powertrain warranty.
Focus Safety
Focus Crash Test Results
The 2018 Focus has an overall safety rating of five out of five stars from the National Highway Traffic Safety Administration. With the exception of the Ford Focus RS, the sedan and hatchback each earn five-star ratings in the side and front crash categories. The Focus RS receives only four stars for its frontal crash rating.
The Insurance Institute for Highway Safety gives the Focus the highest score of Good in every category but the small overlap front test, in which the Ford earns an Acceptable rating.   
Focus Safety Features
The Focus comes standard with a rearview camera. Available advanced safety features include active park assist, automatic high beams, blind spot monitoring, rear cross traffic alert, rear parking sensors, and lane departure warning.
Which Ford Focus Model Is Right for Me?
The Focus comes in both sedan and hatchback body styles. To narrow down the seven available trims, start by selecting the powertrain you want. The standard four-cylinder engine comes in the S, SE hatchback, SEL, and Titanium trims. The three-cylinder engine in the SE sedan offers the best gas mileage in the lineup – or you can cut your annual fuel costs in half by picking the Focus Electric. Two high-performance hatchbacks with turbocharged four-cylinder engines are available: the 252-horsepower ST and the 350-horsepower RS. 
Sedan and hatchback shoppers looking for something snazzier than the base version will find the SEL trim appealing. This is the lowest trim in which you can get the upgraded SYNC 3 infotainment interface, which comes with an 8-inch touch screen, smartphone integration, HD Radio, and a 10-speaker Sony audio system. The Focus SEL (priced at $21,775 for the sedan and $21,975 for the hatchback) also includes dual-zone climate control, a moonroof, an automatic transmission, and rear parking sensors.
The entry-level edition in the Focus lineup is the S trim ($17,860). This is only available as a sedan, with a 2.0-liter four-cylinder engine, a five-speed manual transmission, and front-wheel drive as the base setup. It comes with a 4.2-inch infotainment display, Ford's SYNC infotainment system, two USB ports, Bluetooth, voice recognition, a four-speaker audio system, and a rearview camera. Power windows are only in the front of the car.
Upgrades for the SE trim include satellite radio, cruise control, a six-speaker sound system, power windows throughout the car, a center armrest with storage, and rear-seat heat vents. The $20,445 SE hatchback comes with the standard four-cylinder engine. Powering the $19,150 SE sedan is a more frugal three-cylinder engine.
The cabin of the Focus Titanium features leather seats, an eight-way power-adjustable driver's seat, heated front seats, leather trim on the shift knob and heated steering wheel, one-touch up/down power windows, and a rear-seat center armrest. Also included is a proximity key and push-button start. Prices start at $24,175 for the sedan; hatchbacks cost $200 more.
Moving from the 252-horsepower Focus ST hatchback ($25,075) to the 350-horsepower Focus RS hatchback adds more than $16,000 to the price tag. If you can afford the upcharge, you'll be rewarded with a sport suspension system, a sport exhaust with dual bright tips, trim-specific drive modes, all-wheel drive, and Recaro leather trimmed seats.
The Focus Electric replaces the gasoline engine with a single electric motor and a lithium-ion battery. It has cloth seats, a nine-speaker Sony sound system, navigation, and many of the same interior features as the Titanium trim. Pricing for the Focus Electric starts at $29,120, and some buyers may be able to save an extra $7,500 with the available federal tax credit.
Check out our U.S. News Best Price Program for great savings at your local Ford dealer. You can also find excellent manufacturer incentives on our Ford deals page.
The Final Call
With the variety of body styles and powertrains, Ford gives you the ability to pick the Focus that best suits your pocketbook and your driving style. At the heart of every trim level is a spirited, comfortable small car that's easy to operate, whether you're driving through a twisty canyon or navigating the infotainment system. Commuters will like the Focus' small price tag, high predicted reliability rating, and appealing features, but families may balk over the space limitations.
Don't just take our word for it. Check out comments from some of the reviews that drive our rankings and analysis.
Read the full 2018 Ford Focus review on U.S. News & World Report for more details, photos, specs and prices.
More from U.S. News & World Report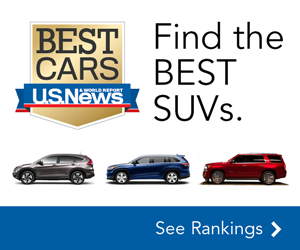 US News & World Report - Cars