2019 Ford Mustang: What You Need to Know

US News & World Report - Cars
11/29/2018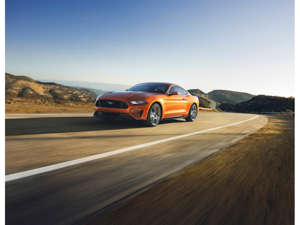 The 2019 Ford Mustang is a superb example of what a modern-day muscle car should be: muscular and fun to drive, with a handsome, comfortable cabin and some high-tech extras. Because it is so well-rounded, the Mustang ranks near the top of its class.

The 2019 Ford Mustang is ranked:
Is the Ford Mustang a Good Car?
The Mustang is an excellent sports car, partly because it strikes an appealing balance in so many areas. For example, its handling is athletic enough to provide a thrilling ride, yet smooth enough for a relaxing road trip. The interior delicately blends modern with retro, resulting in a handsome cabin that showcases an assortment of technology with a nostalgic air. Though safety and reliability ratings are not yet available, the nearly identical 2018 Mustang posted excellent scores in both arenas.
Should I Buy the Ford Mustang?
You should buy a Ford Mustang if you yearn for an iconic muscle car and will rarely carry more than one passenger. Its standard four-cylinder engine is respectable (especially if you want to keep your monthly fuel costs down), but not everyone will approve of its gentler demeanor. Options for more oomph include the V8-powered Mustang GT, but you may also want to test out the Chevrolet Camaro and Dodge Challenger. All three vehicles offer a different take on what it means to be a contemporary muscle car, and the choice between them mostly comes down to personal preference. Note, however, that neither the Camaro nor the Challenger can match the Mustang's recent history of above-average safety and reliability scores.
Should I Buy a New or Used Ford Mustang?
The 2019 Mustang is part of a generation that began with the 2015 model year. The 2019 and 2018 models are essentially the same, except for the Mustang Bullitt and the California Special package, which are both new for 2019. The 2018 Mustang saw some minor styling updates, while the EcoBoost and GT models each received modest power boosts. Also for 2018, Ford discontinued the Mustang V6.
If the updates to the 2018 model aren't that important to you, you can potentially save considerable money on a very similar car by looking at an older model in this generation. Note, however, that if a user-friendly infotainment system is important to you, don't go further back than the 2016 model year. That's when the available SYNC 3 infotainment system made its debut.
We Did the Research for You: 34 Reviews Analyzed
Our Ford Mustang review includes far more than just one person's opinion. We collected professional evaluations from 34 sources and combined them with concrete data like fuel economy estimates, safety features, and performance specs to help you make an informed buying decision.
This review uses applicable research and data from all model years of the current Mustang generation, which runs from 2015 to 2019.
Explore the Ford Mustang inside and out below. Click, drag and scroll to discover more.

Why You Can Trust Us
The Best Cars team – a division of U.S. News & World Report – has been reviewing cars, trucks, and SUVs since 2007. With more than 75 years of combined automotive experience, our editors, writers, and analysts rank a wide variety of new and used cars and issue three annual awards: Best Cars for the Money, Best Cars for Families, and Best Vehicle Brands. To keep our recommendations unbiased, we decline expensive gifts from carmakers, and a third party handles our advertising.
How Much Does the Ford Mustang Cost?
Most sports cars, including the 2019 Mustang, have starting prices near $25,000. The MSRP for the entry-level EcoBoost Fastback starts at $25,845; add an extra $5,500 for the soft-top equivalent. The all-new Ford Mustang Bullitt comes with a $46,595 sticker price. Ford has not yet announced pricing for the 2019 Mustang Shelby GT350 or GT350R.
Check out our U.S. News Best Price Program for great savings at your local Ford dealer. You can also find excellent manufacturer incentives on our Ford deals page.
Ford Mustang Versus the Competition
The good news is that there's no bad choice when it comes to today's muscle cars. These longtime rivals are closely matched in our rankings, each offering a slightly different set of talents than the other.
Which Is Better: Ford Mustang or Chevrolet Camaro?
The Chevrolet Camaro and Ford Mustang are close competitors on the track, but most professional automotive journalists say the Camaro has a slight edge over the Mustang. Much of this relates to the Camaro's incredibly sharp handling, though its refined powertrains also add to its advantage. That said, few will ever push their sports car enough to discern a difference in performance between these two. It's a different story on the inside, however. In this regard, the Mustang often comes out on top, thanks in part to comfier accommodations, better visibility for the driver, and a larger trunk.
Which Is Better: Ford Mustang or Dodge Challenger?
The Dodge Challenger may be the winner when it comes to overall horsepower (its new Redeye edition cranks out as much as 797 horsepower), but it's the interior that helps the Challenger stand out. Its rear seats are actually usable – even for adults – and its trunk is a spacious 16.2 cubic feet. The Challenger also includes one of the best infotainment systems on the market, with Apple CarPlay, Android Auto, and a 7-inch touch screen among its highlights.
Mustang Interior
How Many People Does the Mustang Seat?
Most mainstream Mustang models have seating for four people. Some track-focused editions (such as the Shelby GT350R) only have front seats and room for two. The front seats, though missing some adjustments and upgrades, are generally pleasant for a full day of driving. Like most other two-door sports cars, it's a tight squeeze to get into and sit in the back seat.
Mustang and Car Seats
Both rear seats have a full set of LATCH connections, which includes two lower anchors and one tether anchor.
Mustang Interior Quality
The interior styling of the Mustang honors its classic muscle car heritage with a retro design (note the toggle switches). This blends nicely with more modern touches, and while a few hard plastics are still on hand, interior materials feel mostly high quality.
Mustang Cargo Space
The Mustang Fastback has a generous amount of cargo room. Its 13.5-cubic-foot trunk is one of the largest you can get in a sports car, with enough room for two sets of golf clubs.
Mustang Infotainment, Bluetooth, and Navigation
The infotainment systems in the Mustang are high-tech yet very approachable. The screens are crisp, the menus are easy to sift through, and the overall layout is user-friendly. If you can afford to, we recommend upgrading to a model with the SYNC 3 infotainment interface, a well-equipped system that includes a larger touch screen, enhanced smartphone integration, and a Wi-Fi hot spot. Other tech options include a 12-inch all-digital instrument cluster that gets lots of praise and a voice-activated navigation system.
Mustang Performance
Mustang Engine: Extra Vigor With the V8
A 310-horsepower four-cylinder and a 460-horsepower V8 are the two chief engines powering the 2019 Mustang. Both come standard with a six-speed manual transmission, while a 10-speed automatic is available. The standard EcoBoost engine, prized for its fuel efficiency, is no slouch. Standard launch control and electric line-lock (a track-only feature designed to heat up the rear tires while the car is in place) bolster this 2.3-liter engine under acceleration. However, it's the 5.0-liter V8 that is the crown jewel. Found in the Mustang GT and Mustang Bullitt (475 horsepower in the Bullitt), this engine sounds as brawny as it feels and is the obvious choice for thrill seekers.
Mustang Gas Mileage: Pick the 4-Cylinder for Better Efficiency
When outfitted with the standard four-cylinder engine, the Mustang gets great fuel economy for a car with this much horsepower. Its EPA-estimated ratings are 21 mpg in the city and 32 mpg on the highway. Fuel economy with the V8 falters. Earning 16 mpg in the city and 25 mpg on the highway, the V8 will cost you an extra $550 a year at the gas pump.
Mustang Ride and Handling: Athletic, Composed, and Smooth
The rear-wheel-drive Mustang is agile and comfortable, conceding slightly on each to compromise for the other but rarely succumbing to the negative qualities of either characteristic. Performance upgrades are not necessary to have an athletic pony car, but it is worthwhile to add Ford's MagneRide if there is room in your budget. This rapidly adjusting suspension system makes the Mustang feel even more composed when you're taking it over twisty roads.
Mustang Reliability
Is the Ford Mustang Reliable?
As of this writing, J.D. Power has not yet released its reliability rating for the 2019 Mustang.
Ford Mustang Warranty
The 2019 Mustang comes with a three-year/36,000-mile basic warranty and a five-year/60,000-mile powertrain warranty, which is typical coverage for a sports car.
Mustang Safety
Mustang Crash Test Results
The 2019 Mustang aced every National Highway Traffic Safety Administration test and earned a perfect five-star overall safety rating. The Insurance Institute for Highway Safety hasn't yet released crash test results.
Mustang Safety Features
Standard safety features in the Mustang include a rearview camera and the Ford MyKey system. Nervous about loaning out your car (especially to a young driver)? MyKey lets you limit the vehicle's top speed, add extra reminders to fasten a seat belt, block explicit satellite radio stations, and activate the low-fuel warning earlier than normal.
An impressive amount of advanced safety technology is available in uplevel models, including rear parking sensors, adaptive cruise control, forward collision alert with brake support, pre-collision assist with pedestrian detection and active braking, automatic high beams, blind spot monitoring, rear cross traffic alert, lane keep assist, and rain-sensing windshield wipers.
Which Ford Mustang Model Is Right for Me?
Though it may seem like there's an abundance of Mustang trim levels, there's only two main trims (EcoBoost and GT) plus a few special editions. The four-cylinder EcoBoost engine powers the EcoBoost trims, and though this isn't a brutal V8, it does make for a brisk, fuel-efficient daily driver. GT trim levels come with a more robust V8 engine that is hearty in both sound and power delivery. The EcoBoost and GT models start with a similar level of interior features. The optional Premium editions – available for both – add leather upholstery, enriched entertainment options (that include enhanced smartphone integration), and small touches (like aluminum foot pedals and pony projection lamps) that boost the car's charm.
For spirited drivers, we recommend the Mustang GT models, which deliver the power and exhaust notes that most heavy-footed motorists long for. The best value for a daily driver, though, is the EcoBoost Premium, which keeps your fuel costs low while pampering you in a superior interior.
Like most Mustang trim levels, the EcoBoost is available as either a hardtop fastback ($25,845) or a convertible ($31,345). It comes with a 2.3-liter EcoBoost four-cylinder engine and a six-speed manual transmission; a 10-speed automatic is optional. Standard features include the SYNC infotainment interface, a 4.2-inch infotainment display, two USB ports, six speakers, a rearview camera, a proximity key with push-button start, manually adjustable front seats, and cloth upholstery.
As the name implies, Mustang EcoBoost Premium models mark a step up in amenities. Premium trims come with the upgraded SYNC 3 infotainment interface, an augmented system that includes an 8-inch touch screen, Apple CarPlay, Android Auto, a nine-speaker sound system, and satellite radio. Also standard are leather-trimmed seats – with heat, ventilation, and six-way power adjustments for the front. Premium models also have rear parking sensors, dual-zone automatic climate control, ambient lighting, aluminum foot pedals, and pony projection lamps (a nifty light attached to the side mirror that casts an illuminated mustang on the ground outside the car). Mustang EcoBoost Premium Fastback models start at $30,860, and convertible editions are an additional $5,500.
The 5.0-liter V8 engine is the crown jewel of the Mustang GT. Like the EcoBoost trims, the GT features a standard six-speed manual transmission (with added rev matching for smoother shifts) and an optional 10-speed automatic. Standard features include a limited-slip rear axle, dual exhaust with quad tips, six-way power-adjustable front seats, and rear parking sensors. The Mustang GT is available as the GT Fastback ($35,355), GT Premium Fastback ($39,355), and GT Premium Convertible ($44,855).
For 2019, the California Special package is available with GT Premium trims for $2,000. In addition to unique badges and styling elements, this package adds 19-inch wheels, a pedestal-style rear spoiler, suede interior trimmings, and a unique grille.
The Mustang Bullitt commemorates the 50th anniversary of Steve McQueen's role as Lieutenant Frank Bullitt. The epitome of cool, McQueen famously drives a Mustang to chase down the bad guys in the movie "Bullitt." This special edition builds off a GT Fastback (it isn't available as a convertible). Ford inserts a more powerful V8 engine, strips away some of the exterior badging, upgrades the suspension, and adds leather-trimmed seats with dark green accent stitching and a 12-inch all-digital instrument cluster. For more details, see our slideshow: All-New 2019 Ford Mustang Bullitt: What You Need to Know.
Ford Mustang Shelby GT350
Racetrack technology merges with a road car in the Mustang Shelby models. The lineup for 2019 will include the GT350 and GT350R. Full details and pricing have not yet been released, but prices will likely start near the 2018 Shelby GT350's MSRP of $57,240. The hallmark of the GT350 is its 526-horsepower 5.2-liter V8 engine. For 2019, the GT350 also contains several performance improvements, such as aerodynamic changes for less drag and a new spoiler to increase downforce for better grip.
Check out our U.S. News Best Price Program for great savings at your local Ford dealer. You can also find excellent manufacturer incentives on our Ford deals page.
The Final Call
The 2019 Ford Mustang is an outstanding sports car if you like the look and feel of old-school muscle. Aside from its small back seat, the Mustang has no major shortcomings. Because of its blend of robust performance, attractive accommodations, user-friendly technology, and history of excellent safety and reliability ratings, the Mustang is impressively well-balanced.
Don't just take our word for it. Check out comments from some of the reviews that drive our rankings and analysis.
Read the full 2019 Ford Mustang review on U.S. News & World Report for more details, photos, specs and prices.
 
Research the Ford Mustang on MSN Autos | Find a Ford Mustang near you
Research competing sports cars on MSN Autos | Follow MSN Autos on Facebook and Twitter
More from U.S. News & World Report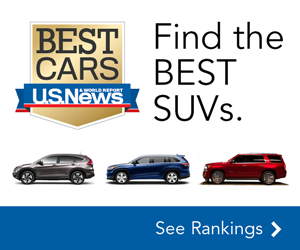 US News & World Report - Cars