2018 Hyundai Sonata: What You Need to Know

US News & World Report - Cars
6/28/2019
The 2018 Hyundai Sonata ranks in the top third of the midsize car class. It has a large trunk, a classy and upscale cabin, an intuitive infotainment system, and a gentle ride. However, some rivals have peppier engines.
Is the 2018 Hyundai Sonata a Good Used Car?
The Hyundai Sonata is a great midsize car. Though its engines aren't as enthusiastic as some classmates' are, its large trunk, straightforward tech interface, and smooth ride make it an appealing family sedan.
The 2018 Sonata brings many strengths to the table:
It also has a couple drawbacks:
Why You Can Trust Us
Our goal is to provide you with the information you need to make car shopping a breeze. You'll find everything you need to know about this vehicle in our comprehensive Hyundai Sonata review. It combines concrete data (such as predicted reliability ratings, crash test results, and cargo space dimensions) with professional evaluations from 40 automotive sources. This Hyundai Sonata review incorporates applicable research for all models in this generation, which ran from the 2015 through 2019 model years.
U.S. News & World Report has been reviewing cars, trucks, and SUVs since 2007, and our Best Cars team has more than 75 years of combined automotive industry experience. We care about cars, but we care more about providing useful consumer advice. To ensure our impartiality, an independent party handles our advertising, and our editorial team doesn't accept expensive gifts from automakers.
How Much Is the 2018 Hyundai Sonata?
There are nearly 750 listings for the 2018 Hyundai Sonata on our site, with an average list price of $20,200. Prices range from $16,300 to $26,000 and vary depending on the vehicle's condition, mileage, features, and location.
How Much Does the 2018 Hyundai Sonata Cost to Own?
The 2018 Sonata's five-year costs for gas, insurance, repairs, and maintenance are projected to be around $24,540, or $4,908 per year. That's above average among midsize cars.
Is It Better to Buy a Used or New Sonata?
Hyundai made no major changes to the 2019 Sonata, so you may be better off buying a used 2018 model instead. You'll spend less while getting a nearly identical car.
Hyundai last redesigned the Sonata for the 2015 model year. The 2018 Sonata was refreshed, gaining updated exterior styling, a revamped suspension, and more standard and available features, including pedestrian detection, lane keep assist, blind spot monitoring, and a heated steering wheel. The 2.0T model also gained a new eight-speed automatic transmission that gives this trim a small increase in fuel efficiency. Those are some big updates, but if they're not important to you, you might consider going with an older model to save money.
How Reliable Is the 2018 Sonata?
The 2018 Sonata has a slightly above-average predicted reliability rating of 3.5 out of five from J.D. Power.
2018 Hyundai Sonata Recalls
As of this writing, no recalls have been issued for the 2018 Hyundai Sonata.
See more information on Hyundai Sonata safety recalls »
Which Used Hyundai Sonata Trim Is Right for Me?
Hyundai offers the Sonata in several trim levels. Additionally, Hyundai released Plus editions of some trims with revised feature offerings partway through the model year. We outline a few of them below.
The Sport and Limited trims are available in 2.0T guise. This moniker refers to an eight-speed automatic transmission and a 2.0-liter twin-scroll turbocharged four-cylinder engine that puts out 245 horsepower. These 2.0T vehicles also have a sport-tuned suspension. For shoppers who want the most engaging performance, the Sport 2.0T and Limited 2.0T are a good place to look.
What Does Hyundai's Certified Pre-Owned Warranty Cover?
Hyundai offers a certified pre-owned program for vehicles five years old or less, and with fewer than 60,000 miles. Eligibility is determined by the vehicle's initial sale date. Certified pre- owned Hyundai vehicles receive the balance of the original new-car 10-year/100,000-mile powertrain warranty, as well as the remainder of the five-year/60,000-mile comprehensive warranty. Hyundai CPO vehicles must pass a 150-point inspection. Additional benefits such as towing and roadside assistance may be available, so read Hyundai's warranty page carefully.
According to our analysis, Hyundai has a fairly robust CPO program among nonluxury car manufacturers, surpassing Mazda and Ford.
How Safe Is the Sonata?
The Insurance Institute for Highway Safety named the Sonata a 2018 Top Safety Pick+, giving it the highest rating of Good in all crash tests and for headlight outward visibility, as well as a best-possible Superior rating for front crash prevention in models equipped with automatic braking.
The National Highway Traffic Safety Administration gave this sedan a five-out-of-five-star overall rating, with five stars in frontal and side crash tests and four stars in rollover tests.
Standard advanced safety features:
Available advanced safety features:
2018 Hyundai Sonata Versus the Competition
Which Is Better: 2018 Hyundai Sonata or 2018 Mazda6?
The 2018 Mazda6 is one of the most fun-to-drive midsize sedans in the class. It also has premium cabin materials and better fuel economy estimates than the base Sonata. On the other hand, the Sonata has Apple CarPlay and Android Auto smartphone integration, a larger trunk, and a higher predicted reliability rating. The Hyundai is also around $3,000 less than the Mazda on average. Unless you really want the Mazda6's superior driving dynamics, the Sonata is the better vehicle.
Which Is Better: 2018 Hyundai Sonata or 2018 Toyota Camry?
The 2018 Toyota Camry is one of the best midsize cars you can buy. It has class-leading safety and predicted reliability scores. Add to that outstanding fuel economy estimates and one of the most powerful nonturbocharged engines in the segment, as well as an available V6, and it's not hard to see the Camry's appeal. It also has a comfortable ride and handles with enough athleticism to escape being labeled as dull or bland. That said, the Hyundai has a larger trunk and Android Auto and Apple CarPlay, neither of which are available in the Toyota. If those are important to you, pick the Sonata. Otherwise the Camry is a great choice.
2018 Sonata Performance
How Does the 2018 Sonata Drive?
The base inline-four engine delivers adequate power for cruising around town, but it's nothing exciting. The Eco trim's 178-horsepower powertrain prioritizes fuel economy but otherwise performs similarly to the standard engine. The 245-horsepower turbocharged engine in 2.0T models has the best acceleration and the most pep, but it's still not as energetic as the powertrains in some rivals.
This vehicle rides smoothly over pavement. It's somewhat agile, too, remaining planted and poised on twisty roads.
Does the 2018 Sonata Get Good Gas Mileage?
The base Sonata gets decent EPA estimates for the class, and the more fuel-efficient Sonata Eco's figures are well above average.
2018 Sonata Interior
How Many People Does the 2018 Sonata Seat?
This sedan seats five people in two rows. The front seats are supportive and comfortable. Rear-seat space is good overall, though the sloping roofline might restrict the headroom of taller riders. Cabin materials are nice, though not as upscale as some rivals.
Standard seating features:
Available seating features:
How Many Car Seats Fit in the 2018 Hyundai Sonata?
2018 Hyundai Sonata Features
The infotainment system is easy to use, and the touch screen responds quickly to inputs. Standard Apple CarPlay and Android Auto is a plus.
For more information, read What is Apple CarPlay? and What is Android Auto?
2018 Hyundai Sonata Dimensions
Hyundai Sonata Cargo Space
This Hyundai has a 16.3-cubic-foot trunk. That's larger than many other midsize cars' trunks, such as the Nissan Altima. Additionally, this sedan has an available hands-free power trunk – a rarity for the class.
These cargo dimensions are for comparative purposes. There is no substitute for visually examining the storage area in any car you're considering.
2018 Hyundai Sonata Length and Weight
Where Was the 2018 Hyundai Sonata Built?
Hyundai built the 2018 Sonata in Alabama, alongside the Hyundai Elantra.
Read the full 2018 Hyundai Sonata review on U.S. News & World Report for more details, photos, specs and prices.
More from U.S. News & World Report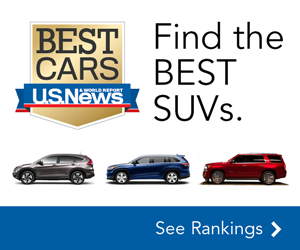 US News & World Report - Cars