2018 Hyundai Sonata Review: Room With a Vroom

Consumer Reports
12/28/2017

Consumer Reports has no financial relationship with advertisers on this site.
The spruced-up Sonata keeps much of what makes it a strong competitor each year in a crowded midsized sedan category. Wrapped inside its updated skin is a refined powertrain plus a roomy cabin and clear, easy-to-use controls. But this version falls short on fuel efficiency and ride comfort.
Its four-cylinder engine delivers sufficient pep without sounding like it's being flogged, and the six-speed automatic transmission knocks out well-timed shifts with nary a hiccup. But its 28 mpg is nothing special when many competitors get 30 mpg or better.
Some of the biggest changes this year were made to the Sonata's suspension. This revamped car now feels like it's cooperating better with the driver through corners. Braking performance also has improved.
Unfortunately, the Sonata's ride has grown considerably firmer, transmitting too many bumps into the cabin and reducing passenger comfort.
While the Sonata lacks any "wow" factor inside, occupants should still be satisfied. The seats are wide and comfortable, and the well-appointed interior is spacious, particularly the rear seat. It's one of the most generous in a class where cabin room is often sacrificed at the altar of styling.
The main controls and touch-screen infotainment system are easy to use.
Hyundai makes forward-collision warning and automatic emergency braking optional on just two trims. We'd prefer that they were standard for all versions.
Read the complete Hyundai Sonata road test.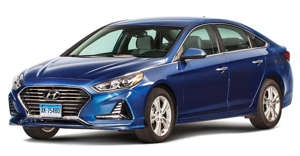 Editor's Note: This article also appeared in the February 2018 issue of Consumer Reports magazine.
Consumer Reports is an independent, nonprofit organization that works side by side with consumers to create a fairer, safer, and healthier world. CR does not endorse products or services, and does not accept advertising. Copyright © 2017, Consumer Reports, Inc.